Tickets On Sale Now For Rivertown Theaters' Season Announcement Party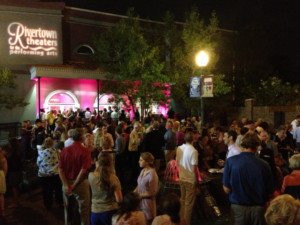 The public is invited to one of the best entertainment evenings of the year when Rivertown Theaters for the Performing Arts presents its annual Season Announcement Party & Fundraiser on Saturday, January 6, 2017 and reveals the exciting line-up for the 2018-2019 season.
The evening begins at 7:00 pm with an open bar and pre-show buffet catered by the Twelve Seasons in the Lagniappe theater and live music in the courtyard. A post-show party will conclude the festivities.
A highlight of the event will be the silent auction of three favorite items from past years -- "a walk-on role", "VIP Theater Suite for show of choice" and the "VIP parking spot." Attendees will also be able to purchase raffle tickets during the evening for a chance to win specially created Muses shoes once again this year, themed for each announced 2018-2019 show. The show begins at 8:00 pm with co-artistic directors, Gary Rucker and Kelly Fouchi presenting a laugh-filled video and a look back retrospective highlighting the year's productions and performers followed by their always entertaining announcements of the individual shows for the 2018-2019 season with performances from each upcoming production and a sneak peek number from "Million Dollar Quartet" opening January 12.
"We are so proud to be announcing our 7th season and we keep setting the bar higher and higher"! said Kelly Fouchi, co-artistic director. "The focus of this annual event is to have fun and showcase the thrilling season coming up. It's our annual 'thank you' to all our supporters. Rivertown Theaters' audiences keep growing and growing as they discover us and the quality of our productions. We are truly grateful and thrilled by the metropolitan community's response to our work. This evening is our way of making them feel a part of our Rivertown Theaters family."
"While we are humbled by the critics' continued high praise and glowing reviews, we could not accomplish this level of professionalism without the support of the general public. In our six seasons we have relied solely on private company and individual sponsorships, program advertisers, ticket sales and season subscriptions to help us continue bringing the "best of Broadway" shows, locally-written productions, children's theater and special learning programs to the New Orleans area," added Kelly Fouchi.
Rivertown Theaters is located at 325 Minor St. in the heart of Rivertown, Kenner LA. Plenty of free parking is available on the streets around the theater.
Tickets are on sale now for $30 per person. Proceeds from the evening will go directly to support Rivertown Theaters.
Please call the Box Office: (504) 461-9475 or 468-7221 or visit www.RivertownTheaters.com
Big things have been happening for Rivertown Theaters since Theatre 13's co-artistic directors Gary Rucker and Kelly Fouchi were awarded the management contract by the City of Kenner in the Fall of 2012! Now in its sixth season, Rivertown Theaters for the Performing Arts has critics and audiences
singing the praises of this local gem that continues to present Broadway-caliber professional theater year after year. From Tony award-winning musicals and locally penned theatrical works, to children's
theater, Rivertown Theaters has been honored with "Theater of the Year," "Theater Entertainers of the Year" and their productions top the 'Best of" lists in all categories.
The mission of Theatre 13 is to bring new and exciting productions to the New Orleans area while providing local theater artists an opportunity to perform and create, as well as teach and showcase the talents of children of all ages.