Southern Rep Theatre Announces 2018-19 Season Productions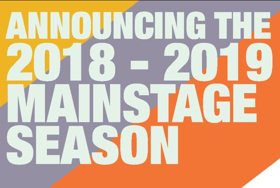 Southern Rep Theatre announces its 2018-19 Mainstage Season, its 32nd, featuring the regional premieres of THE WOLVES by Sarah DeLappe and A DOLL'S HOUSE, PART 2 by Lucas Hnath as well as three world premieres: AZUL by New Orleans native Christina Quintana, FLOWERS FOR HALLIE - a celebration of Mahalia Jackson written by and starring Troi Bechet - and MANDATORY MERRIMENT: AN UNTITLED HOLIDAY MUSICAL created by Leslie Castay and Ian Hoch with book by Ian Hoch.
Producing Artistic Director Aimée Hayes has designed a season program that emphasizes Southern Rep's commitment to highlighting diverse contemporary voices and showcasing Louisiana artists. "Our 2018-19 season shows the many sides of Southern Rep, featuring homegrown world premieres, smart comedy, incisive drama, and stirring musicals. We get to meet many different kinds of amazing women, from the teen soccer stars of THE WOLVES to Mahalia Jackson herself. I love that we are able to put forward three brand-new works by artists with local roots, including a world premiere by Christina Quintana, a Louisiana native (and former Southern Rep intern!) who has been taking New York by storm."
All productions are scheduled for Southern Rep's forthcoming permanent home at2541 Bayou Road, New Orleans in the former St. Rose de Lima church building, part of the Rose Collaborative development project led by Alembic Community Development and Rose CDC.
Says Hayes, "After six years on the road, Southern Rep Theatre comes home at last to this new, breathtakingly beautiful and landmark historic building on one of New Orleans' most storied streets. Along the way, we have made new friends and supporters from all parts of the city. It is an unbelievable opportunity to at last return the hospitality we have experienced and to invite all of the community to join with us this year as we see our vision come to completion at last. With three performing spaces, an outdoor plaza, and a cozy lounge and cafe, Southern Rep realizes its greater mission of providing a much-needed addition to the theatre venues in the city, as well as a gathering spot for artists, thinkers, dreamers, and makers. A community is only as strong as its art. We are grateful to be contributing to New Orleans with our historic new home."
Southern Rep is again offering both Five-Play and Pick-Four subscription options, with early-bird pricing available through May 31, 2018 for the best possible discount over single-ticket prices. In addition to getting the best prices for a full season of theatre, subscribers enjoy reserved seats, fee-free exchange privileges, and refreshments at performances. New for 2018-19 is an enhanced membership level: the Friends Circle. For an add-on membership fee of $35, members of the Friends Circle enjoy behind-the-scenes access to Southern Rep, invitations to private special events, discounts at the bar, and a special welcome package.
Subscriptions and Friends Circle memberships are on sale now at southernrep.com or 504-522-6545.
Announcing the Southern Rep Theatre 2018-19 Season
All dates, venues, titles, and personnel are subject to change.
A DOLL'S HOUSE, PART 2
By Lucas Hnath
Directed by Aimée Hayes
September 19 - October 7, 2018
Regional Premiere
You can't go home again. (Or can you?)
When Nora returns to the house she left 15 years ago, the whole family is in for a surprise. A shrewd comedy that's both caustic and bittersweet, A DOLL'S HOUSE, PART 2 deftly navigates an emotional minefield of reconciliation, regret, and unintended consequences.
"Smart, funny, and totally engrossing" - The New York Times
MANDATORY MERRIMENT: An Untitled Holiday Musical
Created by Leslie Castay and Ian Hoch
Book by Ian Hoch
Directed by Leslie Castay
Music Direction by Alan Payne
December 5 - 23, 2018
World Premiere
A festive and raucous musical that puts traditional holiday plays on notice! Have more fun this season! Don't miss Leslie Castay, Ian Hoch, and Alan Payne's irreverent evening of song, comedy, and holiday cocktails, featuring an all-star cast of your favorite New Orleans entertainers.
Leslie Castay's cabaret sensibility is "smoothly sophisticated." - The Times-Picayune
Hoch is "charismatic, multifaceted." - New Orleans Advocate
THE WOLVES
Directed by Aimée Hayes
January 9 - 27, 2019
Regional Premiere
We. Are. The. Wolves.
Sarah DeLappe's Pulitzer Prize finalist debut play took New York by storm in 2017 with its utterly fresh point of view. As a team of nine young women gears up for battle on the soccer field each week, their individual stories emerge. Physically astonishing and emotionally compelling, THE WOLVES is a precisely drawn portrait of adolescent fear, fury, and ferociousness.
"One of the year's best plays" - The New York Times
AZUL
By Christina Quintana
Directed by Estefanía Fadul
March 27 - April 14, 2019
In Partnership with the Saints & Sinners Literary Festival, a project of the Tennessee Williams / New Orleans Literary Festival
World Premiere
Sometimes to go forward, you have to look back.
Facing the loss of her Cuban-born mother, lifelong New Yorker Zelia struggles to center herself. As she digs into her legacy, she learns of her tía-abuela, the great-aunt who remained in Cuba for the love of another woman. Echoes of the past inform Zelia's own relationship with her wife and her struggle to place herself between worlds in New Orleans native and 2017 Kilroys List playwright Christina Quintana's evocative new play.
FLOWERS FOR HALLIE
Written by and starring Troi Bechet
May 2019
World Premiere
My hands, my feet, I throw my whole body to say all that is within me.
New Orleans' own Troi Bechet brings a legend to life in this new celebration of the Queen of Gospel. From her early days in a shotgun shack in New Orleans to her international success as a singer and civil rights leader, Mahalia Jackson journeyed in faith and courage. An evening of story and song illuminates the struggles and triumphs of this home-grown American icon.
Bechet is "intense, incandescent." - The New Orleans Advocate
About 2018-19 Subscriptions
Season tickets are now available by purchasing a 2018-19 subscription online atsouthernrep.com or by calling the box office at 504-522-6545. Prices increaseJune 1, 2018. All purchases are subject to box office fees, and all dates, venues, and details are subject to change. Visit www.southernrep.com for the most current pricing and schedule information, as well as a full list of member benefits.
Through May 31, 2018, Five-Play subscriptions are available for $160 / $140 (seniors). Pick-Four memberships, which provide entry to four 2018-19 Mainstage performances of the subscriber's choice, are available for $130 / $110 (seniors). Prices increase on June 1, 2018.
Regular single tickets (not yet on sale) start at $40, subject to increase. Southern Rep Theatre offers comprehensive single-ticket discounts for seniors, students, military families, young professionals, teachers, and theatre professionals. Visitwww.southernrep.com for more information.
ABOUT AIMÉE HAYES, PRODUCING ARTISTIC DIRECTOR
Since being named Producing Artistic Director in 2007, Hayes has focused on new play development, producing many writers during her tenure, including Andrew Hinderaker, John Biguenet, Eric Coble, Zayd Dohrn, Catherine Filloux, Jim Fitzmorris, Ross Maxwell, Tarell McCraney, Peter McElligott, Peter Sinn Nachtrieb, Joe Sutton, and Steve Yockey. As a member of the National New Play Network, Hayes has served on the Showcase of New Plays panel and directed in their MFA Playwright Showcase at the Kennedy Center. She has also overseen the incorporation of a new slate of new play development programs into Southern Rep's Lagniappe Series including the 4D year-long development intensive, 6×6, a new play slam, 3×3: THE ONE ACTS, New Orleans' only live, ongoing soap opera, DEBAUCHERY!, and THE NEW PLAY BACCHANAL, an annual two-day new play festival that includes honoring a new play by a female playwright of color with The Ruby Prize. Hayes has often appeared on the stage, most recently as She in Southern Rep's STAGE KISS, Hannah Jelkes in THE NIGHT OF THE IGUANA, and Blanche Dubois in A STREETCAR NAMED DESIRE. In 2014, New Orleans Magazine named Hayes a Top Female Achiever, and in 2012 she was named Gambit Weekly's Theatre Person of the Year, and one of New Orleans Magazine's 2008 People to Watch. Hayes serves as Co-Chair of TCG's Alumni Board (Theatre Communications Group). In 2016, she was a finalist for the prestigious Zelda Fichandler Award presented by the Stage Directors and Choreographers Foundation.
ABOUT SOUTHERN REP THEATRE
About to enter its 32nd Season, Southern Rep Theatre produces award-winning productions that are engaging, educational, and accessible for audiences of every socioeconomic background. Under the leadership of Producing Artistic Director Aimée Hayes, Southern Rep Theatre's Mainstage Season work includes bold World and Regional Premieres as well as the best of Broadway, off-Broadway, and classic plays. Southern Rep Theatre's Lagniappe Series and "School to Stage Pipeline" of Arts Education Programs reflect the company's ongoing commitment to new play development by providing resources for students and burgeoning theatre professionals and supporting a more diverse theatre community. A mainstay of New Orleans' arts community, Southern Rep Theatre continues to build on its unique position as a sector leader, creative force, and important resource for contemporary American theatre.