Photo Flash: Ugly Duckling Reveals Its Beauty in HONK! A MUSICAL
Join The Yardley Players at Mercer County Community College's (MCCC's) Kelsey Theatre for a wise, funny tale about a chick named "Ugly." Shunned by the other barnyard animals for being different, he ultimately finds acceptance when his special kind of beauty is revealed. "Honk! The Musical" comes to the Kelsey stage Fridays, Feb. 9 and 16 at 8 p.m.; Saturdays, Feb. 10 and 17 at 2 p.m. and 8 p.m.; and Sundays, Feb. 11 and 18 at 2 p.m.
Kelsey Theatre is located on the college's West Windsor Campus, 1200 Old Trenton Road. A reception with the cast and crew follows the opening night performance on Feb. 9.
An award-winning family show direct from Britain, "Honk" offers a universal message about compassion and acceptance - for ducks and people too! British playwrights George Stiles and Anthony Drewe's witty musical is based on Hans Christian Anderson's classic tale, The Ugly Duckling. Described as a story "for anyone who has ever felt like honking when the rest of the world goes quack," the show is filled with memorable musical numbers, creative choreography and charming costumes. Winner of three awards for Best Musical, including the 2000 Laurence Olivier Award, "Honk" has enjoyed immense popularity with audiences in the United Kingdom and on tours worldwide.
Starring in "Honk" are Zachary Benedetti of Ewing as Ugly; Nicholas Pecht of Hamilton as Cat; Jessica Corriveau of Plainsboro as Ugly's Mother, Ida; and Dan Mucha of Yardville as Ugly's Father, Drake. Also featured are Gina Drigant of Bensalem, Pa., Stacy Danka of Allentown; Andrew Millin of Perrineville, and ducklings Nicholas Benedetti of Ewing, Claire Corriveau of Plainsboro, Dayley Katz of West Windsor, and Troy Vallery of Yardville.
Ensemble members include Amy Besselieu of Lawrenceville, Aimee Clark of Lawrenceville, Gabrielle Dirusso of Princeton Junction, Nolah Flynn of Yardley, Pa., Hope Ghaffoor of Yardville, Renee Gilmore of Yardley, Pa., Sydney Gilmore of Yardley, Pa., Rio Kiernan of Allentown, Kristin Kraus and Leslie Kraus of Levittown, Pa., James Legete of Bristol, Pa., Jessica Marinkowski of Columbus, Lili Meddahi of Robbinsville, Daniel Montero of Ewing, Anna Perno of Hamilton, Nicole Potenza of West Windsor, Alexys Pulsinelli of Bordentown, Shreya Savur of Robbinsville, and Casara Sexauer of Hamilton.
The production staff includes Producer Jill Katz, Director Tom Bessellieu, Choral Director Julie Braeckman, Orchestra Conductor Buzz Herman, Choreographer Laura Murey Ghaffoor, Costumer Louisa Murey, Stage Manager Tristan Takacs, and Set Designer James Kenna.
Tickets are $20 for adults, $18 for seniors, and $16 for students and teens. Tickets may be purchased by calling the Kelsey Box Office at 609-570-3333 or online at
www.kelseytheatre.net
. Kelsey Theatre is wheelchair accessible, with free parking next to the theater. For a complete listing of adult and children's events, visit the Kelsey website or call the box office for a brochure.
Photo Credit: John Maurer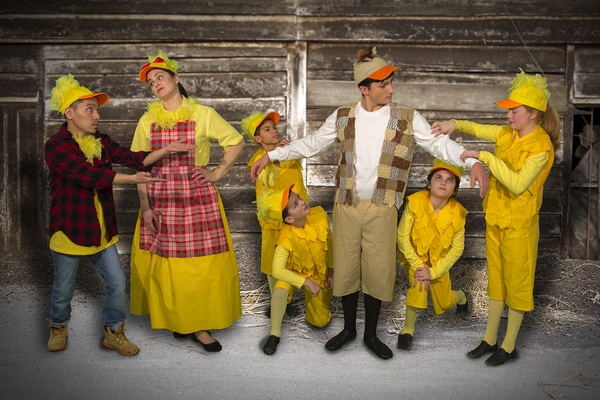 The duckling family is not sure what to do with Ugly. From left are Dan Mucha (Ugly's dad), Jessica Corriveau (Ugly's mom), Troy Vallery, Nick Benedetti (kneeling), Zach Benedetti as Ugly, Dayley Katz (kneeling) and Claire Corriveau.

From left, starring in 'Honk!'? are Gina Drigant as Maureen/Lowbutt; Stacy Danka as Queenie, Nick Pecht as Cat, and Zachary Benedetti as Ugly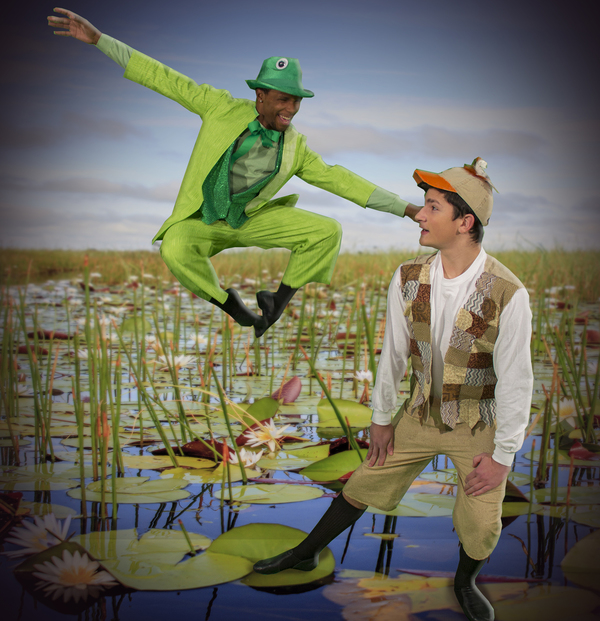 Bullfrog James Legette takes a leap with Zach Benedetti as Ugly
Related Articles View More New Jersey

Stories

Shows
More Hot Stories For You