Photos: Nancy Opel, Mary Beth Peil, Dan Lauria and More Perform at George Street Playhouse's 2017 Gala
George Street Playhouse announced today that its recent Annual Gala Benefit was the most successful in the event's history, raising a record amount of funds in support of its mainstage and educational programming. The Gala took place at The Heldrich Hotel in New Brunswick on Sunday, April 2, 2017, and featured many stars of the stage and screen as presenters and performers. Scroll down for photos from the evening!
"Under the guidance of our Gala Chairperson Ken Fisher, an extraordinary Gala committee, our stalwart Board of Trustees, and our dedicated leadership and staff, the 2017 Gala exceeded all expectations," said Kelly Ryman, Managing Director of The Playhouse. "As we celebrate our theatre's bright future, the unprecedented success of the 2017 Gala is a testament to the unbending support of our patrons and community.
"We are thrilled to have them on the journey with us for the next two seasons and for the grand opening of our new home in the New Brunswick Performing Arts Center in 2019," added Ryman.
The money was raised through Gala sponsorships, ticket and table sales and the event's ever-popular silent auction. In addition, a live donation appeal raised money specifically for The Playhouse's educational programs, including its popular Educational Touring Theatre, Summer Theatre Academy, acting classes and residencies. The live appeal, on its own, also raised an all-time record amount to support these important programs.
Among the highlights of the evening's Cabaret were presenters Tim Daly (TV's Wings, Madam Secretary), Tony Award-winning playwright Joe DiPietro, and stage and screen stars Betsy Aidem (Broadway's All the Way) and Dan Lauria (TV's The Wonder Years).
Performers included Tony Award nominee Nancy Opel (Broadway's Honeymoon in Vegas, Urinetown), who will be starring in GSP's season-closing musical Curvy Widow, and stage and screen great Mary Beth Peil (Tony Award-nominated for Broadway's The King and I; TV's Dawson's Creek and The Good Wife). Stars from George Street's 2016-17 season, including SuzzAnne Douglas (American Son), and Ben Michael and Elise Vannerson from Daddy Long Legs, also performed. The cast of GSP's 2004 production of Jonathan Larson's Tick, Tick...Boom! - Colin Hanlon, Sarah Litzsinger and Stephen Bienskie - reunited to perform "Louder Than Words" from that show.
George Street Playhouse Artistic Director David Saint received the Arthur Laurents Award for Distinguished Artistic Achievement in celebration of his 20th season as The Playhouse's Artistic Director. It was presented by legendary screenwriter, film director and actress Elaine May.
The Thomas H. Kean Arts Advocacy Award was bestowed upon Marlene and Tony Volpe, longtime supporters of George Street Playhouse, by the namesake of the award, Governor Kean.
Another highlight came when New Brunswick Mayor James Cahill and New Brunswick Development Corporation (DEVCO) President Christopher Paladino spoke about the plans for the new $190 million downtown performing arts center that will serve as George Street Playhouse's new home starting with the 2019-20 season.
The black-tie evening drew corporate, civic and social leaders from throughout the region. Each year, the Gala raises hundreds of thousands of dollars to support George Street Playhouse's world-class mainstage productions and nationally recognized educational programs. The silent auction is one of the highlights of The Playhouse's Annual Gala, and offers luxury vacation trips, home furnishings, tickets to hard-to-get Broadway shows, fine dining experiences, top sports venues and much more.
Kenneth M. Fisher, Jr. of Hillsborough served as Benefit Chair. GSP Board Chair James Heston of Metuchen, and GSP Board President Penelope Lattimer of New Brunswick, served as Sponsorship Co-Chairpersons. Janice Haggerty of Bedminster, and Gabrielle Vajtay of Somerset served as Silent Auction Co-Chairpersons. W. Burton "Tripp" Salisbury of North Brunswick, and Janice Stolar of East Brunswick were Tickets & Tables Co-Chairpersons. Lora Tremayne of Somerset served as Journal Chairperson.
Rounding out the Annual Gala Benefit Committee were Joseph P. Benincasa, president & CEO of The Actors Fund and the 2016 Kean Award recipient; Joan Campbell of North Brunswick; Carol Hila of Woodbridge; Sharon Karmazin, president of The Karma Foundation; Jocelyn Schwartzman of East Brunswick; and Frances C. Stromsland, Ed.D., of Watchung.
Sponsors for the evening included The Family of RoBert Wood Johnson, Jr., Marlene and Tony Volpe, Joan and Robert Campbell, James N. Heston, Sharon Karmazin, WithumSmith+Brown, PSE&G, TD Bank, Nassau Communications.
Photo Credit: David Kelly Crow

David Saint
(center), celebrating his 20th season as
George Street
Playhouse's Artistic Director, is surrounded by some of the artists he has worked with throughout his tenure
Broadway stars and
George Street
Playhouse favorites
Betsy Aidem
and
Nancy Opel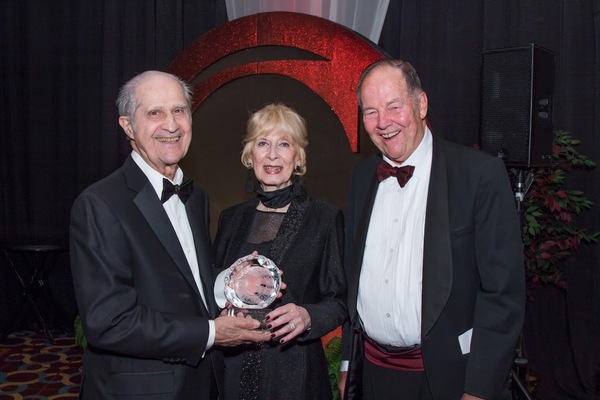 Tony and Marlene Volpe receive the Thomas H. Kean Arts Advocacy Award from its namesake, former New Jersey Gov. Thomas H. Kean
Stage and screen veteran and
George Street
Playhouse favorite
Suzz
Anne Douglas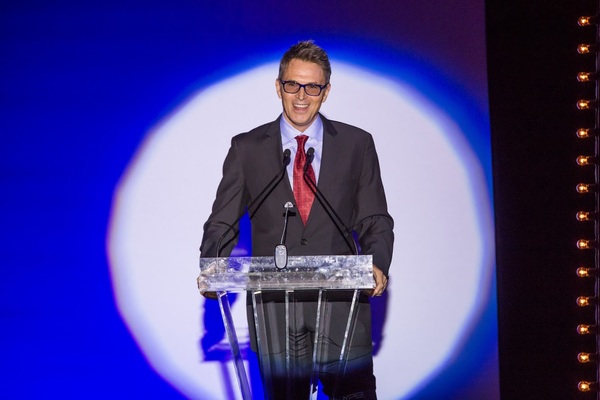 Actor
Tim Daly
(TV's 'Wings' & 'Madam Secretary')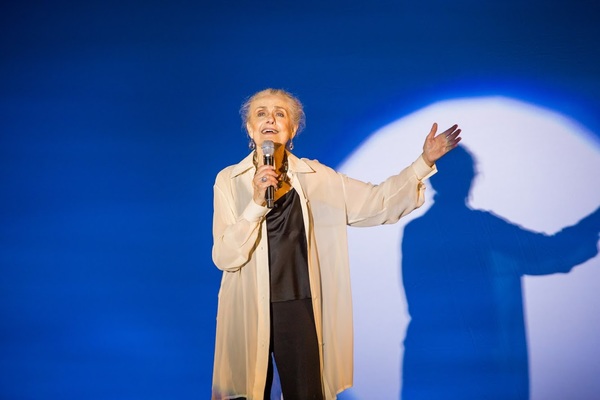 Stage and screen legend
Mary Beth Peil
(Tony Award-nominated for Broadway's THE KING AND I; TV's 'Dawson's Creek' & 'The Good Wife)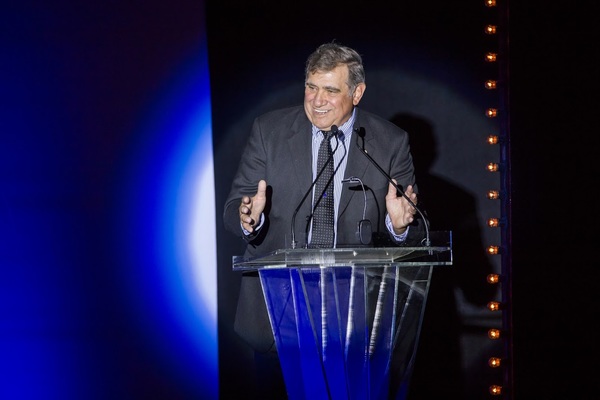 Actor
Dan Lauria
(TV's 'The Wonder Years' & Broadway's LOMBARDI)
Joe DiPietro
, Tony Award-winning playwright for MEMPHIS and a longtime friend of
George Street
Playhouse
Broadway's
Nancy Opel
, who will star in
George Street
Playhouse's season-closing musical CURVY WIDOW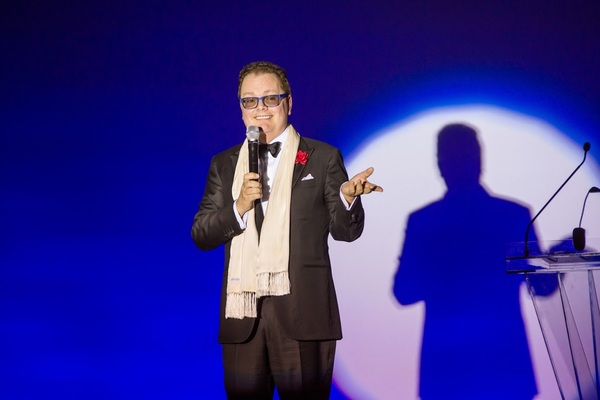 David Saint
, celebrating his 20th season as
George Street
Playhouse Artistic Director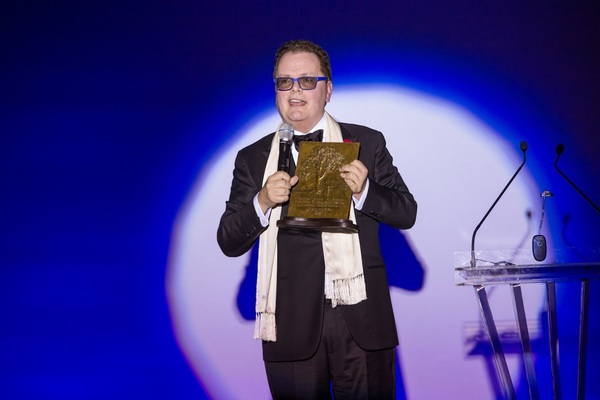 David Saint
, celebrating his 20th season as
George Street
Playhouse Artistic Director, accepts the
Arthur Laurents
Award for Distinguished Artistic Achievement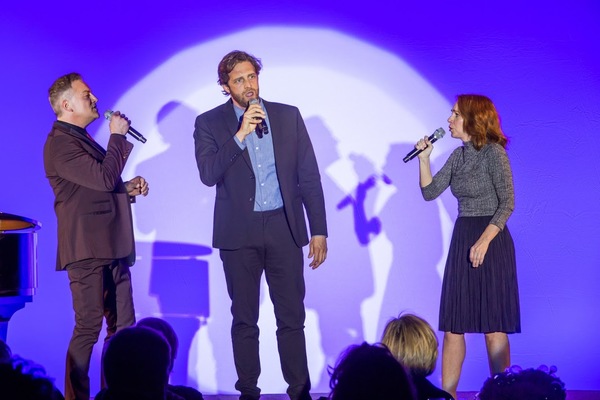 Stephen Bienskie
,
Colin Hanlon
and
Sarah Litzsinger
from
George Street
Playhouse's 2004 production of
Jonathan Larson
's TICK, TICK...BOOM! reunited to perform 'Louder Than Words' from the show
Stephen Bienskie
,
Sarah Litzsinger
,
George Street
Playhouse Artistic Director
David Saint
, and
Colin Hanlon