Photo Flash: MCCC Theatre Presents RENT, 4/9-4/18
With its enduring lessons of love, loss and living life to the fullest, the groundbreaking rock opera, "Rent," will be presented by Mercer County Community College Theatre students and community actors at the college's Kelsey Theatre in April. Dates and show times for this unforgettable musical based on Giacomo Puccini's La Boheme are: Fridays, April 9 and 16 at 8 p.m.; Saturdays, April 10 and 17 at 8 p.m.; and Sundays, April 11 and 18 at 2 p.m. Kelsey Theatre is located on Mercer's West Windsor campus, 1200 Old Trenton Road.
"Rent" captures the avant garde lifestyle and creative energy of a group of friends living on Manhattan's Lower East Side in the early 1990s under the growing shadow of the AIDS/HIV epidemic. With music and lyrics by Jonathan Larson, the show was presented first as a workshop production, eventually moving to Broadway. Running for 12 years before closing in 2008, "Rent" is credited with introducing a younger generation of theatre goers to the power and relevance of musical theatre.
According to Director Jody Person, who coordinates the MCCC Theatre/Dance program, this production will keep "Rent heads" happy, while remaining true to the spirit of Larson's original work. "The show will be grittier and less colorful than the Broadway production," Person explains. "We want to capture the atmosphere of the artistic scene in the East Village at that time." Person stresses that the show's essential message of love, as seen through the eyes of the character Angel, will remain at the forefront. "Angel is the light who leads the characters to love," Person said.
That sense of realism will be amplified when cast members visit the Life Café, located in the East Village, later this month. The café is the inspiration for one of the show's defining scenes when the friends gather at a local restaurant and proceed to turn the place upside down as they sing their anthem, "La Vie Boheme." "The owner of the café will talk with the students about the time period they are recreating," Person said.
The production stars Brandon Maxwell of Hamilton as Mark; Veronica Furman of Brooklyn, NY, as Joanne; Alejandro Hernandez of Allentown as Benny; Nicole Patrick of Columbus as Maureen; Jonathan V. Polanco of Hamilton as Angel; Jeremy Robinson as Roger; Ricardo L. Rodriquez of Trenton as Tom Collins; and Jessica Stanley of Lawrenceville as Mimi.
Ensemble members include Fydrah Cherbin of Hamilton, Kimberly C. Konczos of Hamilton, Mandee Leigh of Levittown, PA, Stephanie Moon of New Brunswick, Taylor Pickett-Stokes of Trenton, Rachel Rocco of Hamilton, Carl Rogers of Trenton, Theodocia Rovira of Hamilton, Michael Skerianz of Jackson, David M. Walter of Hamilton, and T.J. Walton of East Brunswick.
Tickets are $16 for adults, $14 for seniors, and $12 for students. (The show contains adult themes and language and is not recommended for young people under 16.) Tickets may be purchased online at www.kelseytheatre.net, in person at the Kelsey Theatre box office, or by phone at 609-570-3333. Free parking is available next to the theatre. Kelsey Theatre is wheelchair accessible and provides assisted listening devices upon request.


Jonathan Polanco, as Angel, Brandon Maxwell as Mark, and Ricardo Rodriquez as Tom Collins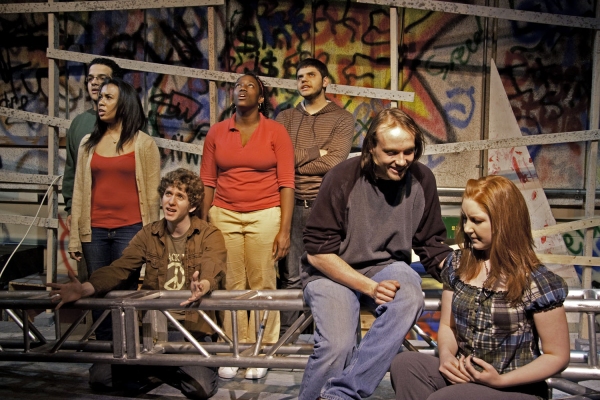 Carl Rogers, Theodocia Rovira, T.J. Walton, Taylor Pickett-Stokes and Mike Skerianz; (foreground) David Walter and Mandee Leigh

T.J. Walton, Rachel Rocco, Alejandro Hernandez (back), Jessica Stanley, Nicole Patrick, Veronica Furman, Kim Konczos and Stephanie Moon