Photos: First Look at Shakespeare Theatre of New Jersey's TRELAWNY OF THE WELLS
The 50th Anniversary season of The Shakespeare Theatre of New Jersey concludes with the rarely performed comedic gem Trelawny of the Wells by renowned Victorian playwright Sir
Arthur Wing Pinero
. Performances began December 5th and continue through December 30th at the F.M. Kirby Shakespeare Theatre, 36 Madison Ave. (at Lancaster Road) in Madison. BroadwayWorld has a first look at the cast onstage in the photos below!
Rose Trelawny, a young star of the London stage, gives up the theatre in order to marry Arthur Gower, her devoted suitor and a member of the aristocracy. When Rose discovers just how stuffy, stiff and repressed her new life will be, she flees back into the arms of her theatrical family and the warm glow of the footlights. From thence, the plot unfolds.
The last major production of Trelawny of the Wells in this region was at Lincoln Center in the mid-1970s and featured a cast of prominent theatre and film luminaries including Mary Beth Hurt, John Lithgow, Mandy Patinkin, and Meryl Streep.
The 13-member cast is comprised entirely of company members who, in total, have appeared on The Shakespeare Theatre stage nearly 100 times. The cast includes some of the Theatre's younger company members as well as its eldest.
Nisi Sturgis plays the young actress Rose Trelawny. Sturgis appeared at The Shakespeare Theatre in leading roles in To Kill a Mockingbird, I Capture the Castle, Arms and The Man, and as Stella in A Streetcar Named Desire opposite Laila Robins. On Broadway, she appeared in The 39 Steps. She has appeared in regional theatres across the nation and is a regular on HBO's Boardwalk Empire. Jordan Coughtry plays Arthur Gower, Rose's fiancée. Coughtry has appeared at The Shakespeare Theatre in Amadeus, Servant of Two Masters, and Romeo and Juliet among many others, and at many of the nation's major regional theatres.
John Patrick Hayden plays Tom Wrench, an actor and playwright. Hayden made his Shakespeare Theatre debut in last season's The Misanthrope and has appeared on Broadway in Tartuffe and most recently in Hedda Gabler at Hartford Stage. Longtime senior company member Edmond Genest plays Sir William Gower. Some of Genest's many Shakespeare Theatre credits include Accidental Death of an Anarchist, No Man's Land, Noises Off, Around the World in Eighty Days, and King Lear. On Broadway, he appeared in The Elephant Man and A Few Good Men among many others.
Jennifer Harmon plays Mrs. Mossop. Harmon appeared at the Shakespeare Theatre in All's Well that Ends Well and on Broadway in Other Desert Party, Amy's View, The Little Foxes, School for Scandal, The Sisters Rosensweig, and Rumors among others. Shakespeare Theatre veteran Jon Barker plays Ferdinand Gadd. Barker recently appeared the Shakespeare Theatre productions of Henry IV, Part One, Othello, The Misanthrope and All's Well That Ends Well among many others.
Caralyn Kozlowski plays Imogen Parrott. Kozlowski has appeared at the Shakespeare Theatre in The Servant of Two Masters, Three Sisters, and Private Lives among others. She has worked extensively in regional theatres throughout the country including Seattle Rep, South Coast Rep and The Old Globe. Most recently, she appeared in Maple and Vine at the City Theatre in Pittsburgh.
Also in the cast are Shakespeare Theatre veterans Elizabeth Shepherd (Pygmalion) as Mrs. Telfer, Jim Mohr (The Grapes of Wrath) as Mr. Telfer, and Matt Sullivan (The Comedy of Errors) as Ablett. Rounding out the cast are Connor Carew, Rachel Fox, and Erica Knight.
Tickets are now on sale and can be purchased by calling the box office at 973-408-5600 or by visiting www.ShakespeareNJ.org.
Photo Credit: Gerry Goodstein, The Shakespeare Theatre of New Jersey.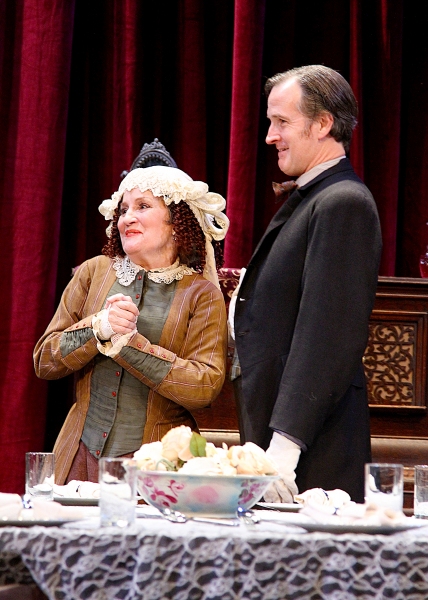 Jennifer Harmon as Mrs Mossop and Matt Sullivan as Mr Ablett welcome guests to a farewell party for Rose Trelawny.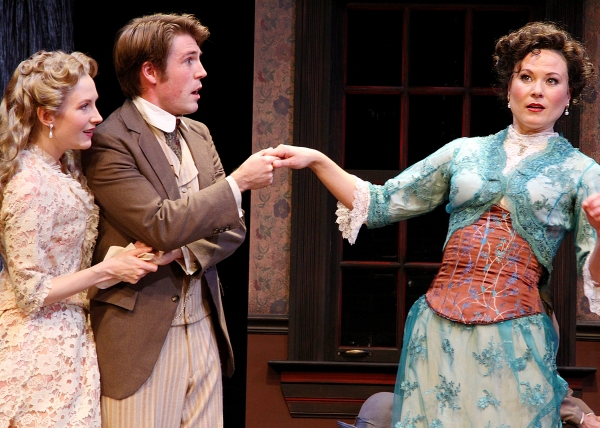 Nisi Sturgis as Rose Trelawny and Jordan Coughtry as her fiance Arthur Gower greet actress Imogen Parrot played by Caralyn Kozlowski.

Nisi Sturgis as Rose Trelawny and Jordan Coughtry as her fiance Arthur Gower.

Nisi Sturgis as Rose Trelawny gives her farewell speech to the actors of the Sadler's Wells theatre.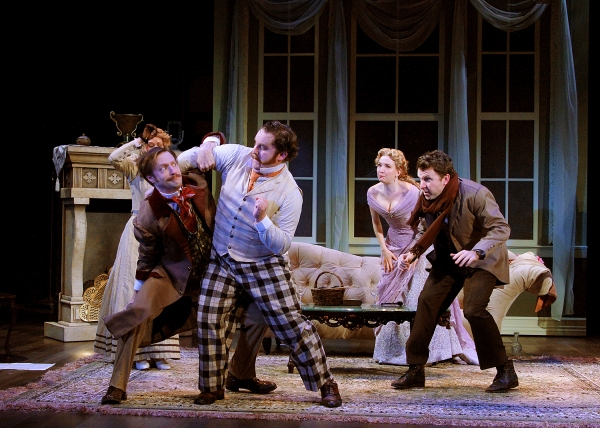 Jon Barker as Ferdinand Gadd and Connor Carew as Augustus Colpoys fight over the affections of a young actress as Nisi Sturgis as Rose Trelawny and John Patrick Hayden as Tom Wench look on.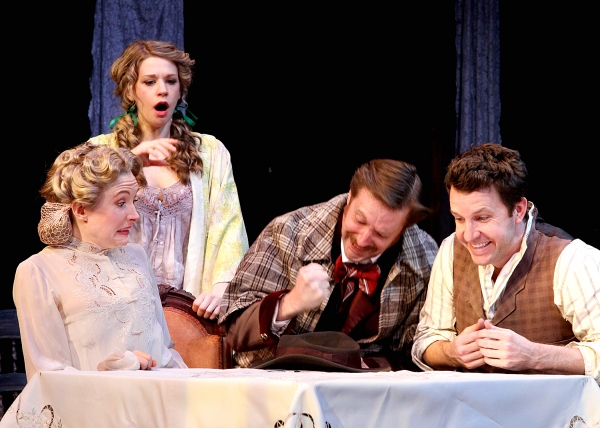 Jon Barker as actor Ferdinand Gadd celebrates his new role surrounded by fellow actors (l to r) Rose Trelawny played by Nisi Stugis, Avonia Bunn played by Rachel Fox and Tom Wrench played by John Patrick Hayden.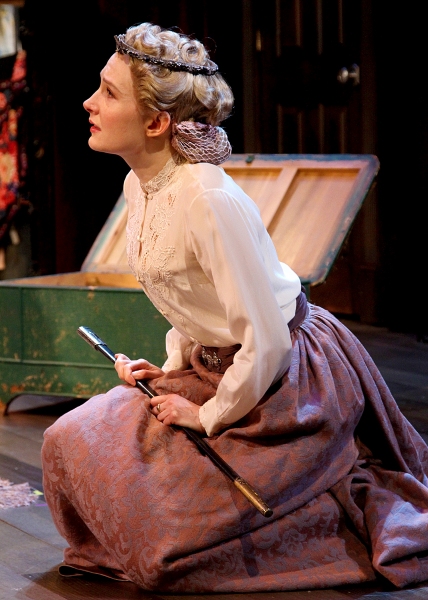 Nisi Sturgis as Rose Trelawny