Photo Flash: Centenary Stage Company presents LEARNED LADIES
Centenary Stage Company announces cast for upcoming production of Freyda Thomas' hilarious contemporary re-imagining of Moliere's penultimate play The Learned Ladies. Presented in the Lackland Performing Arts Center the production will run from October 6 through October 22 in the over 500 seat state of the art Sitnik Theatre.
Set in the 1930s, this zany web of love stories, farcical romps and battle of the sexes keeps true to Moliere's original while providing a smorgasbord of modern treats for contemporary audiences. As the story unfolds it is evident the household of Chrysale and his wife Philamente is in absolute disarray. Philamente has decided to dedicate herself and her home to the "life of the mind", the pursuit of noble thought and the practice of intellectual rigor pushing aside her wifely duties. Chrysale simply wants his dinner and to assert his place as head of the family. Throw into the mix a questionably skilled poet who will not leave, an eccentric sister, a sexy maid, a hotheaded suitor to the youngest daughter, a frustrated older sister and numerous pretentious "hangers on" and this contemporary comedy has all the makings of a true screwball comedy.
Directed by Centenary Stage Company's own award winning Artistic Director, Carl Wallnau, the cast of The Learned Ladies features a blend of new and returning professional actors, with credits ranging from Broadway to television to film. Leading the professional ensemble are Sandy York, David Edwards, Amy Griffin and David Cantor.
As Philamente, CSC audiences will remember York from her turn as Lillie Langtry in last season's production of Sherlock Holmes and the case of the Jersey Lily. Other credits include work at Bristol Riverside, Cape May Stage, Alabama Shakespeare Festival, Forestburgh Players, Trinity Rep and McCarter among a slew of NYC credits including Pan Asian Rep, Prospect Theater Company and Pulse Ensemble Theater.
Amy Griffin returns to Centenary Stage Company to play Belise, the eccentric but lovable sister to Chrysale. CSC audiences will remember Griffin from her performances in The English Bride and Sherlock Holmes and the Case of the Jersey Lily. Griffin's other credits include How the Grinch Stole Christmas on Broadway (original cast, cast recording), as well as, the first national tours of Seussical the Musical (starring Cathy Rigby) and Grinch. Griffin's regional work at such theaters as Savannah Rep, Bickford Theatre, Old Castle Theatre, Depot Theatre and Finger Lakes Musical Theatre Festival to name a few.
David Edwards also returns to CSC as Trissotin a poet of questionable merit and would be husband to Henriette. Edwards' previous CSC credits include productions of Light Up the Sky, The Mousetrap, The Cripple of Inishmaan and Bittersuite. Edwards' extensive resume includes the Broadway musical The Rothschilds with other Broadway/national tour credits including The Producers (as both Max Bialystock and Roger DeBris) and Andrew Lloyd-Webber's By Jeeves directed by Alan Ayckbourn. Off-Broadway he was the final "El Gallo" in the record-breaking original run of The Fantasticks and starred in the critically acclaimed revival of Room Service. Other work includes theaters such as The Ordway, Eugene O'Neill Center, Westchester Broadway Theatre, The Old Globe, Orlando Shakespeare Theatre, Portland Stage Co., GeVA, Bristol Riverside, Gateway Playhouse, Florida Studio Theatre and Syracuse Stage.
Joining the cast of The Learned Ladies as Chrysale the husband of Philamente, father of Henriette and Armande and making his CSC debut is David Cantor. Cantor appeared on Broadway as Bobinet in La Vie Parisienne and covered the role of Che in Evita, later playing Chewith the First National Tour on the West Coast. He appeared Off-Broadway for a year and a half as both Amshel and Nathan Rothschild in the critically acclaimed revival of The Rothschilds at Circle in the Square Downtown. Other credits include Grahame Chandler in The Fix Off-Broadway at Feinstein's/54 Below, Vanya in Vanya and Sonia and Masha and Spike, The Padre in Man of La Mancha, Benny, the comic lead, in a national tour of The Desert Song; Tony Lumpkin in She Stoops to Conquer; John Adams in 1776; Charlie in Tintypes; Henry Higgins in My Fair Lady, Fagin in Oliver!, Ricky Roma in Glengarry Glen Ross, The Old Actor in The Fantasticks, Buddy Fidler in City of Angels, and Richard Hannay in The 39 Steps. In addition, David has performed principal roles in all thirteen Gilbert and Sullivan operas in the USA, Great Britain, and Italy. Television and film appearances include Orange is the New Black, Madam Secretary, Redrum, Shadow of Doubt, Evil Lives Here, Man in Progress, All My Children, Loving, Another World, and Ryan's Hope.
The principle cast also features Centenary Stage Company's own Leah Antolini - Lid and Christopher John Young. Antolini - Lid is the Assistant Program Director for Centenary Stage Company and Associate Professor of Theatre for Centenary University, Antolini - Lid has been delighting CSC audiences with such memorable performances in CSC productions of Peter Pan, A Christmas Carol, Mary Poppins, The Wizard of Oz and Oliver! Other credits work at the Women's Theater Company, The Growing Stage and Blessed Unrest Theater Co. Antolini - Lid is also a founding member and managing director of the XY Dance Project, a professional dance company in NJ/NY. Christopher John Young is the Publicity and Social Media Manager for Centenary Stage Company, as well as, an adjunct faculty member for Centenary University's Theatre Department. Young was last seen in CSC productions of Start Down, The Nether, Harvey, The Liar and Quartermaine's Terms. Other credits include regional and film work, including The Monomoy Theatre, Oxford Shakespeare Festival, Valley Young Players, Alliance Repertory Theatre and 12 Miles West. Film includes; the upcoming 2018 release of Hunter's Weekend, Hotel (winner Best Actor, Atlantic City Cinefest), Star Crossed Lovers and Jess Archer Vs (streaming on Amazon Prime).
Making their Centenary Stage Company debut are Elizabeth Engleberth as Henreitte, with credits including work at The Shakespeare Theatre of NJ and The Bickford Theatre; Nadia Brown as Armande, with credits including work at The Royal Academy of Dramatic Art and New Jersey Repertory Company; and Isabel Cade as Martine, a recent graduate of The Neighborhood Playhouse Cade's most recent credits include work at Classic Stage Company. Rounding out the cast are Centenary University theatre students Nick Bettens as Vadius, Joseph Anthony as the Judge and Brianna Morris, Connor Goerk, AJ Lewis and Megan Schmeidhauser as a host of saucy servants.
Performances for The Learned Ladies run October 6 through October 22. Specific performance dates are Fridays Oct 6, 13 and 20 at 8PM; Saturdays Oct 7, 14 and 21 at 8PM; Sundays Oct 8, 15 and 22 at 2PM; Wednesdays Oct 11 and 18 at 2PM and Thursdays Oct 12 and 19 at 7:30PM. All performances will be held in the Sitnik Theatre of the Lackland Performing Arts Center. Centenary Stage Company's production the The Learned Ladies is sponsored by season sponsor Heath Village and series sponsor The House of the Good Shepherd.
Tickets for The Learned Ladies are $27.50 for adults on matinee and Friday evening performances. Saturday evening ticket prices are $29.50 for adults. Tickets for children under 12 are $17.50 for all performances. Thursday evening performances are $27.50 for all seats with a Buy One/Get One rush ticket special. To qualify for BOGO offer tickets must be purchased in person at the Centenary Stage Company box office as early as two hours prior to performance time. BOGO offer not valid for advance ticket sales and may not be combined with any other offer or discount. Centenary Stage Company also offers special Buffet Matinees on Wednesday afternoon performances for groups of 25 or more. Enjoy lunch/brunch in one of Centenary Stage Company's private dining rooms and receive discounted tickets to the performance. To reserve a buffet matinee or to inquire about additional group sales contact the Centenary Stage Company box office directly.
For more information or to purchase tickets visit centenarystageco.org or call the Centenary Stage Company box office at (908) 979 - 0900. The box office is located in the Lackland Performing Arts Center at 715 Grand Ave. Hackettstown, NJ. The box office is open Mondaythrough Friday from 1 - 5 pm and two hours prior to each performance. Centenary Stage Company can also be found across social media platforms; Facebook, Instagram and Twitter. Like and follow to receive the latest in CSC news and special offers.
The 2017-2018 season of performing arts events at the Centenary Stage Company is made possible through the generous support of the Geraldine R. Dodge Foundation, the NJ State Council on the Arts, the Shubert Foundation, the Blanche and Irving Laurie Foundation, the Sandra Kupperman Foundation, and CSC corporate sponsors, including Premier Season Sponsor Heath Village Retirement Community, Silver Sponsors Hackettstown Medical Center, Home Instead Senior Care (Washington), The Holiday Inn in Budd Lake, House of the Good Shepherd and Fulton Bank of New Jersey, and Centenary Stage Company members and supporters.


David Cantor as Chrysale, Lizzie Englemerth as Henriette, Nadia Denise Brown as Armande, and Sandy York as Philamente in the CSC production of The Learned Ladies, adapted by Freyda Thomas, Oct 6-22 2017 at the Lackland Performing Arts Center in Hackettstown

Lea Antolini as Arista, Christopher John Young as Lycandre, Sandy York as Philamente, Lizzie Engleberth as Henriette, David Cantor as Chrysale, Isabel Cade as Martine, Nadia Denise Brown as Armande, Amy Griffin as Belise, Brianna Morris as the servant, and (under table) Nick Bettens as Vadius in the CSC production of The Learned Ladies, adapted by Freyda Thomas, Oct 6-22 2017 at the Lackland Performing Arts Center in Hackettstown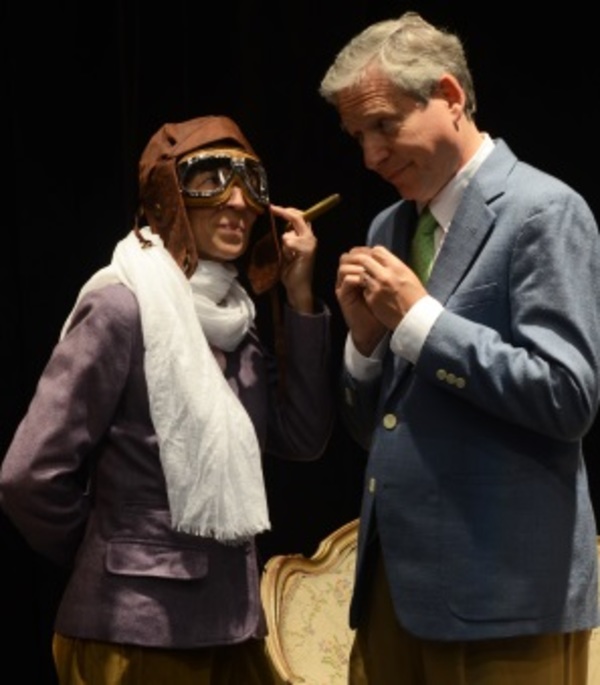 Lea Antolini as Arista and David Cantor as Chrysale in the CSC production of The Learned Ladies, adapted by Freyda Thomas, Oct 6-22 2017 at the Lackland Performing Arts Center in Hackettstown.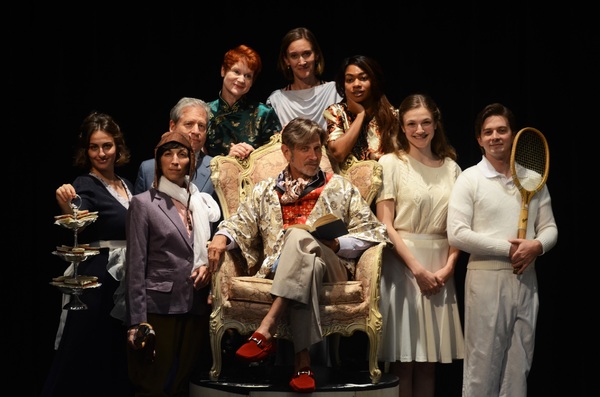 Isabel Cade as Martine, Lea Antolini as Arista, David Cantor as Chrysale, Amy Griffin as Belise, Sandy York as Philamente, Nadia Denise Brown as Armande, Lizzie Engleberth as Henriette, Nick Bettens as Vadius, Christopher John Young as Lycandre and seated center â€" David Edwards as Trissotin in the CSC production of The Learned Ladies adapted by Freyda Thomas, Oct 6-22 2017 at the Lackland Performing Arts Center in Hackettstown