Jersey City Theater Center Continues Truth Series with 2B OR NOT 2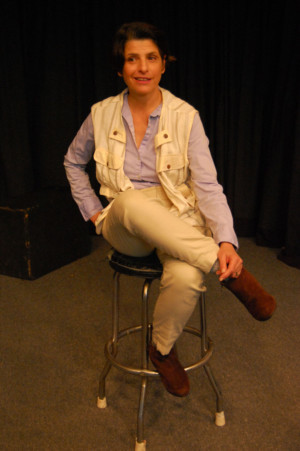 An aspiring but out-of-work actress takes a job as theater teacher and discovers a surprising truth: the real world of her students was far more engaging than the world of the classic characters she wanted to play.
Jersey City Theater Center (JCTC) continues its Truth series with 2B or Not 2 - Friday, March 23 at 8:00pm, Merseles Studios, 339 Newark Avenue, Jersey City, NJ 07302. (Doors open at 7:30, come early and enjoy the Truth Art Show in the gallery at Merseles Studios).
Written and performed by Anne Pasquale and directed by Sondra Lee, 2B or Not 2 is based on Pasquale's own experience as a teaching artist. In the early 2000's she moved from Rhode Island to New York City determined to become a successful actress. In order to make ends meet - and avoid admitting defeat and moving back home - she becomes a teaching artist. Her job requires her to visit schools - from pre-K to High School - and teach all aspects of theatre: from acting and directing to stage design and scenery construction with the students.
As she meets more students, hears their stories and finds out about their lives, she realizes that being involved with youth is more fulfilling than the more typical theatre career she originally sought. Pasquale has worked in hundreds of schools, including many in New Jersey. She has worked with Living History Programs and in 2009 received the Roster Artist of the Year Award from Young Audiences New York. In 2B or Not 2, Pasquale portrays more than 20 characters in her comic yet poignant solo-show, which was workshopped at the prestigious Polaris North, a New York theatre cooperative.
2B or Not 2 premiered at the Midtown International Theatre Festival last year, and the JCTC presentation is the New Jersey debut. While the play documents her unusual career path, at its core are the lives of the students she encounters.
"Many of the stories based on the experiences I had working in schools throughout northern New Jersey, so I am excited to begin the next phase of the play in New Jersey because so much of the play was inspired by the students I met here," said Pasquale. "This show is for anyone who loves children, who has ever been a child and who is fascinated by their everyday stories of disaster and hope. As an actress, I've yet to play Tatiana but every day I get up and have the privilege of working, with some of the most creative minds on the planet, children."
"This play about how sometimes our greatest successes come when we set out to do something else," said Sondra Lee, director of 2B or Not 2.
Pasquale, who was trained at L.A.M.D.A. and the New York School of the Arts, has most recently appeared in the Gallery Players' premiere of The Altruist by TJ Edwards and All the Best Ingredients by James Bosley. She also played Serafina Della Rosa in The Rose Tattoo in her own original compilation - Tennessee Williams, the Writer and His World - at the Accidental Repertory Theatre under the direction of John Strasberg.
Lee - an Award winning dancer, actress and director - was the original Tiger Lily in Peter Pan on Broadway (1954), a role which endeared her to millions when it aired nation and worldwide on television in 1960. Sondra acted in many plays, operas and movies, created the role of Minnie Fay in Hello, Dolly!, and danced in Jerome Robbins' Ballet: U.S.A Her film roles range from La Dolce Vita to The Last of the Mohicans. Born in Newark, N.J., Lee authored I Slept with Everybody (2009), an insightful and entertaining memoir about her life as an actress and dancer.
Tickets: $20 ($15 for students & senior citizens/photo ID required at door).
To purchase tickets, visit: JCTCenter.org

Related Articles View More New Jersey

Stories

Shows
More Hot Stories For You