ELTC and MAC Present 'GHOSTS OF CHRISTMAS PAST' Trolley Rides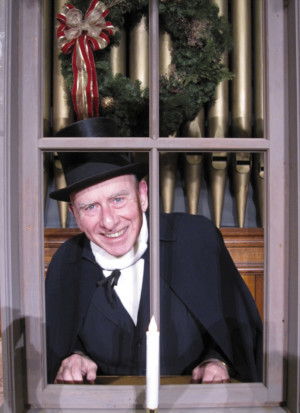 "I will go and tend my geese! I will, I will, I will!" screamed the Mayor's daughter wearing a goose-girl costume. Usually, she was a polite, pampered child, but ever since her father threw a Christmas Eve party for all of the children in the city, she behaved like the costume she was wearing. In fact, all of the children behaved like the costumes dictated. Paupers were princes and the privileged performed farm chores.
This was the doings of a strange little Costumer who suddenly appeared several weeks before the party in "The Christmas Masquerade," by Mary Wilkins Freeman. No matter how hard parents tried to change their children's clothes, the costumes would not be removed. Will the Mayor's daughter be forever a shepherdess and the cobbler's son a prince?
This tale is one of two that are part of the repertoire of the "Ghosts of Christmas Past Trolley Rides," co-sponsored by The Mid-Atlantic Center for the Arts and Humanities (MAC) and the award-winning Equity professional East Lynne Theater Company.
The other ghostly story will either be Frank R. Stockton's "Old Applejoy's Ghost" or Nathanial Hawthorne's "Snow Image."
In Stockton's tale, a ghost living in the attic of the old mansion hopes to convince his great-grand-niece to help his grandson celebrate Christmas. But will she be able to see and hear him? Hawthorne is known for his eerie, supernatural writing style, and the "Snow Image" is no exception. Did Violet and Sam create a real child out of snow, or was it just their imagination at work? All of the tales have been adapted for storytelling by ELTC's artistic director Gayle Stahlhuth.
Listen to these classic American ghostly tales, fully memorized, told in a dark trolley, while the twinkling lights of the beautifully decorated homes and streets are seen through the windows of the heated vehicle. This marks the tenth year of this popular event.
The "ghostly" thirty-minute rides begin and end at the Washington Street Mall Information Booth. Tickets are only $12 for adults and $8 for children, ages 3-12, and run several nights a week through December 31.
Once again, the main costumed storyteller is Frank Smith, who was the first person to portray Dr. Physick for MAC's tour of the Physick Estate, and has performed for ELTC in William Gillette's "Sherlock Holmes" and for "Tales of the Victorians," ELTC's popular storytelling event at various venues during the summer and fall.
Reservations are strongly suggested and can be made by calling MAC at 884-5404. If tickets are available the day of the tour, they will be sold at the Washington Street Mall Information Booth.
Meanwhile, on ELTC's mainstage is "Louisa May Alcott's Christmas" based on the opening of "Little Women" and several short stories by this beloved writer, adapted and performed by Gayle Stahlhuth, through December 9 only at The First Presbyterian Church, 500 Hughes St., Cape May, where the company is in residence. For information or reservations: 884-5898 or visit eastlynnetheater.org. Season tickets for 2018 are available and make an excellent Christmas present: 4 shows for only $90 and tickets may be used in a variety of ways.
Pictured: Frank Smith, performer for ELTC's and MAC's "Ghosts of Christmas Past Trolley Rides" running through December 31. Photo by Gayle Stahlhuth.