CURTAIN CALL to Take Place on 10/23 for New Jersey Theatre Alliance Day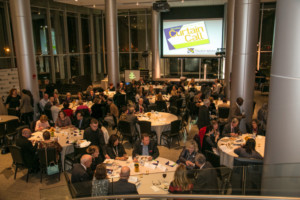 In a proclamation dated September 19, 2017, Morristown Mayor Timothy P. Dougherty declared that October 23, 2017 will be known as "New Jersey Theatre Alliance Day." On that day, New Jersey Theatre Alliance ("the Alliance") will host Curtain Call, its annual celebration of theatre, at the Westin Governor Morris in Morristown, honoring the artistic directors of its member theatres for their dedication and artistic vision, and Atlantic Health System for its support of theatre programming that enhances the health and wellbeing of New Jersey residents. The event, which is open to the public, will take place from 6:00 p.m. to 9:00 p.m. and includes buffet stations, wine and beer, entertainment, a silent auction, and a raffle.
Awards of Excellence will be given to all 33 artistic directors of the professional theatres of New Jersey. This incudes: June Ballinger of Passage Theatre Company in Trenton, Suzanne Barabas of New Jersey Repertory Company in Long Branch, Michael Bias of The Garage Theatre Group in Teaneck, Ed Corsi and Ted Wioncek of The Eagle Theatre in Hammonton, Ray Croce of South Camden Theatre Company in Camden, John Dias of Two River Theater in Red Bank, Michael Driscoll of Alliance Repertory Theatre Company in Summit, Laura Ekstrand of Dreamcatcher Repertory Theatre in Summit, Stephen Fredericks of The Growing Stage: The Children's Theatre of New Jersey in Netcong, Eric Hafen of the Bickford Theatre at the Morris Museum in Morristown, Mark Hoebee of Paper Mill Playhouse in Millburn, Marshall Jones III of Crossroads Theatre Company in New Brunswick, Cheryl Katz of Luna Stage Company in West Orange, Barbara Krajkowski of Women's Theater Company in Lake Hiawatha, Frank Licato of Hudson Theatre Works in Weehawken, Emily Mann of McCarter Theatre Center in Princeton, Bonnie Monte of The Shakespeare Theatre of New Jersey in Madison, Chris O'Connor of Mile Square Theatre in Hoboken, John Pietrowski of Writers Theatre of New Jersey in Madison, Marni Raab and Steven Tabakin of Midtown Direct Rep in Maplewood, James Rana of Actors Shakespeare Company in Elizabeth, David Saint of George Street Playhouse in New Brunswick, Sam Scalamoni of Skyline Theatre Company in Fair Lawn, Lou Scarpati of the company Theatre Group in Hackensack, Mark Spina of The Theater Project in Maplewood, Gayle Stahlhuth of East Lynne Theater Company in Cape May, Roy Steinberg of Cape May Stage in Cape May, Jim Vagias of American Theater Group in South Orange, Carl Wallnau of Centenary Stage Company in Hackettstown, Paul Whelihan of Pushcart Players in Verona, and John Wooten of Premiere Stages at Kean University in Union.
"We are delighted to be recognizing our state's artistic directors at this year's Curtain Call," said John McEwen, Executive Director of New Jersey Theatre Alliance. "Through their talent and vision they are enriching the lives of their audiences with theatrical works and programs that entertain, educate, challenge, and inspire. We are fortunate to have such a diverse professional theatre community in our state and we applaud the artistic directors for their wisdom and dedication."
Atlantic Health System, winner of the Star Award, has partnered with the Alliance for several years on the Healing Arts: Caregivers' Stories program, which works with professional and family caregivers to share their experiences in a creative way on stage with the help of professional writers, actors, and directors.
"Art can serve as a vehicle to express emotions and needs, which can help foster healing of the mind, body, and spirit," said Maria Lupo, MFA, MA, ATR, manager of Atlantic Health System's Healing Arts program. "We are pleased that the work we're doing to build healthier communities, including our Healing Voices on Stage: Caregivers Stories program, is recognized by New Jersey Theater Alliance for the Program."
Alliance member theatres are large, mid-sized, and small non-profit theatres that produce musicals, classics, contemporary dramas, new works, and/or children's plays. Each is a fully functioning business that pays its staff and artists (designers, technicians, directors, and actors) while contributing substantially to the state's economy.
Curtain Call attendees will have the opportunity to bid on items in the silent auction, and can purchase a chance to win a 50/50 raffle. For reservations and additional information, visit njtheatrealliance.org/events/curtain-call-2017-0.
Proceeds from the event will strengthen the Alliance's role as a critical resource for the state's arts community and advance its programs that benefit children, seniors, people with disabilities, and the theatre-going public. The community has already enthusiastically supported Curtain Call, with sponsorship from Atlantic Health System, Bank of America, Mills + Schnoering Architects, LLC, and several individuals.
New Jersey Theatre Alliance was the first statewide service organization for professional, not-for-profit theatre companies in the United States, and is a leader in developing model programs that unite, promote, strengthen, and cultivate professional theatre in New Jersey. Funding for New Jersey Theatre Alliance, a not-for-profit organization, is provided in part by the New Jersey State Council on the Arts/Department of State, a Partner Agency of the National Endowment for the Arts, as well as contributions from individuals, corporations, and foundations including the Geraldine R. Dodge Foundation, Bank of America, Prudential Foundation, The Shubert Foundation, The Blanche and Irving Laurie Foundation, and The Horizon Foundation for New Jersey. More information can be found at njtheatrealliance.org.