Blue Curtain Presents Live Entertainment From Around The Globe This Summer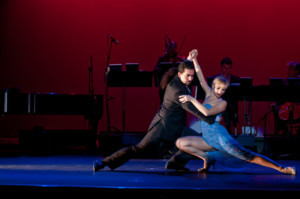 Blue Curtain, presenting world-class artists from around the globe, kicks off its 2018 series with Pradhanica & Leonardo Suarez Paz's Cuartetango on Saturday, July 14 at the Pettoranello Gardens Amphitheater (Route 206 and Mountain Ave.) The concert, free and open to all, starts at 7PM.
Pradhanica is a enthralling dance and world drum ensemble created and composed by renowned Indian rhythm composer Pandit Divyang Vakil, and choreographed by Jin Won. The graceful and powerful Indian dance form of Kathak comes together with high-energy drumming on the cajon, djembe, and tabla, with melodic support on sitar or saarangi. A multi-ethnic ensemble brought together by the pervasive power of rhythm. Pradhanica's performance is divided into two segments - pure dance and abhinaya or expressive dance. The abhinaya section draws on the storytelling origins of kathak and explores several of the nine emotions (Navrasa) through rhythm, melody, and dance.
Virtuoso violinist and multiple Latin GRAMMY nominee Leonardo Suarez Paz leads the Cuartetango string quartet with bandoneon and tango dance to the forefront of 21st century Nuevo Tango, following in the footsteps of his mentor and friend, Astor Piazzolla. Leonardo is known for his uncommon talent as a singer, a professional career, which he began at the age of six, as a tango dancer and an artist who "possesses a unique spirit is a virtuoso extraordinaire on the violin" (Wynton Marsalis). The star of iconic TangoX2, Perfumes de Tango, the Mariano Mores Show where he danced and played and Broadway's Forever Tango and Tango Argentino.
Concert-goers are encouraged to come early and enjoy the beautiful outdoor setting of Pettoranello Gardens at Community Park North (Route 206 and Mountain Ave). Blankets and low-backed lawn chairs are recommended for lawn seating.
For more information: info@bluecurtain.org.