Review: THE SOURCE by Jack Canfora Makes its Stunning World Premiere Now at NJ Rep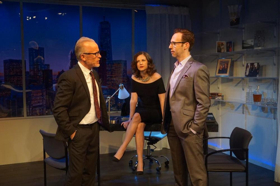 "There's no excuse for excuses."
-by Eleanor in THE SOURCE
New Jersey Repertory Company (NJ Rep) is now presenting the world premiere of Jack Canfora's The Source through April 7. This outstanding play has received the prestigious Edgerton Foundation New Play Award. Superbly directed by the Company's Associate Artistic Director, Evan Bergman, it features an exceptional three-person cast. Put this one on your entertainment schedule. It is an intriguing story of a modern news organization in the throes of an ethical dilemma.
Media mogul Roland is a sharp, strategic businessman whose enterprises are in peril. A source has revealed that one of his newspapers published a victim's text messages that had been illicitly obtained from the local police. The scandal threatens the reputation of the company and their proposed deal to acquire the media giant, Clear Sky. In a contentious meeting, Roland, his son Andrew who is an executive of the company, and the newspaper's savvy editor, Eleanor decide that there must be a "bold stroke" to deflect public attention from the issue. With tensions running high, it is anyone's guess if there can be a resolution. This keenly written play, with its contemporary subject matter, well-developed characters, and plot twists, will keep you enthralled from the first minute to the last.
The cast of The Source couldn't be better with Eleanor Handley as Eleanor; Andrew Rein as Andrew; and Conan McCarty as Roland. They master Canfora's intense, sharp, and witty dialogue. The scenes shift from May of 2013 to July of 2011 and then to August of 2014. This timeline offers a perspective on the characters' personal relationships and business dealings. Handley, Rein, and McCarty bring their characters to life with such exactness, you will believe that the events are unfolding in real time.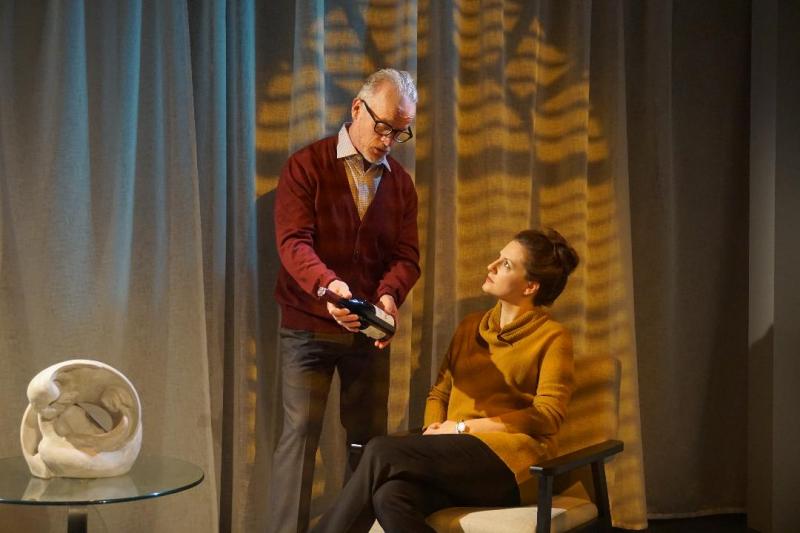 The Creative Team has done a fantastic job of creating the setting for The Source. They include scenic design by Jessica Parks; lighting design by Jill Nagle; costume design by Patricia E. Doherty; sound design and Webmaster, Merek Royce Press; Technical Director, Brian P. Snyder; Production Stage Manager, Kristen Pfeifer; and Assistant Stage Manager/Company Manager, Adam von Pier.
With the increasing influence of media and our individual privacies is at risk, The Source is a powerful story that is reflects our times. The play is the fourth one by Jack Canfora that has premiered at NJ Rep. We applaud Executive Producer, Gabor Barabas and Artistic Director, Suzanne Barabas for continuing to bring the best in new theatre to the Long Branch Stage.
The Source runs through April 7, 2019 at NJ Rep. It is presented for 2 hours with one 15-minute intermission. The theatre is located at 179 Broadway in Long Branch. Regular performances are Thursdays and Fridays at 8:00 PM; Saturdays at 3:00 PM and 8:00 PM; Sundays at 2:00 PM. Tickets are $50 (opening night with reception, $60; premium seating + $5). All tickets may be subject to a service charge. Annual subscriptions are now available for $225 per person which includes the Company's year-round performances of six new plays. For tickets or additional information call 732-229-3166 or visit http://www.njrep.org/.
Photo Credit: Courtesy of NJ Rep