BWW Review: THE BRIDGE OF SAN LUIS REY at TRT is a Gift to Theatergoers
"Always around us there are people we could love if only we could learn."
-by Dona Maria in The Bridge of San Luis Rey
Two River Theater (TRT) continues their successful 2017/2018 season with the enthralling world premiere of The Bridge of San Luis Rey by Thornton Wilder. Published in 1927, the book won Wilder the first of his three Pulitzer Prizes. Expertly directed by Ken Rus Schmoll, this timeless story has been artfully adapted for the stage by David Greenspan who also stars in the production accompanied by a stellar cast. This gripping play is a true gift to metro area audiences.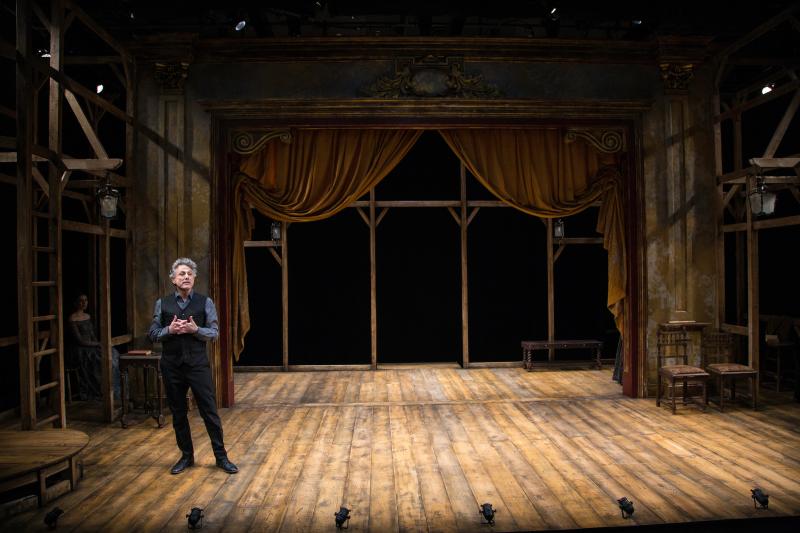 The Bride of San Luis Rey is set in 1720 Peru and it tells of five villagers who fall to their deaths as they cross an Inca rope bridge that suddenly breaks. Nine characters, whose lives are intertwined, come alive in the story. There's wealthy Dona Maria, an aging crone, who longs for the love of her estranged daughter, Dona Clara. In her loneliness, Dona Maria fails to appreciate the company of her young companion, Pepita. Madre Maria, the village nun, has worked tirelessly to assist people like the orphaned twins Esteban and Manuel who have matured into young men. The townspeople also include spirited individuals like the actress, Camila Perichole, her manager, Uncle Pio, and the seafarer, Captain Alvaro. As each person searches for their own sense of love and meaning, there are captivating scenes that capture drama and humor. The intimate view the villagers keeps you wondering which of them will meet their unfortunate death when the bridge collapses.
David Greenspan leads the show's exceptional company as Uncle Pio and also provides a narrative to round out the story. The cast of The Bridge of San Luis Rey includes Sumaya Bouhbal as Pepita; Zachary Infante as Esteban; Julienne Hanzelka Kim as Madre María; Elizabeth Ramos as Camila Perichole; Steven Rattazzi plays the multiple roles of Don Andrés de Ribera/Captain Alvarado/Don Vicente/Jaime/Inez; Mary Lou Rosato as Doña María; Bradley James Tejeda as Manuel; and Madeline Wise as Doña Clara. The troupe delivers Thornton Wilder's insightful, beautifully written prose with perfect pacing.
The creative team has done a terrific job of bringing The Bridge of San Luis Rey to the Red Bank stage. They include scenic design by Antje Ellermann; costume design by Elizabeth Hope Clancy; lighting design by Yuki Nakase; and sound design by Karin Graybash. Casting is by Jack Doulin + Sharky, and the Stage Manager is Megan Smith.
We applaud Two River Theater under the leadership of Artistic Director John Dias and Managing Director Michael Hurst. By commissioning The Bridge of San Luis Rey, they are offering metro area audiences an outstanding opportunity to experience Thornton Wilder's touching masterpiece. Get your tickets now while you can.
The Bridge of San Luis Rey is being performed through Sunday, March 18 in Two River's Marion Huber Theater, 21 Bridge Avenue, Red Bank. Ticket prices range from $40 to $80, with discounts available for groups, seniors, and U.S. military personnel, their families, and veterans. A limited number of $20 tickets are available for every performance; $20 tickets may be partial view. Tickets for patrons under 30 are $20 and include the best available seats at every performance. Tickets are available from https://www.tworivertheater.org/ or 732.345.1400. The lead production sponsor is Brookdale Community College.
Photo Credit: T. Charles Erickson