BWW Review: TARTUFFE at The Shakespeare Theatre of New Jersey Intrigues with Humor and Verve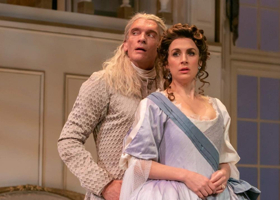 "You see him as a saint. I'm far less awed. In fact, I see right through him. He's a fraud."
-by Dorine in Tartuffe
It's happening! The Shakespeare Theatre of New Jersey opens their 2018 season with a bold, bright, and brilliant production of Moliere's classic French comedy Tartuffe. Translated by Richard Wilbur and superbly directed by the Theatre's Artistic Director, Bonnie J. Monte, the show features an outstanding cast of thespians that will have you on the edge of your seat wondering just what will occur next. Even if you've seen Tartuffe performed before, you will thoroughly enjoy this play that speaks to a modern audience now more than ever.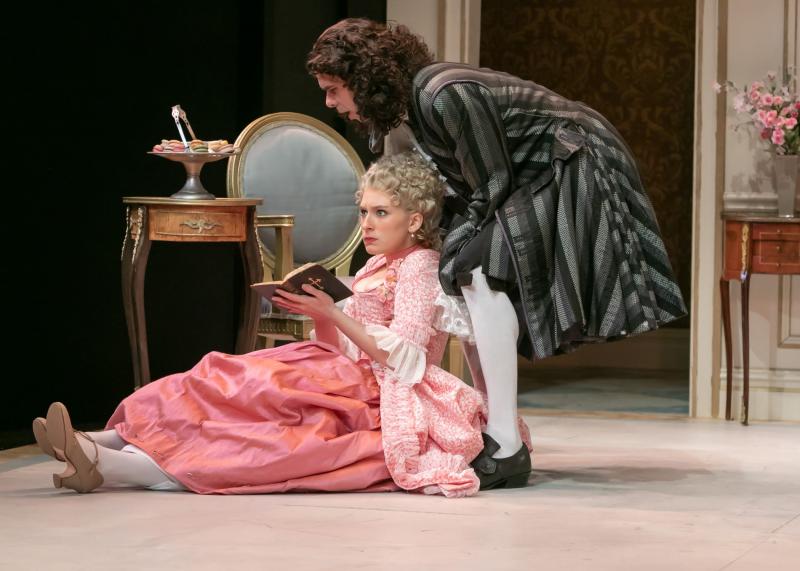 In the tale, Orgon's family is upset because he is being influenced by Tartuffe, a falsely pious philanderer and swindler, who has also duped the family matriarch, Madam Pernelle. Orgon is warned of Tartuffe's dishonesty by his spirited servant, Dorine and his brother in law, Cleante, but he refuses to listen. Tensions run particularly high when Orgon suddenly promises his daughter, Mariane in marriage to Tartuffe although she is already engaged to her beloved Valere. Tartuffe's level of deceit knows no boundaries as he furtively romances Orgon's wife, Elmire. As the dynamic plot continues to unfold, Orgon's blind devotion to Tartuffe causes him to banish his son, Damis from his home and sign over his home and fortune to the devious interloper. This comedic satire is a keen and timeless portrayal of hypocrisy and its effects on others.
The company couldn't be better. They are in full command of Moliere's fast-paced, dialogue with its cleverly rhymed couplets. The lively, colorful characters in the show are wonderfully portrayed. The cast includes Patrick Toon as Orgon; Vivian Reed as Madame Pernelle; Brent Harris as Tartuffe; Caroline Kinsolving as Elmire; Victoria Mack as Dorine; Sarah Nicole Deaver as Mariane; William Sturdivant as Cleante; Aaron McDaniel as Damis; Mark Hawkins as Valere; Delia Bannon as Flipote; Drew Dix as Monsieur Loyal; and Garrett Gray as Officer.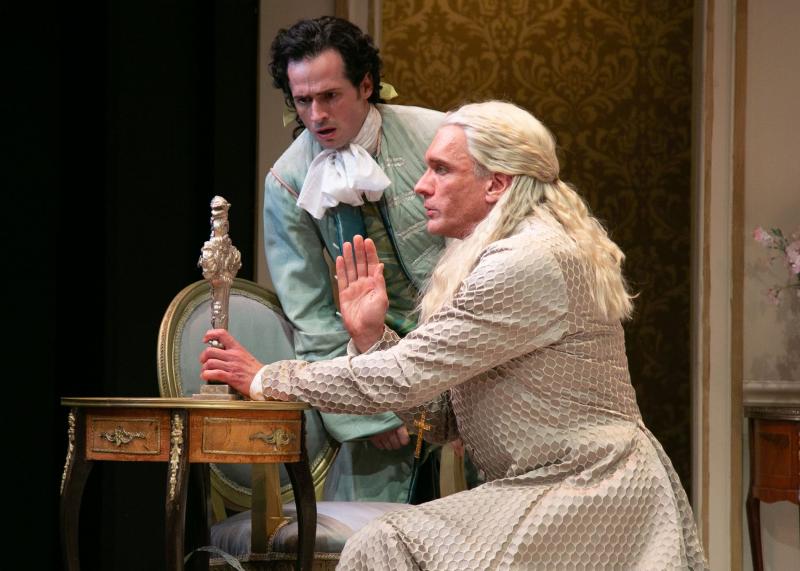 The Artistic Staff has done a top job of bringing the home of Orgon and the 17th Century setting to life with some clever, more modern touches. They include sound design by Ms. Monte; costume design by Nikki Delhomme; scenic design by Brittany Vasta; lighting design by Matthew J. Weisgable; wig design and style by Samantha LaScala. The Production Stage Manager is Jackie Mariani; Assistant to the Director is Katie Langham; Assistants to the Stage Manager are Makenzi Kalch and Heather McLeod; Show Carpenter is James Earley.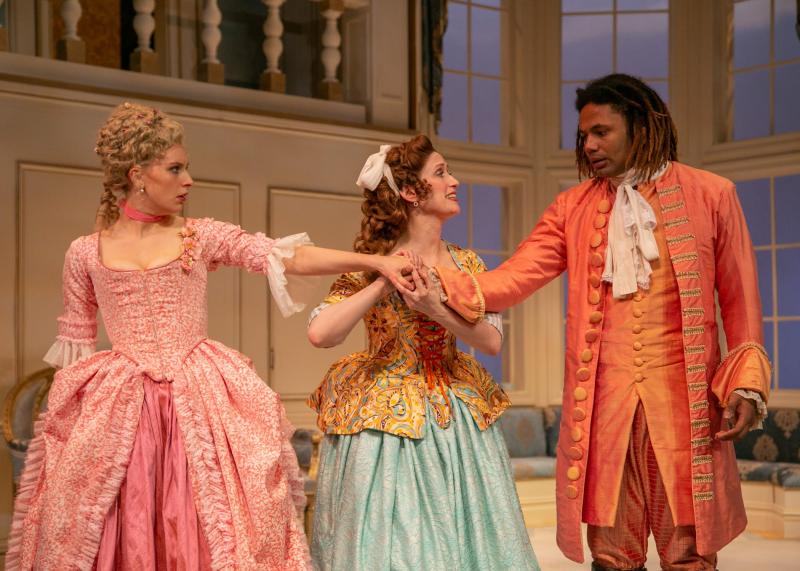 In her opening night address to the audience, Bonnie J. Monte commented, "We're thrilled to be kicking off our season with Tartuffe." And audiences will be thrilled by the production. It will certainly make you look forward to the theatre's season ahead.
Tartuffe will be performed through June 3rd at the F.M Kirby Shakespeare Theatre at 36 Madison Avenue in Madison on the campus of Drew University. The show runs for 2 hours and 15 minutes with one intermission. Tickets may be purchased in person at the theatre's Box Office, by calling 908.408.5600 or online at www.shakespearenj.org.
Photo credit: Jerry Dalia