BWW Review: KING HEDLEY II by August Wilson at Two River Theater is a Powerful and Emotive Drama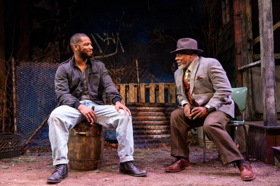 "I got to make it any way I can."
by King in King Hedley II
Two River Theater (TRT) is now presenting a stunning production of August Wilson's powerful drama, King Hedley II through December 16. The show is expertly directed by the renowned actor and director, Brandon J. Dirden who has appeared in five of the TRT's productions including Ma Rainey's Black Bottom and A Raisin in the Sun. King Heldey II is the sequel to Seven Guitars that was produced in 2015 by the Red Bank theater, and was also directed by Brandon J. Dirden. See this rarely performed gem and experience theater at its finest.
The play continues the story from August Wilson's Seven Guitars with Ruby and Canewell, who is now dubbed "Stool Pigeon." Set in 1985, the residents of Pittsburgh's Hill District have to deal with a lack of employment, street violence, and a high murder rate. King Hedley II is recently released from Western State Penitentiary after serving a seven-year sentence for murder. He returns to his family's home to live with his mother, Ruby and build a new life with his wife, Tonya. Times are tough. King is desperate for big money as he devises illegal plans with his best friend, Mister. And when Elmore, a schemer and Ruby's long time paramour, comes to town, his dark past and knowledge of long-held secrets threaten any possible peace. As the tense story unfolds, Stool Pigeon emphatically quotes the bible, delivering a sense of spirituality to the harsh struggles of this African American community.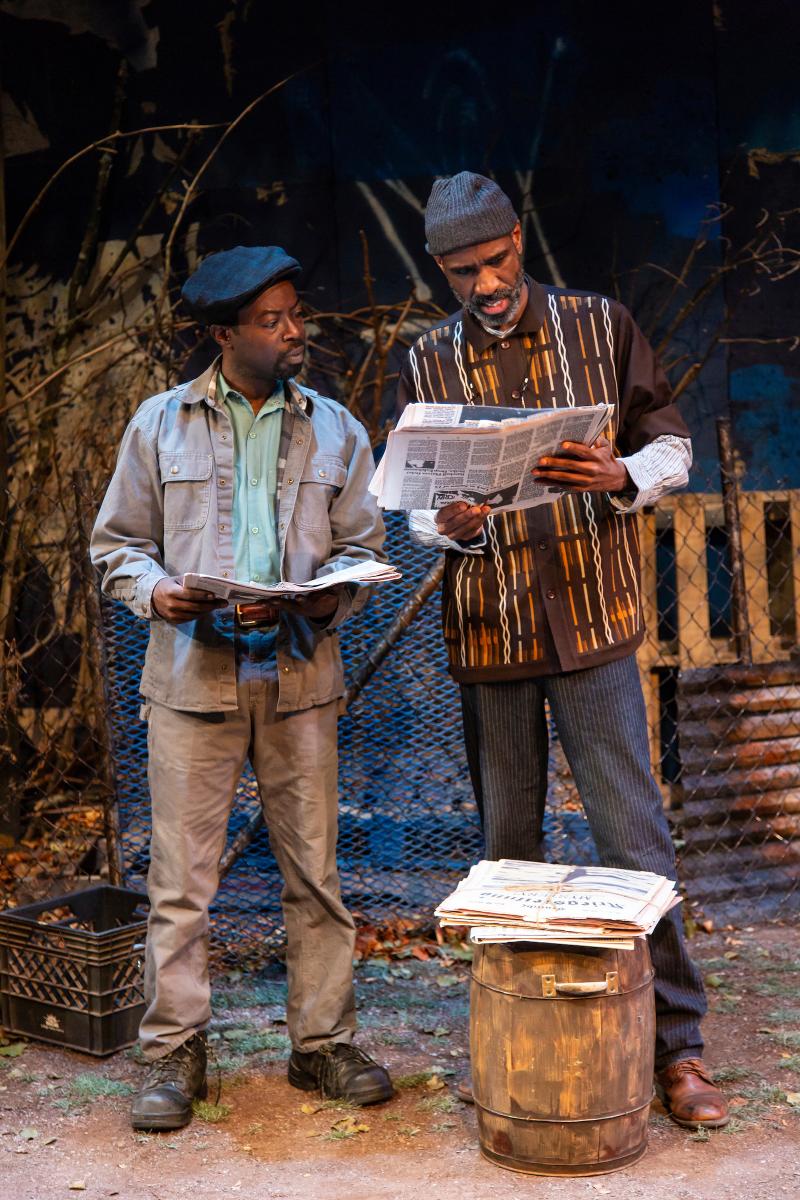 The cast of King Hedley II is perfectly suited to their roles. They impeccably bring the drama and occasional humor of August Wilson's superbly written play to the stage. The company includes Brittany Bellizeare as Tonya; Harvy Blanks as Elmore; Brian D. Coats as Stool Pigeon; Elain Graham as Ruby; Charlie Hudson III as Mister; and Blake Morris as King Hedley II. The actors' performances are beyond praise. Captivating scenes include King Hedley II planting flower seeds in the rough soil in front of the family home; Mister and King planning to sell stolen refrigerators; Tonya speaking of motherhood and the life of her teenage daughter; Ruby and Tonya talking about Ruby's former singing career; Elmore recounting his troubled past; and Stool Pigeon announcing the death of the neighborhood matriarch, Aunt Ester.
The Creative Team has done a great job of creating an authentic urban scene. They include scenic design by Michael Carnahan; costume design by Karen Perry; lighting design by Kathy A. Perkins; sound design by Kay Richardson; and wig design by Erin Hicks. The fight direction is by Unkle Dave's Fight-House; the casting is by Heidi Griffiths & Kate Murray; and the Stage Manager is Laura Wilson.
Two River's King Hedley II marks the halfway point in the Theater's commitment to present all 10 plays of August Wilson's "American Century Cycle." For the first time, the theater is presenting one of Wilson's plays in its intimate 110-seat Marion Huber Theater. Seating is limited so we suggest you get your tickets now!
Two River Theater is located at 21 Bridge Avenue in Red Bank. Ticket prices for King Hedley II range from $40 to $80, with discounts available for groups, senior, and U.S. military personnel, their families, and veterans. A limited number of $20 tickets are available for every performance. $20 tickets may be partial view. Tickets for patrons under 30 are $20 and include the best available seats at every performance. For more information, visit http://www.tworivertheater.org/ and call 732.345.1000.
Photo Credit: T. Charles Erickson
Related Articles View More New Jersey

Stories

Shows