Review: A SERVANT OF TWO MASTERS at The Shakespeare Theater of NJ is Fantastic Summer Entertainment for All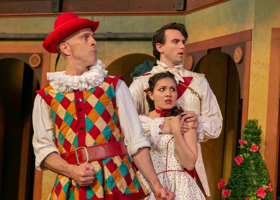 "If I pull it off, call me the master servant of all servants."
-by Truffaldino in The Servant of Two Masters
The Shakespeare Theatre of New Jersey makes summer a wonderful time of the year for metro area theatergoers with their Outdoor Stage productions. This season, they are presenting The Servant of Two Masters through Sunday, July 29. The show is delightful, a fun frolic, wonderfully staged. Written by the Theatre's Artistic Director, Bonnie J. Monte, adapted from a play by Carlo Goldoni, and directed by Doug West, it features an exceptional and versatile cast. Last seen eight years ago on the Outdoor Stage, it is an all-new, vibrant production.
The venue at the College of St. Elizabeth is ideal for a summertime outing. You can bring a picnic for a pre-theatre treat on the campus grounds before entering the charming, spacious Greek Theatre area for the show. When we attended, there were many families, couples, and groups of friends, all enjoying the Outdoor Stage experience.
The Servant of Two Masters is set in 18th Century Venice. This slapstick comedy centers around a servant named Truffaldino, who believes he can gain more money and meals by serving two masters. Yet, to accomplish this, there are complex events that he must navigate including a broken marital engagement, mistaken identities, and two lovers who are in search of each other. By saying whatever comes to his mind, Truffaldino can temporarily avoid problems, but not for long. The fast paced show keeps audiences entertained from the first minute to the last. This tale of deception with its chaotic situations and exciting action keeps you wondering just what will happen next.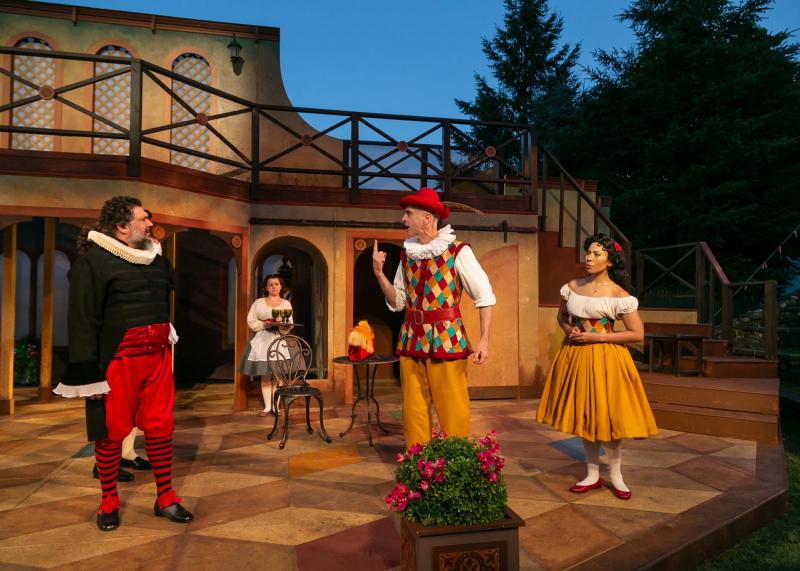 The Shakespeare Theatre of New Jersey has assembled a fantastic cast for The Servant of Two Masters that masters the portrayal of their colorful characters. Led by James Michael Reilly as Truffaldino, the company includes Jay Liebowitz as Patalone de Bosognosi; Miranda Rizzolo as Clarice; Raphael Nash Thompson as Dottore Lombardi; Russell Sperberg as Silvio; Izzie Steele as Beatrice Risponi; Tug Rice as Florindo Aretusi; Connor Carew as Brighella; Aurea Tomeski as Smeraldina; Abby Carroll as the Maid; Alexander Emond as Porter/Waiter and Benjamin Lang as Porter Waiter. Scenes like Truffaldino romancing Smeraldina, Silvio dueling with Beatrice, Clarice's emotional outbursts, or Dottore Lombardi verbally sparring with Pantalone de Bisognosi are fascinating. As the theatre's entrances and exits are used the by the actors, audience members get a real close up view of all the story's shenanigans.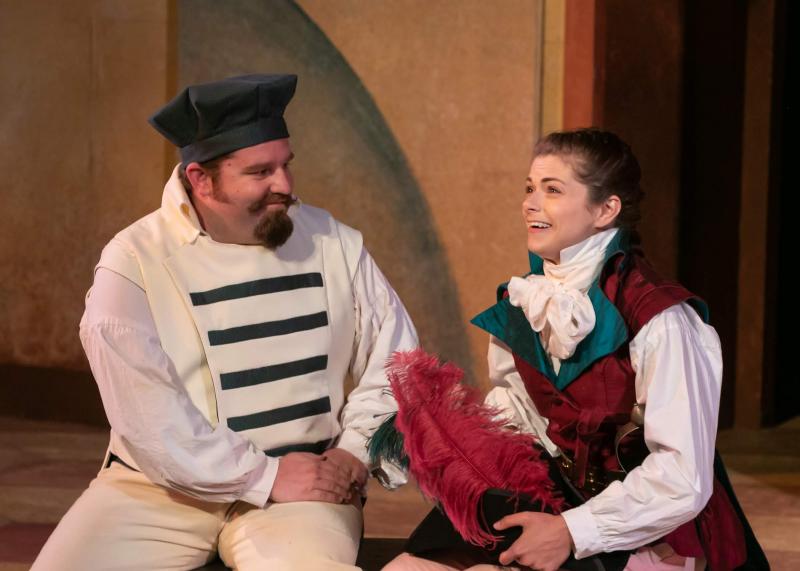 The Artistic Staff has done a top job of bringing A Servant of Two Masters to the Outdoor Stage. They include costume design by Paul Canada; lighting design by Rachel Miner Gibney; sound design by Warre Pace; scenic design by Jonathan Wentz. The Production Stage Manager is Christine Whalen; Assistants to the Stage Manager are Maren Billy and Amanda Wingo; Assistant to the Director is Joelle Zazz; Fight Captain is Connor Carew; Wig & Hair Stylist is Samantha LaScala.
The Servant of Two Masters is a show that will engage audiences of all ages. Relax under the stars in July and enjoy a good laugh and some great theatre.
The Servant of Two Masters run time is two hours and fifteen minutes with one 15-minute intermission. Outdoor Stage is located on the campus of the College of Saint Elizabeth. Performances are Tuesdays through Sundays at 8:00 pm with a special twilight performance on Sundays at 4:30 pm. Theatre offers free tickets to young people 18 and under. For tickets, call the Box Office at 973.408.5600 or visit: http://www.shakespearenj.org/.
Photo Credit: Jerry Dalia