Antu Yacob and Rafael Poueriet Lead THE ASSIGNMENT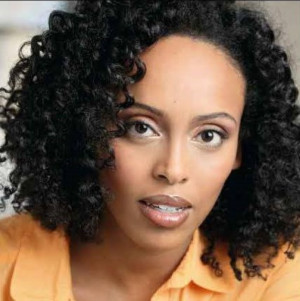 Antu Yacob and Rafael Poueriet headline Luna Stage's second play of its 2018-19 MainStage Season, The Assignment by Camilo Almonacid. The play came out of real conversations between perpetrators of gun violence and victims, and explores friendship, loss, and forgiveness. David Winitsky directs The Assignment for a limited two-week engagement, starting Thursday, November 29.
Meet Julian J. Torres, played by Poueriet, an ebullient 37-year old scholarship student who is trying to reframe his life after a troubled youth and time in prison. Helen Payne, played by Antu Yacob, is a brilliant and reserved English professor recovering from tragedy. Wary at first, Dr. Payne is won over the by Julian's intelligence and charisma. The two unlikely friends connect through the power of great literature.
Antu Yacob was born in Ethiopia and raised in San Francisco and Minnesota. She was last seen onstage in the 2017 United Solo Theatre Festival's premiere of her show In the Gray. Antu's theatre credits include Risen from the Dough (Sam French OOB Short Play Festival-Winner), Mourning Sun (Theatre 167 and Kampala International Theatre Festival 2016), In the Continuum original national tour (Primary Stages), and A Jew on Ethiopia Street (Mixed Blood Theatre). She served as the voice of Zema in the BBC-adapted radio play Shadowbahn. Film & TV credits include Signs of Aging, Daredevil, Night Comes On, Gypsy, and Law & Order: SVU.
Rafael Poueriet spent his early childhood in the Dominican Republic and moved to Queens, NY when he was six years old. He has appeared in over a dozen film, television, and theatre productions. Most recent credits include the independent film Hearts Beat Loud, as well as the television shows Orange Is The New Black, Mr. Robot, and The Blacklist. Rafael is also featured in an upcoming Marvel series on Netflix. His first stage appearance was opposite Jazz great Dee Dee Bridgewater in Lady Day at the Little Shubert Theatre. Most recently, Rafael performed in When I Go at the Duke Theatre. In addition to acting, Rafael is a firefighter with the FDNY.
David Winitsky directed The Santaland Diaries at Luna Stage in Montclair. As the Founder and Executive Artistic Director of the Jewish Plays Project, a national incubator for new Jewish plays and musicals, David has developed 49 plays, 27 of which have gone on to production in New York, London, Tel Aviv, and around the U.S. His NYC directing/assistant credits include Displaced Wedding (New Worlds Theatre Project), A Wonderful Flat Thing (14th St Y), Brooke Berman's Until We Find Each Other (Best of Festival, MITF). Winitsky called The Assignment "a moving and human mediation on the ways that we seek to find meaning, forgive, and continue forward."
Camilo Almonacid is a NY-based playwright and actor, born in Bogotá, Colombia and raised in the U.S. The Assignment, commissioned by Houses on the Moon Theater Company, was produced Off-Broadway at the A.R.T/New York Theatres in April 2017. His other plays include Westpine Myopes (Rita Goldberg Award), Checkin In (Irv Zarkower Award), For the Flies (HERE), Church Of Why Not (Theatre 167), After the Crowds (Queen's Museum, NY Times Critic's Pick), and Shithole (HERE). Camilo continues to work on new projects and collaborations that explore the pluralistic voices of American society.
Artistic Director Ari Laura Kreith chose this play for her inaugural season because "Luna produces plays that engage the deepest challenges facing us as a culture, and bridging seemingly-impossible divides. Camilo's play offers a perspective that is beautifully drawn, funny, surprising, and true." "Once your life has been forever altered by violence," Winitsky asks, "how do you find a way forward?" This question is something many Americans are grappling with today.
The Assignment, a new play by Camilo Almonacid, Directed by David Winitsky
At Luna Stage, 555 Valley Street, West Orange, NJ | 973 395 5551
Performances: Thursday, November 29, Closes Sunday December 9
Schedule: Thursdays, 7:30pm | Fridays & Saturdays, 8pm | Sundays, 3pm
Additional performance Sunday, December 9 at 7pm
Tickets: www.LunaStage.org/TheAssignment
Running time: 90 minutes, no intermission
www.LunaStage.org