BWW Review: The Phantom Stages A Comeback in LOVE NEVER DIES at Segerstrom Center
First, let's get some pleasantries out of the way.
There are many, very obvious spectacular things that stand out while watching LOVE NEVER DIES, Andrew Lloyd Webber's infamously, uh, troubled 2010 musical follow-up to his long-running global hit THE PHANTOM OF THE OPERA, now continuing its two-week engagement at Segerstrom Center for the Arts in Costa Mesa through May 5, 2018.
In this similarly over-the-top, over-affected sequel---which switches the action from the Opéra Populaire in Paris to Coney Island in New York---Webber's continuation of his hysterically-emoted saga is, in various moments, primarily an undeniable feast for the eyes and ears.
Whether you're a fan of the Tony Award-winning original or just now discovering its companion after-thought sequel, sitting through the entirety of LOVE NEVER DIES, will make you, at the very least, say "wow, this show looks amazing!" or perhaps even "wow, this show sounds incredible!"
But, more than likely, what you'll probably be repeating out loud is... "my goodness... what the heck is happening right now?!?"
Yes, visually, LOVE NEVER DIES is indeed a dazzling, stunning spectacular, with impressive scenic and costume designs by Gabriela Tylesova (enhanced further by Nick Schlieper's luxe lighting) that places the show on a whole new stratospheric level of theatrical splendor that few touring companies have ever dared to come close to in terms of art direction and pure eye-popping opulence.
From the colorful circus environments to the stylized rooms dripping in retro-tastic luxury---not to mention every glorious costume or frock or head piece that emerges into the spotlight---the show has been emboldened with a sense of grandiosity as its strongest weapon to entertain the masses. Thus, every attractive or even haunting set piece, every backdrop, and every new piece of stage magic are all audacious, puffed-up attempts to showcase an imaginative and expensive taste that's been purposely displayed to wow---and, well, distract---the audience from its bounty of flaws.
Of course, looking great is one thing, but how does it sound? Patrons pre-conditioned to love Webber's showy musical stylings (particularly from PHANTOM) will likely love what they hear in this sequel, too, with its familiar romantic swells and bombastic amplification at critically melodramatic moments that no-so-subtly recall Webber's triumphant original. The 15-member pit orchestra, under the baton of musical director Dale Rieling, create beautiful soundscapes that transport the audience to this eerie new environment whether they want to or not.
So, sure, musically, the show succeeds by offering a steady stream of lush orchestrations (via Webber and David Cullen) paired with exquisite singing voices that allow lofty mashups of opera, musical theater, and even turn-of-the-century vaudeville to co-exist on the same stage.
The songs themselves---a collaborative effort between composer Webber and lyricists Glenn Slater and Charles Hart-are pretty, melodic, and even epic most times, but ultimately forgettable in this mostly sung-through show. But nonetheless, the singing performances that bring these songs to the forefront are, for me, perhaps the most credible reason to experience the show---because the voices you'll hear are simply sublime.
Leading the talent charge are the two main players at the heart of the show: the still-tortured, still-obsessive, super dramatic Phantom, played in the Costa Mesa engagement by powerfully-voiced Bronson Norris Murphy, and the haunted, super dramatic Christine Daaé, here played by the alluringly-voiced Meghan Picerno. While Murphy can come off a bit stiff and tightly wound at times, both he and Picerno provide the show's best musical singing moments, offering strong, legit operatic vocals in a musical theater setting that, I feel, at least most theatergoers will agree make the show palatable.
But, alas---unless you're a huge PHANTOM fan already or are perhaps maybe morbidly curious as to what the fuss is all about---LOVE NEVER DIES, sadly, doesn't offer much else to audiences beyond its superficial surface beauty.
Fairly entertaining but repetitively frustrating at almost every narrative turn, LOVE NEVER DIES feels like something only a handful of people probably clamored for but then showed up anyway to at least attempt to extract funds from a brand expansion. In a way, this scheme pretty much works because---bad reviews and bad word-of-mouth notwithstanding---the show still packs in audiences aching for a chance to revisit the Phantom's world.
This assessment isn't much of a surprise to those who are even partially aware of LOVE NEVER DIES' tumultuous journey to become the show that now exists in its current state. What began as a mostly negatively-received, short-lived 2010 debut production in London's West End, the show eventually moved on and received a massive overhaul for its 2011 Australian remounting, much of which has been retained and reworked again for this very production that has been given the green light for a U.S. National Tour.
Filled with perplexing story trajectories, odd motivations, and over exaggerated character discrepancies, the musical's problematic book is credited to Ben Elton, whose work here is loosely based on Frederick Forsyth's 1999 novel "The Phantom of Manhattan."
The current iteration of the show---billed as the "return" of the Phantom---involves a string of logic-defying plot points, with a main one that somehow places the Phantom (Murphy) in Coney Island, apparently 10 years after the shocking events that happened in THE PHANTOM OF THE OPERA.
The first odd thing about this little detail? Well, the events in PHANTOM occurred in 1881, but LOVE NEVER DIES is set in 1907. I may not be great in math, but 26 years seems like a significant jump from the mere 10 years it claims has passed. But I guess this fuzzy time lapse has a reason for being, right?
So, yes, the Phantom is definitely alive and has since emerged to live a new, more public (!) life in America to become the relatively known and very successful proprietor of Phantasma, a sort of cutesy-vaudeville-meets-circus-side show type of entertainment venture that's partially comical and partially, um, creepy AF. He doesn't appear to be hiding in the shadows anymore---quite a leap there from hiding in the bowels of an opera house, threatening murder and mayhem---and yet he still probably lives in similar seclusion because, you know, he's still super emo and hasn't learned to let go of his super aggressive feelings.
His employed roster of dancers, acrobats, and random "freaks" (a bit of a rip-off of SIDE SHOW) all apparently know of him, have possibly even met him in person, and---in a reversal from what he elicited during his Paris days---are not at all afraid of him, despite his face-obscuring mask and his tendency to over-emote EVERY. LITTLE. THING. As far as we can tell the masked man walks among his people with nary a care.
Naturally, despite the "decade" that has passed, he's still pretty darn obsessed with Christine Daaé (Picerno), who has remained in Paris. She has since become a famous opera diva and is now married to Raoul (Sean Thompson) and is raising a 10-year-old son Gustave (Jake Heston Miller at the opening night performance). Christine and Raoul don't appear to be as passionately in love as they used to be, which is a foreboding sign of things to come. Gustave, for his part, is conveniently, well... 10 years old.
Out of desperation to improve their financial state, Christine and Raoul agree to take up Oscar Hammerstein's invite to perform in the U.S. When they arrive, they are brazenly kidnapped (!) secretly by the Phantom's freaky main minions Fleck (Katrina Kemp), Gangle (Stephen Petrovich), and Squelch (Richard Koons). They're whisked away in a horseless carriage straight out of Sleepy Hollow to stay at the Phantom's grand estate, thinking they were sent to a hotel funded by Hammerstein. Oops.
Apparently never having heard of the Phantom's success in America, Christine and Raoul continue stupidly believing the ruse, that is until Raoul is summoned downstairs to the bar to "meet" with Hammerstein---a diversionary tactic so the Phantom could scare the crap out of Christine and surprise her in her own room. The reunion is a topsy-turvy one that, really, had me thinking this should have ended the minute that scary monster came back into her life.
Strangely enough, Christine---though appearing scared at the sight of the Phantom again---is oddly succumbing to the seductive powers (really?) of the over-acting Phantom once more (cue eye rolls). As the two try to out-sing each other, it is discovered that somehow during the Phantom's abduction of Christine 10 years ago (got that?), their brief union apparently produced a child... wait, did she say 10 years ago?!
Surprise, it's a boy! Quite purposely, Gustave and the Phantom instantly fascinate each other, as the two mutually find a kindred spirit with one another for some reason. Yes, the Phantom---who once hid from the world---is now comfortable enough to be around the kid of the woman he once absconded to the dank basement and kept prisoner. (Did anyone say #MeToo?)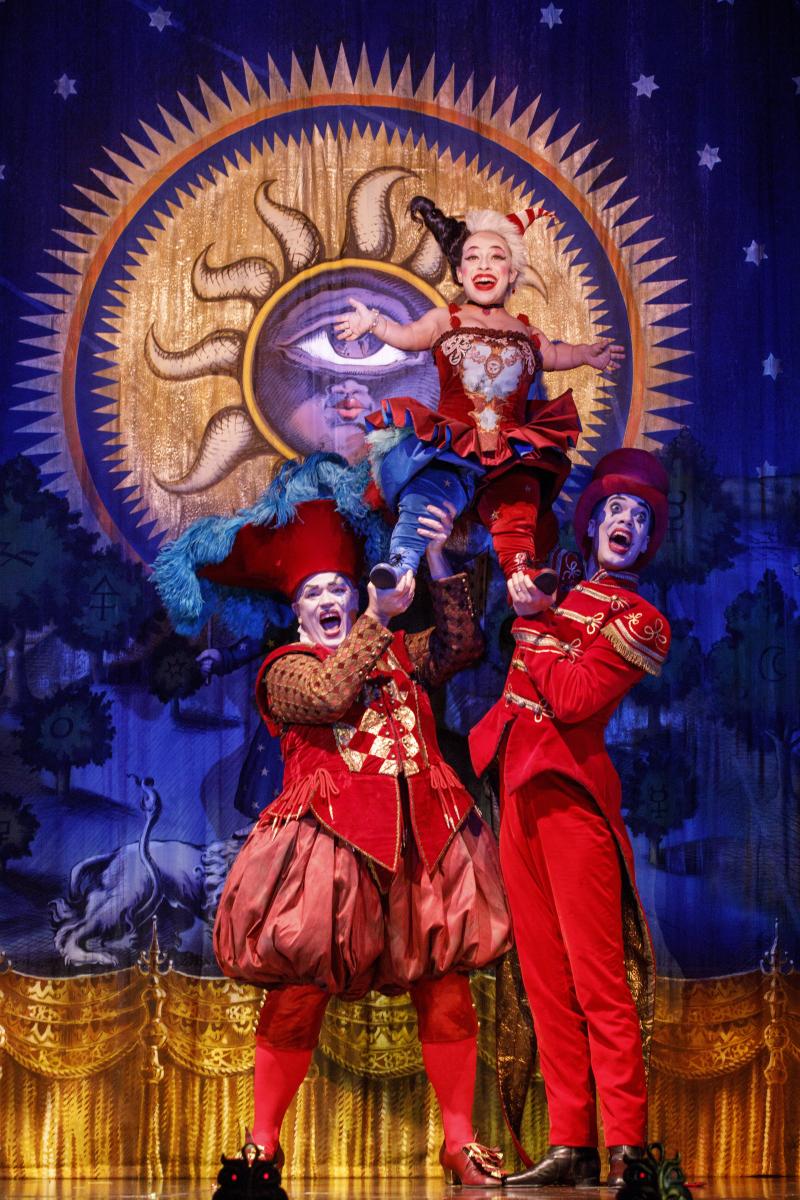 Oh, but wait. Actually scratch that... the Phantom asks---then later blackmails (!)---the supposed love of his life Christine into singing a song that he had composed especially for her. Christine agrees, fearful of what the Phantom has threatened he might do to Gustave.
Seriously? THIS is happening in this show, folks.
Over down in the theater space, we discover that Madame Giry (the regal Karen Mason), the stern former ballet mistress at the Paris Opera house, is now the Phantasma's resident director, choreographer and producer. Her daughter Meg (a bright Mary Michael Patterson) is there, too, enjoying her life as Phantasma's pretty little starlet, whom Madame Giry has specifically groomed to be. We later learn that it was Madame Giry that saved the Phantom back and Paris and helped him escape to the U.S.
Her reward for such loyalty: the Phantom has basically made her the artistic director and general manager of this outfit of ne'er-do-wells. It's safe to assume Madame Giry wants Phantasma to be successful---not only to justify their move but to also provide a space for her daughter Meg to shine.
Meg's excited because apparently the Phantom is fond of her (eww) and has agreed to feature her more as a soloist. She's also excited to be reunited with her former best friend Christine---but is she aware that she has some performing competition not only from the newly arrived (and newly blackmailed) Christine but also Gustave, himself a budding musical prodigy.
Will Christine fulfill her coerced promise to the Phantom but hurt the fragile (but now kinda douche-y) Raoul in the process? Will Christine allow the Phantom access to their impressionable boy soprano son Gustave, who seems to be a musical genius in the making? Will this musical ever stop being so damn extra?
Laughably over the top while trying to justify every chaotic narrative tangent, the cheese-fest that is LOVE NEVER DIES is as predictable as it is maddeningly out of sorts. Rather than focus some care on the narrative, director Simon Philips concentrates on the smooth operation of the show's technical aspects. As such, actors feel like a they're overacting to compensate.
Though you can see all these ridiculous plot points coming a mile away, it also still manages to surprise with every inexplicable character turn or scene treatment. I actually found myself either openly laughing out load or groaning quietly to myself for the entirety of the show's two acts. It's entertaining, sure, but probably not in the way you think it would be. I'm pretty sure the show's accidentally comedic aspects were not meant to trigger laughter.
By the time the musical reaches its predictable climax on the foggy pier, much of my patience has waned as the show tries to wring tears from the audience in a manipulative bid to justify the plot's trajectory.
To be honest, I'm the first to willingly admit that I normally weep at the drop of a hat, especially in musicals that tug at my heartstrings. But with that ending, I have sadly not invested enough emotion on these haphazardly fashioned characters that even its purposely tragic ending made me snicker rather than shed tears (though, of course, I wasn't surprised to hear sniffles here and there around me, which tells me that many still bought into the show's devices which, frankly, boggles my mind).
While not an outright fan of the original PHANTOM OF THE OPERA, I have, over the years, grown an appreciation for its artistic ideals, its musical prowess, and its seemingly unapologetic sense of over-stylized melodrama. I can certainly see the merits of telenovela-like histrionics, at least in terms of theatricality. But in LOVE NEVER DIES, it all feels more forced and artificial than is tolerable. Even soap operas look at this show and go, "yo, simmer down!"
To be honest, I found myself mostly dumfounded and even a little frustrated by the audacity of this musical---a sequel that feels wholly unnecessary. PHANTOM may be one of the most beloved musicals of all the time, but this troubled, coarsely cobbled follow-up suggests not all stories need to live on despite the presence of a vocal fandom's curiosity.
** Follow this reviewer on Twitter: @cre8iveMLQ **
Photos from the National Tour of LOVE NEVER DIES by Joan Marcus, courtesy of Segerstrom Center for the Arts.
----
Performances of the National Tour of LOVE NEVER DIES at Segerstrom Center for the Arts continue through Sunday, May 5, 2018. Tickets can be purchased online at www.SCFTA.org, by phone at 714-556-2787 or in person at the SCFTA box office (open daily at 10 am). Segerstrom Center for the Arts is located at 600 Town Center Drive in Costa Mesa. For tickets or more information, visit SCFTA.org.