Critic's Choice: Nashville Theatre's New Season Continues at Breakneck Pace
It's another one of those perplexing and invigorating weekends in Nashville theater as some of the season's most anticipated shows open - and theater-goers find themselves sometimes making a "Sophie's Choice" decision in some cases when the options somehow seem overwhelming. And as confounding as that can be for audiences, it once again shows that the theater scene in these parts remains as vital and as artistically challenging as ever...
Of course, we're always ready to help you plan your weekend activities with BWW Nashville's Critics Choice, offering up a compendium of what's available, what we recommend you see!

Studio Tenn and Tennessee Performing Arts Center make history this weekend with the premiere of Evita, the Andrew Lloyd Webber musical that is the first-ever Nashville-based production to lead off the Broadway at TPAC season.
Tony Award winner Anthony Crivello will join the cast of Studio Tenn and Tennessee Performinig Arts Center's production of Evita this September, playing the role of Juan Peron. Playing opposite Crivello in the eponymous role of Eva Peron is Broadway diva Eden Espinosa.
Premiering at TPAC's Andrew Jackson Hall September 9-18, the production marks a landmark collaboration between the two local arts entities.
Celebrating its local creative ties and significant connections to Broadway, Studio Tenn has cast Anthony Crivello, who replaced Mandy Patinkin as "Che" in the original Broadway production of Evita, as "Juan Perón," with Broadway veteran Ben Crawford (LES MISERABLES, Shrek the Musical, Big Fish) as "Che." René Millán, (The Wild Party) a Nashville actor with Broadway, television, and screen credits, will play "Magaldi," and the award-winning local folk and Americana singer Mia Rose Lynne rounds out the principal cast in the role of "The Mistress."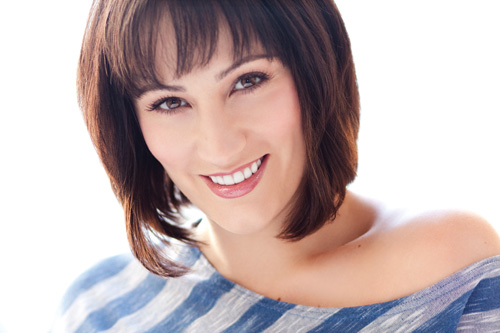 Crivello joins Broadway powerhouse Eden Espinosa (Wicked, Brooklyn the Musical, RENT), who takes on the iconic role of "Eva Perón," in the historic collaboration between TPAC and the Franklin-based Studio Tenn that launches the 2016-17 HCA/TriStar Health Broadway at TPAC season. Evita marks the first time any local theater company has produced a musical on TPAC's annual Broadway series, and the landmark show is being designed, built, and produced using local artists and creatives in a way that blends seamlessly its Nashville and Broadway ties.
"It is an incredible honor and a milestone point of pride to be working with Anthony Crivello, who rarely performs outside Broadway," said Jake Speck, Studio Tenn's managing director. "His name and accolades serve to elevate even further this already high-profile, nationally relevant production. With three Broadway veterans alongside two Nashville-based singer/songwriters in lead roles, our Evita cast exemplifies the convergence of world-class talent that is uniquely possible here in Music City."
Evita tells the unforgettable life story of Eva Perón: activist, suffragist, and venerated celebrity. Perón captivated a nation as Argentina's First Lady, and inspired others with her dedication to helping the poor. The international musical sensation Evita chronicles her life and work, from her humble beginnings in the rural lowlands of South America through her ascent to fame, fortune, and untimely death.
Adding to the cast, the Evita ensemble includes Laura Matula, Erica Haines, Shelean Newman (who played the role of The Mistress in Tennessee Repertory Theatre's 1989 production), Nan Gurley, Neal Buckley, Bradley Gale, Tony Nappo, Andrew Morstein and Galen Fott. The dance ensemble includes Anna Claire, Caleb Marshall, Lauri Gregoire, Billy Ditty, Abby Docherty, Arik Vega, Delaney Gold, Kyle Caress, Lexie McEntire and Quintan Craig. Students from Belmont University also will have opportunities to participate as ensemble members.

Actors Bridge Ensemble launches its 21st season with Diana Grisanti's The Patron Saint of Losing Sleep, performed for two weekends (September 9-18) at the Actors Bridge Studio at Darkhorse Chapel, 4610 Charlotte Avenue.
Leah Lowe, associate professor of theatre at Vanderbilt, directs the play by Grisanti, a Vanderbilt writer-in-residence in the school's College of Arts and Sciences. Curtain for each performance is 7 p.m.
The Patron Saint of Losing Sleep is the story of a woman named Ada, a customer service specialist who went to divinity school and has a "thirst" for justice. Ada receives a call while on the job from a desperate woman who needs help. However, things go terribly wrong. With the aid of a pop psychiatrist and divine intervention, Ada must confront her regrets if she's ever going to sleep again.
"I was inspired to write this play after taking a summer temporary job working as a customer service specialist at a large property management firm," Grisanti said. "I was supposed to help renters calling in with complaints about their apartments, but the company seemed more interested in protecting their profits than really addressing the customers' problems. In The Patron Saint of Losing Sleep, Ada, the main character, is trying to do good in the world but she ends up 'trapped in the walls' of the institution for which she is working."
Grisanti is also a playwright-in-residence with Theatre [502] in Louisville. She earned an M.F.A. from the Michener Center for Writers at the University of Texas at Austin in 2012. Her other plays include The Class Of '94, Abilene, Semantics, Dorina and the Plague and River City. Last spring, she was the Fred Coe Playwright-in-Residence at Vanderbilt, where she became a colleague and friend of Lowe.
"The Patron Saint of Losing Sleep strikes me as very timely," Lowe said. "The play explores how easily compassion can go off the rails if it's not based on meaningful understanding others and their situations. It considers how difficult it is to 'save the world' or even just your little corner of it if you can't hear what others are telling you."
Lowe earned a doctorate from Florida State University and an M.F.A. in directing from the University of Minnesota. She serves on the board of Actors Bridge Ensemble, a professional theatre company that has produced more than 80 plays, including 14 world premieres and 45 Nashville premieres.
Cast members for The Patron Saint of Losing Sleep include Jennifer Richmond, Tamiko Robinson Steele, Sejal Mehta, Madeline Marconi, Austin Olive and Jay Lovell.
Admission for the Nashville premiere of The Patron Saint of Losing Sleep is $25 in advance and $30 at the door. Click here for tickets.

Belmont University's Troutt Theatre plays host to a star-studded production of Neil Simon's Rumors, featuring a cast of theatre alumni from the university, returning to their roots with the popular farce.
Rumors is presented in celebration of the Tenth Anniversary of the Troutt Theatre and the Belmont University BFA program. Directed by alumnus Shawn Knight, the cast features eight alumni actors and former professor Bill Feehely on stage, with lighting and costume design taken on by alumni of the school's burgeoning theater program.
"At his fancy schmancy New York townhouse, the Deputy Mayor of New York has just shot himself. Though only a flesh wound, four couples are about to experience a severe attack of Farce. Gathering for their tenth wedding anniversary, the host lies bleeding in the other room and his wife is nowhere in sight. His lawyer, Ken and wife Chris must get "the story" straight before the other guests arrive. As the confusions and mis-communications mount, the evening spins off into classic farcical hilarity."
The show runs Friday, September 9 (curtain is at 7:30 p.m.) through Sunday, September 18 (with a matinee performance at 2 p.m.).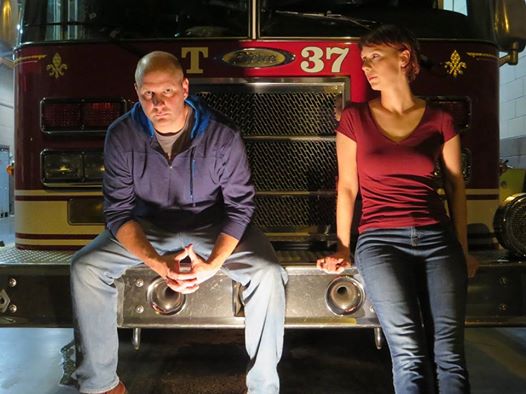 Commemorating the 15th anniversary of 9/11, Pipeline-Collective presents a special three-night engagement of Anne Nelson's poignant drama The Guys, with all tickets "pay-what-you-can" and proceeds to benefit the FealGood Foundation.
Directed by David Ian Lee, The Guys runs September 10-12 at the Belmont Little Theatre on the Belmont University Campus. The Guys is a testimony to the healing power of grief and the intrinsic power of words. Set in the week following the attacks of September 11, The Guys tells the story of Joan, an investigative reporter, who aids Nick, an FDNY captain, in crafting the eulogies for the men under his command who died at the World Trade Center. The Guys debuted at New York's Flea Theatre less than three months after - and just a few blocks from - the events depicted in the play, with Sigourney Weaver as Joan and Bill Murray as Nick.
For the Pipeline-Collective production, Karen Sternberg and Nathaniel McIntyre will play the roles of Joan and Nick. Lee, Sternberg and McIntyre have the distinction of being three New Yorkers who have relocated to the Nashville area.
"As New Yorkers living in Nashville, we wanted a respectful way to acknowledge the fifteenth anniversary of September 11th that could speak to people with distance from the day, or to younger audiences without personal connection to the event," said Lee. "When it debuted in December of 2001, The Guys provided an essential function for New York audiences, in that it became a vehicle by which to process profound grief. However, The Guys also acknowledges that the acceptance of grief is a stage in the process of healing, of picking ourselves up and becoming whole again, becoming stronger. A theme of the play is that from wreckage, we salvage and we create. From this horrible event, Anne Nelson created a work of beauty, and we are honored to present her play now, here, in Nashville."
For reservations or more information, visit www.pipeline-collective.com. Non-reserved seats for The Guys will be available on a first-come/first-served basis, with preferential seating to all first-responders. For all performances, the house will open at 7:15 p.m.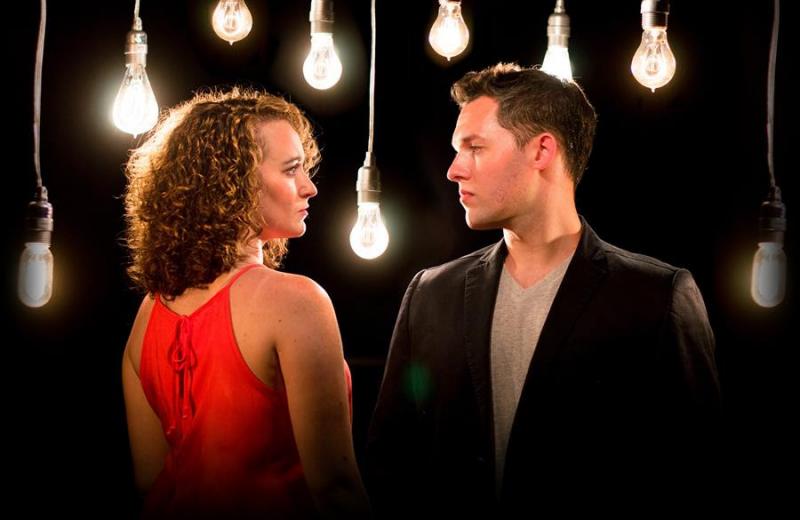 Also opening at TPAC this weekend - Saturday in the AnDrew Johnson Theatre - is Nashville Repertory Theatre's staging of Jason Robert Brown's The Last Five Years, one of the most popular musicals on Nashville stages. This tale of two artists passionately in love while also tearing each other apart isn't literally set in Nashville, but the show's themes, characters and situations resonates in a town full of artists.
Two actors new to Nashville Rep will take the stage for The Last Five Years: Galen Crawley as "Cathy" and Seth Lieber as "Jamie." Between the two of them they have over 30 musicals under their belts, and the Rep is thrilled to introduce them to Nashville audiences.
Jason Robert Brown won the Drama Desk Award for Outstanding Music and Lyrics in 2002 for The Last Five Years when it was produced Off-Broadway. Loosely based on his previous marriage, this genuinely unique musical tells of a couple's five-year relationship from beginning to end and from end to beginning at the same time. Cathy's account starts with her final good-bye, while Jamie's begins with the delight of meeting her. Masterfully laid out through songs both touching and light-hearted, the young couple's bright, exuberant relationship grows unstable as the accolades and attention Jamie receives as an author greatly overshadow the professional disappointments Cathy encounters as an actress.
After leading the music in Nashville Rep's recent hit, Chicago, Jason Tucker directs The Last Five Years. The show runs September 10-24 in Johnson Theater at Tennessee Performing Arts Center located at 505 Deaderick Street in downtown Nashville.
Designers are Gary C. Hoff (Scenic Designer), Hannah Schmidt (Costume Designer), Evelyn Pearson Thornhill (Props Designer), Randy Craft (Sound Designer), and Phillip Franck (Lighting Designer).
Tickets are $25 for previews and start at $45 for regular run. Tickets can be purchased online at nashvillerep.org or by calling the Box Office at 615-782-4040.

Catherine Birdsong plays Laury and Cameron Gilliam is cast as Curly in Springhouse Theatre's production of Rodgers and Hammerstein's Oklahoma! opening tonight in Smyrna.
Rodgers & Hammerstein's first collaboration remains, in many ways, their most innovative, having set the standards and established the rules of musical theatre still being followed today. Set in a Western Indian territory just after the turn of the century, the high-spirited rivalry between the local farmers and cowboys provides the colorful background against which Curly, a handsome cowboy, and Laurey, a winsome farm girl, play out their love story.
Although the road to true love never runs smooth, with these two headstrong romantics holding the reins, love's journey is as bumpy as a surrey ride down a country road. That they will succeed in making a new life together we have no doubt, and that this new life will begin in a brand-new state provides the ultimate climax to the triumphant Oklahoma!
The show runs September 9-25; go to www.springhousetheatre.com for tickets.
The quirky, beloved characters you remember from Greater Tuna and A Tuna Christmas return to the scene of their crimes in Tuna Does Vegas! This time, the denizens of one of the third smallest town in Texas are taking a road trip and trying their luck in Sin City...find out what happens when Texas meets Vegas in this hilarious two-man farce, playing at The Music Valley Event Center September 8-25, Thursday, Friday and Sunday.
Reprising most of their roles from the theatre's 2015 two-man A Tuna Christmas, (and creating new ones), are busy Nashville actors Tobias J. Turner and Asa Ambrister, in a rapid succession of costume changes. If you don't have time to take a vacation this year, come escape with 18 endearing, funny characters on a jaunt to Las Vegas. What happens in Vegas...will have you rolling with laughter!
E. Roy Lee directs the farcical mayhem at Music Valley Event Center is located at 2416 Music Valley Drive, Suite 150, across from Gaylord Opryland Resort & Convention Center. Parking is free.
Related Articles View More Nashville

Stories

Shows