BWW Review: CONVERSION at Infinithéâtre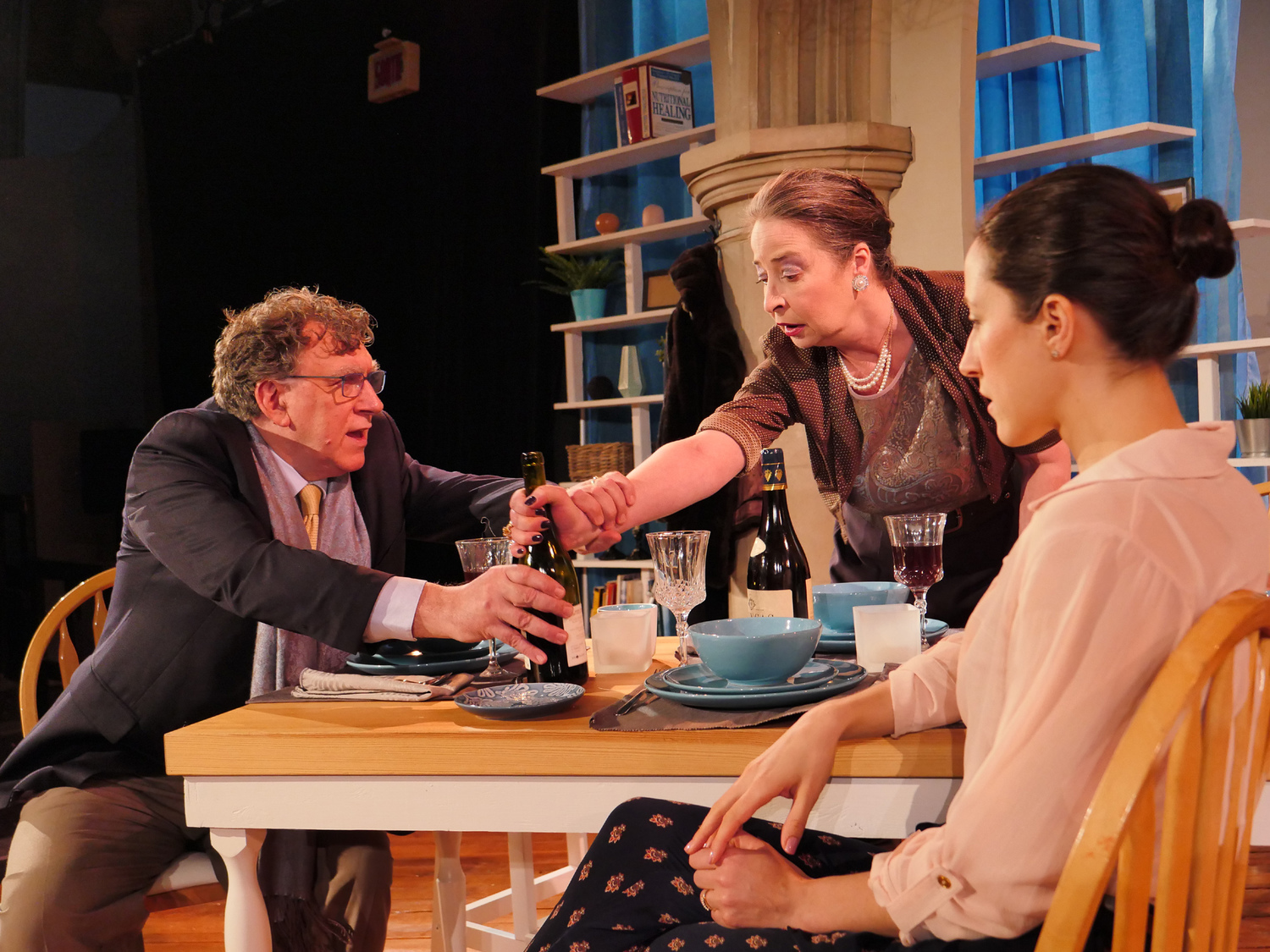 The Montreal theatre company, Infinithéâtre, has positioned its 2017-2018 season in a beautiful nook of Notre-Dame-de-Grâce, partnering with the artist-run, non-profit, community center Espace Knox, and establishing the beautiful and historic Kensington Presbyterian Church as its primary venue for this year's season. Their first 2018 production, Conversion, written by Alyson Grant and directed by Guy Sprung, opened there on February 8th and will continue to run until February 25th. This is Grant's third play with Infinithéâtre, having previously contributed the plays Trench Patterns in 2011 and Progress! in 2015.
Grant's setting is the all-too-familiar and relatable family dinner table. She tells the story of four family members, who come together for a family meal. Familiar banter and dynamics emerge, social filters collapse and all topics, including race, class, gender and religion, become fair game. The play opens with Abi and her husband, Al, preparing dinner and setting the table. They are expecting Abi's father, Joseph and mother, Mary, who arrive shortly into the evening. As the night unfolds, tempers rise, fights ensue and deep secrets are unveiled, leading to major realizations and potentially life changing decisions.
Overall, Conversion, contains relevant and enticing themes that are both entertaining and thought provoking. Unfortunately, Grant attempts to tackle too many at once through this play. The saturated plotline did not allow for deep exploration of any specific areas, making it difficult to forge a deeper connection to the storyline and the characters.
Grant's characters however were promising, layered with complex experiences and perspectives that made for some interesting moments. Despite some exaggerated choices, Diana Fajrajsl, who plays Mary, swiftly establishes herself as the sadistic, alcoholic, matriarch, whose verbal daggers pierce the heart of every character throughout the evening.
Abi, played by Denise Watt, is a strong, smart and successful woman who's strained relationship to her parents keeps her in a constant state of anxiety. Watt's performance, although a bit one-note, demonstrates the complex struggles individuals must endure when faced with self-involved parents and interfaith relationships. Timothy Hine provides a warm and patient Joseph, who despite his character's supposed extramarital affairs, still comes off as absolutely lovable. Al, played by Mike Payette, remains one of the most reasonable characters at the dinner table. Payette enchants in his final dialogue between Al and Abi, when he delivers a touching message about what it means to be a man within his faith.
Conversion runs from February 6th to February 25th, 2018 at Espace Knox. The play features: Diana Fajrajsl, Timothy Hine, Mike Payette and Denise Watt.
There will be post-show Talkback sessions on February 15th and 22nd, mediated by Director Guy Sprung and featuring the cast and playwright Alyson Grant. Two professionals, Ehab Lotayef and Rabbi Reuben Poupko, will also be participating by sharing their expert perspectives on the Muslim and Jewish topics touched on in the play.
Conversion
Espace Knox
6215 Avenue Godfrey
Montreal, QC H4B 1K3
Previews February 6th & 7th
Shows at 8pm, Sunday PWYC Matinees at 2pm
Post-Show Talk-Backs on Thursdays
$30 General Admission
$23 Students & Seniors
$25 Union/Equity/QDF
$20 Groups (7+) & Previews
$14 Action-Infini School Groups
$120 6 Pack Season Pass
*All Prices Include Taxes
To purchase tickets call the Infinithéâtre Box Office at (514) 987-1774 ext 104
or email: Box-Office@Infinitheatre.com . Tickets can also be purchased online by visiting: http://infinitheatre.com/tickets.php#Conversion.
Maggie Owen is a writer, educator, and performer residing in Montreal, Quebec. Although born in Maine, Maggie spent most of her childhood and adolescence in (read more...)