Tickets on Sale Wednesday for LOVE NEVER DIES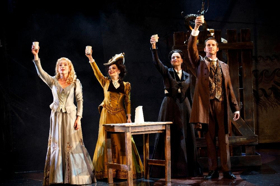 Hennepin Theatre Trust announced Andrew Lloyd Webber's Love Never Dies, the spellbinding sequel to The Phantom of the Opera, makes its Minneapolis premiere as part of the 2017-2018 Bank of America Broadway on Hennepin season June 26-July 1, 2018 at the historic Orpheum Theatre (910 Hennepin Ave., Minneapolis).
Tickets for the general public go on sale on Wednesday, March 28 at 10 a.m. at the State Theatre Box Office (805 Hennepin Ave. Minneapolis), by calling (800) 982-2787 or by clicking to HennepinTheatreTrust.org. For information and reservations for groups of 10 or more, call (612) 373-5665 or email MinneapolisGroups@broadwayacrossamerica.com.
Ticket prices start at $39.00. All pricing includes a Building Restoration Fee of $4.00.
Performance dates are Tuesday, June 26 through Sunday, July 1 at the Orpheum Theatre. Performance times are Tuesday, Wednesday and Thursday at 7:30 p.m., Friday at 8 p.m., Saturday at 2 and 8 p.m., and Sunday at 1 and 6:30 p.m.
Performance schedule, prices and cast are subject to change without notice.
LOVE NEVER DIES is a dazzling new production, which takes audiences on a thrilling rollercoaster ride of intrigue, obsession and romance. Audiences will seduced by the beautiful; sometimes magical and poetic; sometimes joyful; and occasionally melancholic score. Don't miss this magnificent continuation of one of the world's greatest love stories.
The new touring production reflects an extensive re-working of the material by an Australian creative team for the original Australian premiere in 2011. Described by Chris Boyd in The Australian as "The best thing Lloyd Webber has written in the quarter century since The Phantom of the Opera".
Directed by Simon Phillips (Priscilla Queen of the Desert The Musical) with new set and costume designs by Gabriela Tylesova, choreography by 2011 Astaire Awards winner Graeme Murphy, lighting design by Nick Schlieper and sound design by Mick Potter, the show is one of the few instances of a major West End musical being given a complete makeover for subsequent productions.
Lloyd Webber said he knew about five minutes into seeing its first run-through that he and the new production team had achieved something special. "I have the great joy of being able to say that I think this production is probably the finest one I could ever, ever hope for."
Direct from the highly successful production of Love Never Dies in Hamburg, Germany, Gardar Thor Cortes will portray the man behind the mask, 'The Phantom,' with Meghan Picerno as 'Christine Daaé,' Karen Mason as 'Madame Giry,' Sean Thompson as 'Raoul,' Mary Michael Patterson as 'Meg Giry,' and Casey Lyons and Jake Heston Miller sharing the role of 'Gustave.' The trio of Phantom's henchmen include Katrina Kemp as 'Fleck,' Richard Koons as 'Squelch,' Stephen Petrovich as 'Gangle,' Gardar Thor Cortes is appearing with the permission of Actors' Equity Association. The Producers gratefully acknowledge Actors' Equity Association for its assistance of this production.
The ensemble includes Chelsey Arce, Erin Chupinsky, Diana DiMarzio, Tyler Donahue, Yesy Garcia, Alyssa Giannetti, Michael Gillis, Tamar Greene, Natalia Lepore Hagan, Lauren Lukacek, Alyssa McAnany, Rachel Anne Moore, Bronson Norris Murphy, Dave Schoonover, Adam Soniak, John Swapshire IV, Kelly Swint, Lucas John Thompson, Correy West and Arthur Wise.
The year is 1907. It is 10 years after his disappearance from the Paris Opera House and The Phantom has escaped to a new life in New York where he lives amongst the screaming joy rides and freak shows of Coney Island. In this new, electrically charged world, he has finally found a place for his music to soar, but he has never stopped yearning for his one true love and musical protégée, Christine Daaé.
Now one of the world's finest sopranos, Christine accepts an invitation to travel from Paris to New York to perform at a renowned opera house. Christine's marriage to Raoul is suffering at the hands of his drinking and gambling and they desperately need the financial rewards that America can give them.
In a final bid to win back Christine's love, The Phantom lures her, Raoul, and their young son Gustave, from Manhattan to the glittering and glorious world of Coney Island - not knowing what is in store for them.
Since its premiere in 2010, Love Never Dies has enjoyed productions worldwide in London, Australia, Denmark, Japan and Germany, as well as multiple recordings including a concept album and a London cast recording. A DVD release of the Australian production has delighted fans globally, and now the North American tour brings the musical to the US for the first time.
Connect with Love Never Dies online at:
Facebook: /loveneverdies
Twitter: @loveneverdies
YouTube: phantomloveneverdies
HENNEPIN THEATRE TRUST is a nonprofit organization that creates positive change through the arts by bringing together people, businesses and organizations in WeDo, the West Downtown MPLS Cultural District. We serve the community through our historic theatres - the Orpheum, State and Pantages - and our unique arts, culture and education programs. Learn more at HennepinTheatreTrust.org.
BANK OF AMERICA ENVIRONMENTAL, SOCIAL AND GOVERNANCE At Bank of America, our focus on Environmental, Social and Governance (ESG) factors is critical to fulfilling our purpose of helping make people's financial lives better. Our commitment to growing our business responsibly is embedded in every aspect of our company. It is demonstrated in the inclusive and supportive workplace we create for our employees, the responsible products and services we offer our customers, and the impact we make around the world in helping local economies thrive. An important part of this work is forming strong partnerships with nonprofits and advocate groups, such as community and environmental organizations, in order to bring together our collective networks and expertise to achieve greater impact. Learn more at www.bankofamerica.com/about, and connect with us on Twitter at @BofA_News.
BROADWAY ACROSS AMERICA (BAA) is part of The John Gore Organization family of companies, which includes The Broadway Channel. Led by 11-time Tony-winning producer John Gore (Owner & CEO), BAA is the foremost presenter of first-class touring productions in North America, operating in 44 markets with over 400,000 subscribers. Current and past productions include Beautiful, Cats, Chicago, Dear Evan Hansen, Groundhog Day, Hairspray, Hello, Dolly!, Million Dollar Quartet, On Your Feet!, The Producers, School of Rock and Waitress. For more information please visit BroadwayAcrossAmerica.com
Photo Credit: Joan Marcus