BWW Interview: Kimberly Immanuel of 42ND STREET at Ordway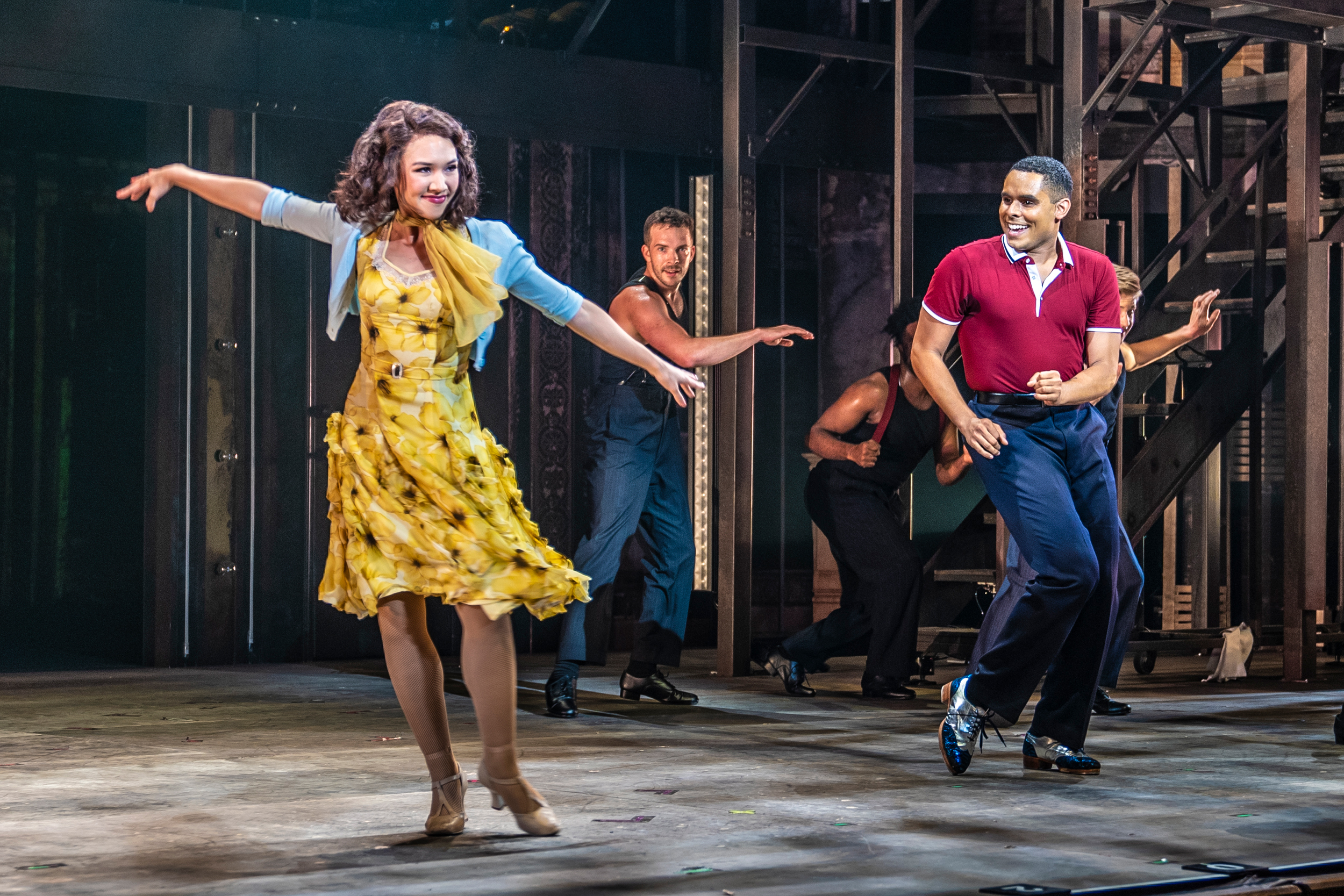 Watch out for flying dimes! You may be greeted with a warning about airborne change if you're sitting in the front rows at Saint Paul's Ordway Center during the reimagined 42nd STREET. We'll just say that there's a tap number that blows away audiences nightly and you may need eye protection.
The buzz is strong. This new production is getting rave reviews from theatre-goers and critics alike, mostly because the tap numbers done by a cast of Twin Cities area dancers mixed with out-of-town hoofers are good enough to stand on their own. One of those debuting at the Ordway is Kimberly Immanuel, who plays the character central to the story line: Peggy Sawyer is a Broadway newcomer whose hidden talents end up saving the show. Immanuel answered this 6 Questions and a Plug to share some insights about this show.
This is billed as an Ordway Original and renewed production of 42nd STREET -- there's currently a revival in Maine and there was one in London a couple years ago -- so this show has been getting around a bit. You were also in the Chicago production at Drury Lane last year. Can you talk about what this production brings to the life of the show, how it's different and what audiences can expect at the Ordway this summer?
Yes, I am thrilled audiences all around the world are getting a chance to see this classic show! However, the production that audiences will get to see at the Ordway this summer is unlike any other production of 42nd STREET. It is still the classic story of a young girl who becomes a star, but it has been reimagined to reflect the world we live in today. Every aspect of this production has new life breathed into it - fresh and modern orchestrations and arrangements of the music, an incredibly diverse cast, updates to the script that empower the women and people of color in the show, and some gorgeously reimagined set and costume designs. Audiences can also expect to see some of the best tap dancing that they've ever seen. We have some unbelievable choreography by Jared Grimes and several improv-based solos, so audiences will literally see something brand new every single night!
How has the director Michael Heitzman worked in Minneapolis and Saint Paul area cast members with those of you who performed in the Chicago show? Has it changed much from that production?
Michael Heitzman has encouraged us to think of this production as something entirely new (in fact, we like to call it the "new new 42")! He has done an expert job of taking what we did in Chicago and using it as inspiration to dive even deeper into what is possible for this show, and it honestly feels like a completely different show to me. He has asked us to look at the script with fresh eyes and bring more of ourselves to the characters, and in doing so, he has brought so much heart and honestly to the show.
What do you love most about playing Peggy Sawyer in this show?
Peggy Sawyer is someone who doesn't let fear get in the way of going confidently in the direction of her dreams. She teaches me every single night to not be afraid of the greatness that lies within me, and I hope that she inspires audiences to do the same. The best feeling in the world is when I meet young girls after the show and I see how empowered they are by Peggy's story. She is a fierce young woman who doesn't let the world put her down, and I can see in these girls' eyes that they are going to do the same.
This show is renowned for its tap dance numbers. What's your background in dance, and what number is your biggest challenge in this show?
Yes, the tap dancing in this show is so amazing! I started tap dancing when I was just 3 years old, and instantly fell in love. To me it's one of the most incredible art forms, because it combines dance and music in such an intimate way. Not only does it take style and athleticism, but it also takes a deep relationship with music and rhythm to be a tap dancer. The most challenging number for me in this show is the finale. It is a 10-minute marathon in which I never leave the stage, and features a large improv section in which the tap sounds that I make trigger other sound effects. Tap improv is something that is fairly new to me, while this section is terrifying for someone who is new to creating choreography on the spot, it is also an amazing moment where I get to connect with the audience and discover new music with them every night.
You have a great career already with lots of ingénue roles, so what would be next on your bucket list of roles you'd like to play, and why?
Ah, this is such a tough question, because the roles that I've played that have been the most incredible experiences have been roles that have taken me by surprise. Never in a million years did I think I'd be playing Peggy Sawyer, and yet it's my favorite role I've ever played. I've been really lucky that most of the ingénue roles I've played have been with creative teams that are interested in rethinking some classic shows and consciously choose to have a person of color at the heart of the story, because it challenges audiences to rethink what they think they "know" about a piece. Next on my bucket list is to simply do more theatre that challenges audiences to reflect on the world we live in.
This is your Ordway debut and your first time in the Twin Cities -- what do you think so far of the area and theatre scene? What do you hope to do during your time in the area?
I'm so happy to be spending my summer in the Twin Cities, and I'm already having such a wonderful time here! The people are so nice, the food is so good, and the theatre scene is so vibrant. Our cast has already explored some of the tourist spots, but I'm really looking forward to spending some time at the beautiful lakes in the area.
This production runs at the Ordway until Aug. 11; what's next for you on stage or off?
After this show closes, I'll be going right into rehearsal for a new musical. I'm very excited to be working on something completely new, and it also involves quite a bit of dancing!
---
More information:
Playing on the Ordway main stage through Aug. 11, you can get tickets at https://ordway.org/event/42nd-street/.
Photo:
Kimberly Immanuel and Phillip Attmore in 42nd STREET. Photo by Paul Tate dePoo III.
Related Articles View More Minneapolis / St. Paul

Stories

Shows