Photo Flash: Winners of the 41st Annual Carbonell Awards Announced
Me and My Girl, a splashy musical about a British bloke who discovers he's nobility, and The Royale, a powerful play by Miami native Marco Ramirez, based on the first black boxing champion, took their respective places in South Florida theatrical history as Best Musical and Best Play on Monday, April 3rd when the winners of the 41st annual Carbonell Awards were announced. The lavish ceremony was held at Broward Center for the Performing Arts in Fort Lauderdale, and featured performances from each show nominated for Best Musical.
GableStage in Coral Gables earned four awards for two of its productions. In addition to The Royale winning the Best Play award, Joseph Adler won Best Director, Play; and newcomer Aygemang Clay won Best Actor, Play. GableStage's fourth award went to Alex Alvarez, who won the Best Supporting Actor award for Stalking the Bogeyman.
Maltz Jupiter Theatre in Jupiter earned two awards: Me and My Girl won Best Musical and Best Actor, Musical for Matt Loehr.

The big winner of the night was Zoetic Stage in Miami-Dade. The company won six awards for two of its productions. Passion won Best Director, Musical, for Stuart Meltzer; Best Musical Direction, for Caryl Fantel; and Best Actress, Musical, for Jeni Hacker. In fact, Hacker was really the big winner of the evening---she also won the award for Best Supporting Actress, Play, for her performance in the world premiere of After, which also won the Best New Work Award for playwright Michael McKeever and Best Actress, Play, for Mia Matthews.
Actors' Playhouse at the Miracle Theatre in Coral Gables won a pair of Carbonell Awards. Dominique Scott won Best Supporting Actor, Musical, for his performance in Million Dollar Quartet and Ron Hutchins won Best Choreography for West Side Story.
Palm Beach Dramaworks in West Palm Beach won two Carbonell Awards in the design categories: Paul Black won Best Lighting Design and Matt Corey won Best Sound Design, both for The Night of the Iguana.
Two Broward County theatres won one award each. Leah Sessa won Best Supporting Actress, Musical, for her performance in the Slow Burn Theatre Company production of Heathers. Peter A. Lovello won Best Costume Design for Perfect Arrangement at Island City Stage.
MNM Productions in West Palm Beach won the Best Ensemble award for their production of The World Goes 'Round.
Area Stage in Miami also won one award; Jodi Dellaventura won Best Scenic Design for The Nether.
Miami-Dade County scored highest among the three counties in the South Florida region the Carbonell Awards cover. Four Miami-Dade County theatres won a whopping 13 out of 20 awards, while 3 theatres in Palm Beach County won 5 awards, and 2 theatres Broward County won 2 awards. The awards were distributed between 12 productions at 9 theatres.
Along with honoring excellence in theater, a highlight of the annual Carbonell Awards ceremony is recognizing those who have made significant contributions to the arts. Three special Carbonell Awards were given, including a new award.
The prestigious George Abbott Award for Outstanding Achievement in the Arts, awarded to an individual (or team) who has contributed significantly to the artistic and cultural development of the region, was presented to Judith A. Mitchell, CEO of the Raymond F. Kravis Center for the Performing Arts in West Palm Beach.
The Ruth Foreman Award, named in honor of pioneer theater director and producer Ruth Foreman, to recognize contributions to South Florida theater development by an individual or group, for singular achievement and/or career contributions, was awarded to Florida Children's Theatre, formerly known as Fort Lauderdale Children's Theatre.
In November 2015, just a few days before his 95th birthday, South Florida lost one its legends, press agent Charlie Cinnamon. Cinnamon was an extraordinary presence in the performing arts, working right up until the end. In addition to his work as a press agent and his support of many arts organizations, Cinnamon dedicated years of service to the Carbonell Awards. To honor his unique legacy, the Carbonell Awards Board of Directors voted this year to institute the Charlie Cinnamon Award, to be given periodically to an individual who not only contributes significantly to the support of the arts in South Florida, but also for dedicated service to the Carbonell Awards organization.
The inaugural Charlie Cinnamon Award was given to Jerome J. (Jerry) Cohen, a long-time patron of the arts and Carbonell Awards judge and board member. Unlike the other special awards, whose recipients are announced in advance, Cohen was surprised by the honor during the ceremony.
In addition to recognizing the stars of today, the Carbonell Awards' mission has always been to award scholarships to the talent of tomorrow. The dollar amount of the Jack Zink Memorial Carbonell Awards Scholarships was doubled this year, so $6,000 was disbursed among the winners. The scholarships were awarded to: Alexandra Chicco (Palm Beach County) who attends Alexander W. Dreyfoos School of the Arts; Brooke Sterling (Miami-Dade County) who attends Miami Palmetto Senior High School; and Sofia Ubilla (Broward County) who attends American Heritage School. Each student is pursuing studies in theater.
The Carbonell Awards, a not-for-profit organization, is funded by tax-deductible donations and award sponsorships. The generosity of this year's sponsors shows a growing commitment from the community to the Carbonell Awards and their mission to advance theater in South Florida.
This 41st annual Carbonell Awards was generously sponsored by the Actors' Equity Association, Adrienne Arsht Center for the Performing Arts of Miami-Dade County, Broadway Across America, Broward Center for the Performing Arts, Broward Cultural Division, Carbonell Family, Rita & Jerry Cohen, Cultural Council of Palm Beach, CultureForce, Tony Finstrom, Kravis Center for the Performing Arts, Neil Goldberg Dream Foundation & Cirque Dreams, Kerry & Scott Shiller, South Florida Cultural Consortium, South Florida Theatre League, South Miami-Dade Cultural Arts Center, Mark Traverso, WLRN, WTVJ/NBC.
About the Carbonell Awards
The Carbonell Awards fosters the artistic growth of professional theater in South Florida by celebrating the diversity of our theater artists, providing educational scholarships, and building audience appreciation and civic pride by highlighting achievements of our theater community. Over 25 professional theater companies in Broward, Miami-Dade and Palm Beach counties participate in the awards process every year. Each season volunteer panelists and judges choose nominees and recipients from hundreds of shows produced on our area stages. The Carbonell Awards also celebrate the accomplishments of our artistic leaders by presenting 'Special Awards' and support the next generation of artists and journalists by awarding scholarships. Along with New York's Drama Desk and Chicago's Joseph Jefferson Awards, the Carbonell Awards are among the nation's senior regional arts awards and predate others, including Washington, D.C.'s Helen Hayes Awards. The Carbonell Awards are named after Manuel Carbonell, an internationally-renowned sculptor, who designed the original solid bronze and marble award in 1976, the signature trophy that is given to Carbonell Award winners.
Below is a complete list of this year's Carbonell Award winners, followed by a breakdown of the awards by county, theater and production.
Carbonell Award Winners, 2016

Best Production of a Play
The Royale, GableStage
Best Director/Play
Joseph Adler, The Royale, GableStage
Best Actor/Play
Aygemang Clay, The Royale, GableStage
Best Actress/Play
Mia Matthews, After, Zoetic Stage
Best Supporting Actor/Play
Alex Alvarez, Stalking the Bogeyman, GableStage
Best Supporting Actress/Play
Jeni Hacker, After, Zoetic Stage
Best Production of a Musical
Me and My Girl, Maltz Jupiter Theatre
Best Director/Musical
Stuart Meltzer, Passion, Zoetic Stage
Best Actor/Musical
Matt Loehr, Me and My Girl, Maltz Jupiter Theatre
Best Actress/Musical
Jeni Hacker, Passion, Zoetic Stage
Best Supporting Actor/Musical
Dominique Scott, Million Dollar Quartet, Actors' Playhouse
Best Supporting Actress/Musical
Leah Sessa, Heathers, Slow Burn Theatre Company
Musical Direction/Musical
Caryl Fantel, Passion, Zoetic Stage
Choreography/Musical
Ron Hutchins, West Side Story, Actors' Playhouse
Best Scenic Design/play or musical
Jodi Dellaventura, The Nether, Area Stage
Best Lighting Design/play or musical
Paul Black, The Night of the Iguana, Palm Beach Dramaworks
Best Costume Design/play or musical
Peter A. Lovello, Perfect Arrangement, Island City Stage
Best Sound Design/play or musical
Matt Corey, The Night of the Iguana, Palm Beach Dramaworks
Best Ensemble Production (play or musical)
The World Goes 'Round, MNM Productions
Best New Work (play or musical)
After, Michael McKeever, Zoetic Stage

Photo Credit: Gregory Reed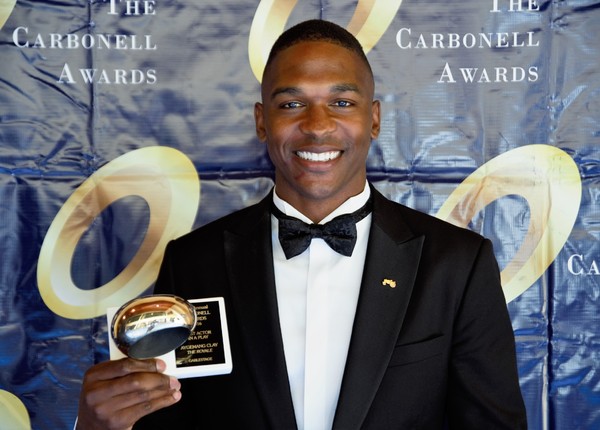 Angemang Clay, Best Actor, Play, The Royale, GableStage
Best Ensemble, The World Goes 'Round, MNM Productions:
Michael Lifshitz
,
Marcie Gorman-Althof
,
Shelley Keelor
, Jinon Deeb,
Bruce Linser
, Leah Sessa, and
Clay Cartland
Jeni Hacker
, Best Actress Musical, Passion, Zoetic Stage AND Best Supporting Actress, Play, After, Zoetic Stage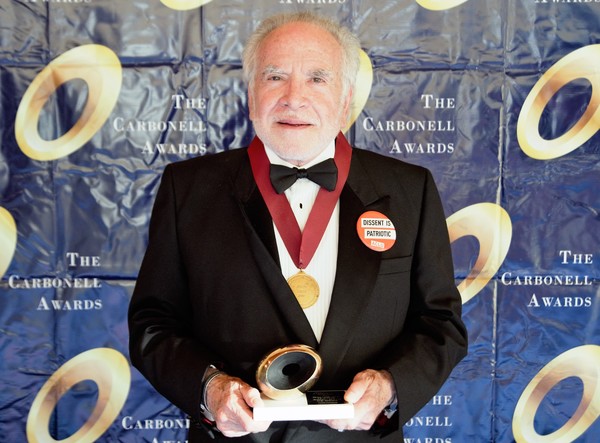 Joseph Adler, Best Director, Play, The Royale, GableStage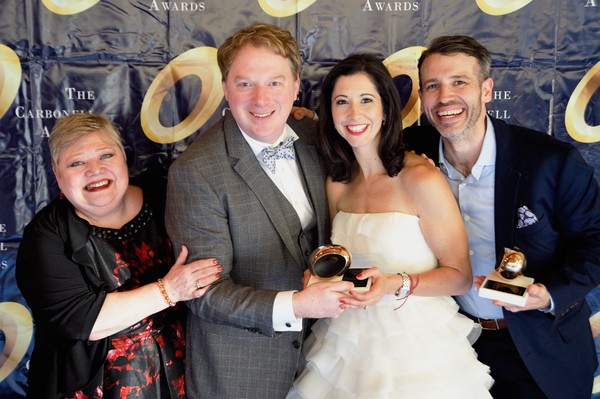 Best Musical, Me and My Girl:
Mary Stout
,
Andrew Kato
,
Julie Klein
er and
Matt Loehr
Mia Matthews, Best Actress, Play, After, Zoetic Stage