Photo Flash: Show Writers Make An Appearance At Miracle Theater's THE MARVELOUS WONDERETTES
With his hit show, The Marvelous Wonderettes, still going strong in New York and having just opened in Chicago, writer/director Roger Bean took a break this weekend to come check out the first regional production of his work here in Coral Gables at the Actors' Playhouse at the Miracle Theatre.
Bean, who has written and directed numerous shows that have appeared in theatres across the country, recently celebrated the one-year anniversary of The Marvelous Wonderettes Off-Broadway run in New York at the West Side Theatre. The Actors' Playhouse production, directed by
David Arisco
, is the first production that Bean has not directed himself. Called "as sweet as a strawberry milkshake" by the Miami Herald, the show runs for one more week in Coral Gables this Thursday through Saturday at 8 p.m. and Sunday at 2 p.m.Also making an appearance at the Miracle Theatre this weekend was Bernard "Pretty" Purdie, the world's most recorded drummer, who performed in the balcony Theatre on Sunday evening as part of the Miami Jazz Workshop. The workshop consisted of a master class for students in the morning, followed by a performance in the evening headlined by Purdie. Purdie, who has performed for the likes of
Aretha Franklin
,
B.B. King
,
Miles Davis
, Steely Dan, Joe Cocker and countless others, has laid the beat for over 3,000 albums to date and is also the featured drummer for the current Broadway musical Hair. Best known for his signature "funky soul beat," Purdie has expanded the boundaries of almost every genre from jazz to rock to country and everything in between. Tickets for The Marvelous Wonderettes for weeknights and matinees are $40, and on Friday and Saturday evenings $48. The theatre offers a 10 percent senior discount rate the day of performance and $15 student rush tickets 15 minutes prior to curtain with identification. Discounts are based on availability and exclude Saturday and Sunday. Group discounted rates are offered for 15 or more through our group sales department. Single tickets may be purchased through the box office at 305-444-9293 or online at
www.actorsplayhouse.org
Subscriptions are now available to the 2009-2010 season, which will also include: Another Night Before Christmas by
Sean Grennan
and
Leah Okimoto
(December 2 -27, 2009), The Great American Trailer Park MUSICAL with music and lyrics by
David Nehls
and book by
Betsy Kelso
(January 13 - February 7, 2010), Boublil and Schönberg's Miss Saigon (March 3 - April 4, 2010), the world premiere play Unreasonable Doubt by
Michael McKee
ver (May 12 - June 6, 2010) and Are We There Yet? by
James Hindman
,
Ray Roderick
and
Cheryl Stern
with music by John Glaudin (July 7 - August 15, 2010). To become part of the Miracle as an Actors' Playhouse subscriber, call 305.444.9293 or go to www.actorsplayhouse.org. Actors' Playhouse, the nonprofit resident theatre company and managing agent of the Miracle Theatre, has an agreement with Actor's Equity Association, the union of professional actors, New York. Under the leadership of Executive Producing Director
Barbara S. Stein
and Artistic Director
David Arisco
, Actors' Playhouse was named South Florida's Theatre Company of the Year 2008 for overall season excellence and community outreach by the Carbonell Committee and in 2009 Artistic Director
David Arisco
received the industry's highest acknowledgement with the
George Abbott
Award for his 22-years of artistic excellence in South Florida. Actors' Playhouse is a Florida Presenting Cultural Organization and one of twenty-one major cultural institutions in Miami Dade County. In addition to its Mainstage season, Actors' Playhouse produces a year-round five-show season of Musical Theatre for Young Audiences, a National Children's Theatre Festival, and a Theatre Conservatory and Summer Camp Program.

Drummer Bernard "Pretty" Purdie performs with vocalist Kevin Mahogany and students from the University of Miami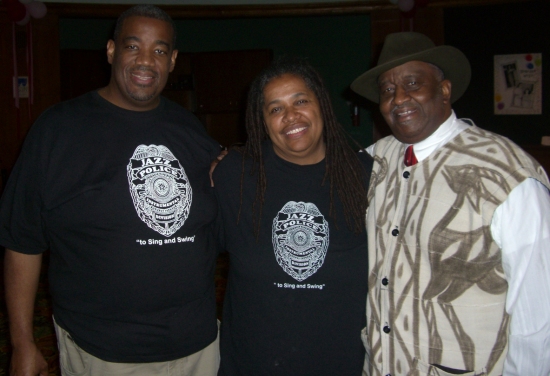 Kevin Mahogany with wife Allene, and drummer Bernard "Pretty" Purdie

The cast of The Marvelous Wonderettes with creator Roger Bean

Chairman of the Board Dr. Lawrence E. Stein, writer Roger Bean, Artistic Director David Arisco, and Executive Producing Director Barbara S. Stein.