Photo Flash: Palm Beach Dramaworks Presents FENCES
Fences, August Wilson's towering, Pulitzer Prize-winning drama about an embittered black man denied his dream and the soul-searing wounds he inflicts on his family, opens at Palm Beach Dramaworks on Friday, March 29 (8pm) at the Don & Ann Brown Theatre. Performances continue through April 21, with specially priced previews on March 27 and 28.
Troy Maxson was a talented baseball player in the Negro Leagues who came along when Major League Baseballwas still segregated. Now it's 1957 and he's a trash collector in Pittsburgh, living with his wife, Rose; his son, Cory; and his psychologically damaged brother, Gabriel. He's a man of great dignity with a strong work ethic and even stronger convictions; he is also rigid, angry at the hand he's been dealt, and prone to violent outbursts. His thoughtless actions and uncompromising attitudes lead to devastating consequences for his family.
Wilson once told Bill Moyers, I try to explore, in terms of the life I know best, those things which are common to all culture. While the specifics of the play are black, the commonalities of culture are larger, the universal realities of the play . You have father-son conflict, husband-wife [conflict].
PBD's production of Fences is directed by Producing Artistic Director William Hayes. Lester Purry leads a cast which also includes Karen Stephens, Jovon Jacobs, John Archie, Bryant Bentley, Warren Jackson, Jayla Georges and Raegan Franklin. Scenic design is by Michael Amico, costume design is by Brian O'Keefe, lighting design is by George Jackson, and sound design is by David Thomas.
Fences was originally produced in 1985 at Yale Repertory Theatre, directed by Lloyd Richards and starring James Earl Jones. Richards directed the 1987 Broadway premiere which again starred Jones and also featured Mary Alice as Rose and Courtney B. Vance making his Broadway debut as Cory. The show won Tony awards for Best Play, Best Director, Best Actor (Jones) and Best Featured Actress (Mary Alice), as well as the 1987 Pulitzer Prize for Drama.
The play retuned to Broadway in 2010, with a cast led by Denzel Washington and Viola Davis. Both stars won the Tony Award this time, the role of Rose was recognized in the Best Actress category and the production won for Best Revival of a Play. In 2016, Washington directed and starred in the film version, which featured most of the Broadway cast. Davis won an Oscar for Best Actress in a Supporting Role.
Fences is part of Wilson's remarkable cycle of plays chronicling black America in each decade of the twentieth century, alternately referred to as his Pittsburgh Cycle or Century Cycle. His widow, Constanza Romero, said in an interview in American Theatre magazine that she prefers American Century Cycle, because these stories belong to all Americans. The plays, in order of the decades in which they are set, are Gem of the Ocean, Joe Turner's Come and Gone, Ma Rainey's Black Bottom, The Piano Lesson (Pulitzer Prize), Seven Guitars, Fences (Pulitzer Prize and Tony Award), Two Trains Running, Jitney (Great Britain's Olivier Award), King Hedley II, and Radio Golf.
Photo Credit: Samantha Mighdoll

Karen Stephens, Bryant Bentley, Lester Purry

Karen Stephens, Lester Purry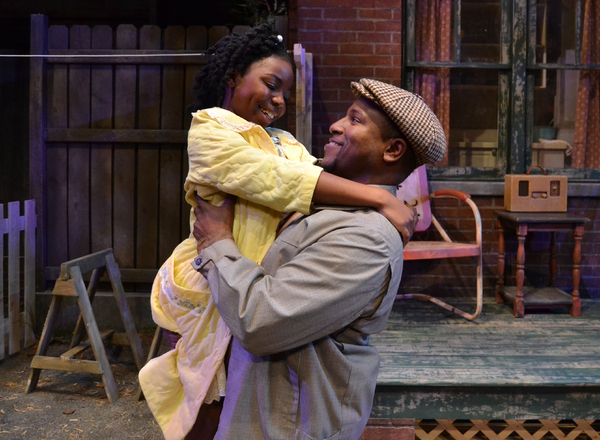 Jayla Georges, Warren Jackson

Karen Stephens, Lester Purry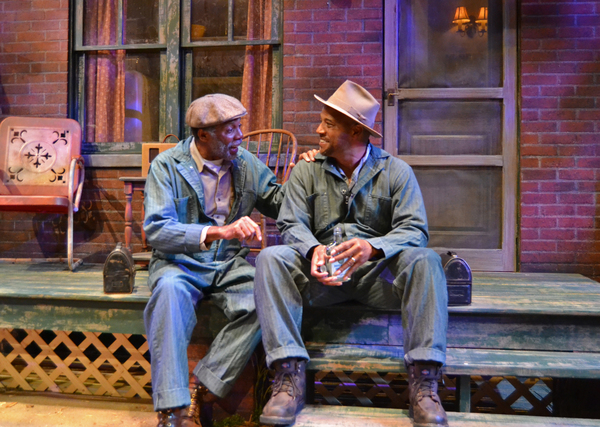 John Archie, Lester Purry