BWW Reviews: SHREK THE MUSICAL is An Abstract, Surreal Expression of Art
Forewarning to all readers, this review may seem rather surreal at times. Such a review is only fitting for a show that constantly drags you through surreal realism. To begin bluntly, Giancarlo Rodaz's Shrek The Musical is gritty realism to the extreme, minimalizing a maximalist show into an eclectic show out of your wildest fever dreams. Rodaz's Shrek takes the insurmountable technical requirements of the smash hit, the forty-seven member cast and thousand dollar design standards, transmuting them into a simple seven person cast and orchestra. John Doyle won a Tony for less in his 2006 revival of Company, a show the New York Times claimed to have found "a new clarity of feeling through melding musicians and performers." Giancarlo Rodaz, as his audiences have come to expect, spits in the face of traditional expectation, and even to the lesser trailblazers, by carving a new trail of his own expression. This seven-person Shrek The Musical is more Shakespeare than 2001's Shrek, more Renaissance than ridiculous. You'll be hard pressed to find a more layered show in even the smokiest of Brooklyn hipster hangouts; there's nothing as passioned and pure as his artistry - coming from something so iconic, and becoming even unforgettable and true. In short, Area Stage Company's Shrek The Musical doesn't redefine the wheel, it instead hands the audience a jet-pack.
Sure, this Shrek is still the same over-the-top subversion of fairy tale endings as the film. And it is still Jeanine Tesori and David Lindsay-Abaire's 2008 script - but the work has been stripped for parts and recreated as an abstract work of the audiences' collective imagination. Opening with acapella and shadow puppetry, evolving through insane scenes where six performers triple the characters they perform through props (as lavish as a football painted as one of the three pigs!) or manipulating the set to create subtle sound effects. The cast and crew work together, building the room into a group setting, where they are delivering a story to you - a story as real as the performers in front of you. This is harrowing in comparison to the colorful, tongue-in-cheek film, but, in the end, necessary for Rodaz's realism.
A realism grounded in the firmly rooted cast. Should one falter, the rest would topple - none can stand without their supports and cohorts. Even Ryan Bauta, playing the titular ogre, switches in and out of scenes as various ensemble characters and voices. When things go wrong and collapse in the scene (as any avant-garde piece inevitably experiences), the actors and actresses flow through it with flair that makes it seem as though their faults are actually their most thought out punch-lines.
Bauta, himself, is weighed down by perhaps the most expectation. Based on Mike Myer's iconic voice performance, one that even held the imitable Brian Darcy-James in check in the original Broadway run, Bauta works to remain true. This does not, however, mean he finds anything from the prior ogres but their accent. Bauta instead delivers a troubled man - not a grouchy ogre, but a frustrated, destitute, disdained man you once knew. In a leather bomber jacket and Timberlands, this Shrek is a familiar face to a modern audience. Bauta's Shrek is tragic in ways the caricature was never meant to reach - you always feel for this Shrek, even before his act one finale turn (which, breath-taking performance - top that, Darcy-James).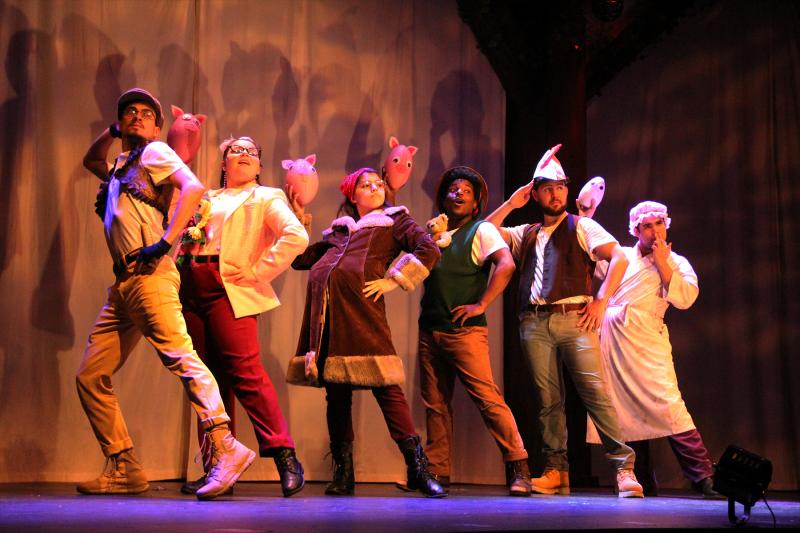 His love interest is the firecracker Michelle Gordon, a soaring voice and soaring performer. As Fiona, Gordon gives less of the manic nature many musical fans expect, but delves into the hopelessness of the character to find a center. Alongside the two, Malik Kamau-Archibald's Donkey is a riot. In fashion of the show, he throws out any assumptions to the role and substitutes truth. He does this at the expense of some over the top jokes, instead giving Donkey a core of sincerity. No longer is he the smart-cracking black sidekick to an ogre - Kamau-Archibald is every bit as worth our love, trust, and interest as Bauta or Gordon. And he is real.
Which is where this show separates from anything local audiences have seen in so long. Rodaz's show doesn't care for the color, doesn't care for the overt and accented punch lines. This production is about truth, reality, and hope. The cast is allowed to be visualized and humanized in this show - there is no outrageously large dragon puppet, nor are there endless distractions of throw away props or big green men. Instead, there is a man in a green clown nose playing a guitar. A man whose eyes can be met by anyone. A man whose emotions are all too clear and human. A man who is vulnerable.
Don't expect this to be a distressing examination of the human experience - well, not simply the examination. The humor and undercurrent given by each of Rodaz's performers is every bit as crucial to the packaged experience. Corey Vega's many crisp characters, not the least to mention his scene-stealing Lord Farquaad, is reliably divine. Jeana Montgomery makes the dragon a character you want to see more of, along with her many fairy tale creatures, that endears even the least human characters. And Isis Palma - her solo in 'Freak Flag' is worth the ticket price alone (don't miss her blink-and-you'll-miss-it time as the sun!).
Special mention must be made of Giorgio Volpe, playing Pinocchio, and the majority of the show's guitar needs. Volpe, famed for his voices and physicality, is a never-ending reserve of laughter. From his outlandish ventriloquism in the first act, through each larger-than-life character he nails, Volpe is the one whose characters leave impression deep in the mind. The impression that keeps you laughing the entire drive home. His priest, the second act's biggest surprise by far, was nothing short of mastery of physical humor. Each facial twitch, vocal break, and movement seems planned far too much for the doltish performance he gives - a one-man Monty Python bundled into a gritty, realistic Shrek? As forewarned - a surreal review for a surreal experience.
Rodaz himself is the man behind the show's immaculate construction. Along with directing, Rodaz is the mind behind the lighting and set design. With Nathalie Moreno's costuming, and Orlando Hall's unblemished sound design, Rodaz embodies the troupe's performance as one set up on the back of a pick-up truck - the hanging sheets and shadow puppetry, the quick changes, the trick-of-the-light effects, all combine to make the picture-perfect production seem haphazard. The most reminiscent comparison is Dolly Parton's famed quote, "It cost a lot of money to look this cheap."
Alongside Volpe and Bauta's guitar/bass work and Kamau-Archibald's ukulele stylings through the show is the mini-orchestra of Katie Duerr (music director and piano) and Ryan Heckler (drums). Duerr, who also plays a few comedic roles like Thelonius, structured the score of Shrek The Musical wise enough to make even the huge group numbers work through the small handful of voices. Duerr and Rodaz must have made a deal with the devil or Sondheim, because a reconfigured score of this size often necessitates a powerhouse team and a blood oath.
If the praise seems to flow bountifully, then the message is being well-conveyed. Art, in its pure and untapped form, causes discussion, and there's far too much to be said about Rodaz's Shrek The Musical than can be discussed in a single forum. There will be those who prefer the original, bloated spectacle of Broadway - hell, people rave about a Spongebob Squarepants musical. That's fine. What's been done on the stage of Area Stage Company is not just a reimaginging, but redefining of one of this generation's most well-known stories. Shrek The Musical is an exploration, a journey for each audience member, whether they be five or fifty years old. And it's a journey everyone should take at least once.
Shrek The Musical plays at Area Stage Company May 18th-June 3rd. Tickets can be purchased online or at the door.