BWW Reviews: Outre's HEDWIG AND THE ANGRY INCH A Fresh Exploration of Rock and Destitution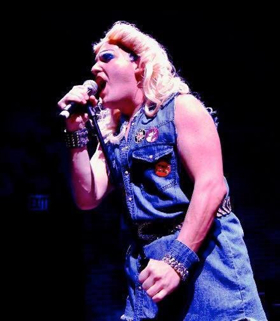 There's a lot to be said about abject misery, and more to be said on laughing at it. Certainly, watching a woman scream and rage against the storm of life, shedding every piece of humanity is tragedy - making it comedy is the ultimate technique of art. We aren't discussing any grandiose opera, or Shakespearean farce, but a drag queen in her last throes weeping before an uncaring audience. Yes, Hedwig and the Angry Inch has kick stepped its way onto the Pompano Beach Cultural Center stage, with innovative emotional drives and unbelievable passions behind the two starring performers, which director Skye Whitcomb bond in a tirade of pained punk sincerity.
There are three kinds of people who find themselves in Hedwig's audience - die-hard fans of the show, curious tag-alongs, and victims of the latter two. In personal experience, it has become a veritable challenge of impossible magnitude to hope to please the first group - how shall a director cater to fans of the John Cameron Mitchell Off-Broadway cult classic, his subsequent film version, the various Broadway Hedwigs? Fortunate for South Florida Hed-heads, Skye Whitcomb's direction coincides with Mike Westrich's lifelong love of the show's potential, let alone Kat Gold's explosive star turn as the freshest Yitzhak since Lena Hall won the Tony.
Hedwig rests solely upon the wigged shoulders of Westrich, as the titular angry-inched wash out. Westrich, having a strong grasp of each iteration of past Hedwig, refuses the binds of expectation. Those assuming their Hedwig will grace the Pompano Beach Cultural Center will be greatly shocked at the jumping, furious, shattered little-slip of a girly boy from East Berlin they applaud. Westrich's voice is more rock, more punk, more furious than even his renowned RENT performance. The soaring 'Wicked Little Town' is unparalleled, even by the most beloved Hedwigs, his shining moment that signals an inner despair hinted at through the first hour.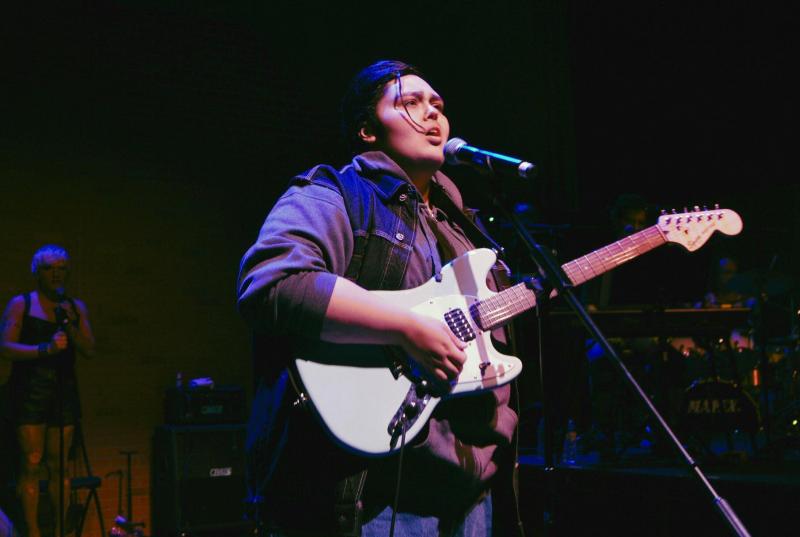 Even more despairing, more gripping, is the last Jewess of the Balkans, his chained beloved Yitzhak. South Florida is spoiled by the angry Kat Gold, in both vocal and emotive range rarely seen outside of the final show of a dying artist. Yitzhak, itself, is a complex role, given no narrative lines or plot importance, a song or two depending on the production, and yet still remains the only rock in Hedwig. Gold plays the truth of Yitzhak's reality, the abused and hollow remains of a once proud and wondrous artist, continually shattered and insulted and broken down into submission. Never has there been such a broken Hedwig backer, nor a more horrific clash of souls as Gold realizes how little is left to lose the night of performance. Her voice is as soul splitting as Lena Hall's Tony winning run, but the tears welling in her eyes and the unbridled emotional confusion (very expressive of an abuse victim) are touching in a personal way unseen by south Florida theatre.
There's magic in this production of Hedwig. There's the disillusionment of a collapsing building, once glorious, before your very eyes. The colossus ego Westrich exudes and bravado as he toys with the audience, razor wit and improvisational charm without end, seems cracked from the get-go. As does Gold's mixture of outward apathy and her sincere concern for her wife. Each step they take, together or separate, builds a narrative spanning years of marriage and pain, Hedwig taking out her weaknesses and frustrations on the vulnerable Yitzhak, and it's those small glances that suggest a dirge of pain between them that cement Outre Theater Company's utter success.
Not only do you have Westrich as lead (and star) of a virtual one-man show, Gold illustrating a tapestry in the background, but the titular Angry Inch stands by to further frame the scene. Led by Caryl Fantel, as the unpronounceable Skszp, the band pounds out the chords and transforms Daimien Matherson's original set into a veritable concert venue. The Angry Inch is usually displayed in neon hair, punk spikes, and youthful fury - Whitcomb's rendition of Hedwig instead delivers the middle-aged, over the hill, still rocking band of Fantel, bassist Ruper Ziawinksi, lead guitarist Greg Minnick, and drummer Evan Kline. The small group (assisted by Gold playing guitar, a fascinating addition to an already impossible role, which she, characteristically, slays) adds to the feeling of Whitcomb's Hedwig - the final throes of a washed up wannabe star, fighting to stay on that stage with every bit of energy, clawing and crooning to an uninterested audience. Certainly, with a full house, the energy Westrich feeds on would be explosive - but should you find yourself with a dozen other viewers, perhaps you'll feel the truth and despair these performers exhibit.
Costuming, as any fan will be pleased to hear, is handled with the messy, cheap aesthetic Westrich's Hedwig needs. A belt snapped in following the opening number, an instance Westrich snapped back-handedly at and split the audiences sides as a result. Erin Charles costuming, and of course, wig work, brings the feel of a late night drag show in the back of a seedy bar. The changes are quick, the wigs are ratty (in a positive way), and the staple curls are coifed. Gold's makeup work is transformative, actually convincing some that she's a man until her finale sequence (including one of the most vicious and stunning costume changes of the season). Facilitated by assistant stage manager Christopher Mitchell, who provides intense prop and change support, the show flows almost without fail through stage manager Noel Barry's outline. Special mention to Todd Silver's sound design, somehow containing the power of Fantel's Angry Inch and balancing the two leads - so careful is the balance that, should you choose to only hone into Gold's backing vocals, the option is always there. Murphy Hayes also provides amusing graphic design in Clifford Spulock's (also in charge of the show's ferocious lighting) projections, a surprising addition to the space, posted on the brick wall of Charles' St. Patrick's Day Easter bar.
This Hedwig and the Angry Inch remains a passioned rock concert, full of the charm and humor you expect, but also delivers true destitution. Horror in the numbing of the human experience, so rarely illustrated, has become beautiful art under Whitcomb and his cast. While the decision to split the show into two acts, intermission inserted, does mar the potential and flow of the show that is otherwise seamless, there is no substitute for this passion piece.
Hedwig and the Angry Inch runs March 22nd-April 8th at the Pompano Beach Cultural Center. Tickets are available online or at the door.