BWW Interview: Darius J. Manuel On Being Multi-Disciplined, Art with Heart - 'Dream Fierce'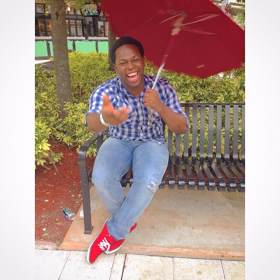 The first time director Darius J. Manuel crossed my path, the audience of Spring Awakening was filing in for an evening of rock, tears, and brilliant creation. The fact that the theater itself was a conservatory for young artists and students mattered little, ending up being one of the more powerful productions of Sheik's show I'd ever seen. Manuel was joyous in the audience, his contagious smile a show both of a proud, patriarchal director, and a warm friend. Asking him what was next brought a slew of answers I wasn't expecting, but answers that gave me something to look forward to.
The first time actor Darius J. Manuel crossed my path, the audience of Tarzan filed past me, speaking praises of the show's incredible supporting cast. He had remnants of his ape makeup around his eyes, the slumped shoulders characteristic of a performer after a riotous opening night, and the contagious smile I remembered. We shook hands, spoke of what was next, and I learned yet more of the talented young artist.
I have yet to meet teacher Darius J. Manuel. I have yet to meet friend Darius J. Manuel. But I am proud to have met rising artist Darius J. Manuel, a man bursting forth with the energetic, raw force of voice across any medium he inhabits. Singing, dancing, acting, directing, and more verbs to be attributed to him, all come gracefully and with succinct sway. Asking him more, learning more of his future and past, during the final runs of Tarzan was a wonderful experience in need of sharing to south Florida's vast and receptive readers.
---
BWW: Actor, director, singer, dancer, and educator. To paraphrase you, your voice does do far more than sing. Where did you first get your start in the arts? Was it before your first starts in the University of the Arts?
DM: I was in the 6th grade, on track to be a lawyer! I went to Lauderdale Lakes Middle School, a part of their International Baccalaureate Program. Yes, I used to be super smart! I was there for about 3 months or so. Everything started to go down hill. School was just not working for me, at all. I would get in fights with teachers, students, friends... being in this program, and being bussed into the honors school; I was trying to avoid those things since I was in such a tough neighborhood growing up. But strangely, that school was no different. So, my mom had to transfer me. My cousin attended Parkway Middle School, a Performing Arts Magnet School - the only way you could go there was if you were apart of the magnet. There were no spots left of course, since it was the middle of the year... except one spot in the Drama Program. My mom said, "We don't know what that is, but sign him up."
I went in for an audition and sang "Summer Time" (the Fantasia version, the one she sang on American Idol!). That show was pretty popular at the time. And I got in. I went through the school year, and everything was so smooth. Then we started working on our spring production of "Once On This Island". I was apart of the Ensemble. But what I really remember so vividly is on opening night, after we did "We Dance", the lights went black, and the audience cheered; I turned to a girl named Aminah Richards and I grabbed her, jumped up and down, and screamed "This is what I want to do for the rest of my life!" That is when I knew!
The phrase "My voice does far more than sing..." is literal and metaphorical. To me, it shows that I am more than the high belts and riffs. I am a teacher. I am a mentor. I am a director. I'm an activist in my community. I speak up for the last kid picked in gym class. My voice raises and fights for equality and social justice, especially through the arts. I'm more than just a singer. I do far more than that.
BWW: Miami audiences are sure to know you from one of your many ventures with Florida Children's Theatre, Area Stage Company, or your star turn in Slow Burn Theatre Company's Tarzan. As you look forward to a huge season of opportunity for yourself, what are you most excited to tackle?
DM: I'm excited for everything really. But mostly, RAGTIME at the Florida Children's Theatre, it so much more of my type of show. It elongates the glitz and glamour, and slaps you with a stripped down meaty story, in a very "breaking the fourth wall" type of way. It's about race, injustice, pain and how to push through. It's about raising your voice in time of struggle and uniting to fight for a common good! It is so very relevant today; and I'm so grateful to be directing it with a company of teenagers! They need these lessons the most.
BWW: You told me, personally, that your big production of Annie, opening a month from now at the Florida Children's Theatre, is going to be given a "NEW take." Your Spring Awakening did the same. When giving voices to these young performers, how do you create these new styles and messages?
DM: I mean, I'm pretty young. The way I work, as a director, is new and fresh for all the young people I work with. I direct projects, not productions. I develop activities for the cast to do to share elements of the show that reflects their lives. For example, with Annie, we have an Instagram where we use the hashtag #SeeTheSun. Every cast member has to send something that they see in their lives that exemplifies hope or a brighter tomorrow and tell me why. I post all those on the Instagram so that the kids can feel that they were apart of a greater good; building a huge page of hopeful/inspirational things that they themselves found. Also, when I work with them, I'm apart of them. My shoes are off, I never sit in a "director's chair"; I'm up and in their face. Encouraging them to think and feel so that we create the most authentic moments together ... instead of me talking down to them as if I know more than them. My rehearsals are always like family gatherings; sometimes, I even bring snacks!
I like to do pieces that people know, and give them fresh interpretations. With Annie, you'll see a few new things: 1) Boys in the orphanage! Yes. I did my research of the 1930s and it's a thing that can happen! 2) Annie is a person of color! This makes the story so meaningful to me. With her and Warbucks (a Caucasian Actor), it redefines the meaning of family and pushing through racial barriers. We are really gonna push that notion. 3) More dancing! This production will be colorful, childlike and movement oriented! We will be dancing in basically every number!
BWW: Why do you find it important to revitalize these classic pieces with younger generations, both performing and as an audience?
DM: I feel that in these classic piece, at the root, are lessons that are still needed today. I think that there are ways to crack open these stories, grab the nutrition of the lessons, and feed the actors and audience with that nutrition, in a way they never have eaten it before. Always. I ask myself "Hmmm...they know this story. Well. But what haven't they seen before!" That's how I like to get started! I want my works to be energized, movement based and different.
BWW: As a director, you've done a wide range of shows using younger actors and actresses: anything from The Wiz to your award-winning Carrie. How do you manage such a variety of topic matter, sometimes graphic, with these adolescent artists?
DM: I become one with them. I like my actors to trust me. I want them to feel like we are in this together. I do cast picnics, conversations, and more, just to make sure that we all are comfortable. What I've begun to realize is, no matter what story you are telling, the young artist is still a young artist: ready and eager to learn and grow, but still in the middle of being so vulnerable to the shaping of the world around them. I encourage them to bring all that into the rehearsal room. The anger, the sadness, the anxiousness, the stress, the beauty... because that is the stuff that I want to take and make sing!
BWW: Beyond your 'director's chair,' you have a brilliant style on the stage itself. Your current performance in Tarzan is stunning and as colorful as any performance you've directed. You're even going to be tackling Gator in Memphis this spring, one of the show's most musical and brilliant characters. What's different for you in your process of immersing into a show when you're performing as opposed to directing, or even teaching it?
DM: When directing, I'm focused on the entire journey. I run the race not only for myself, but everyone around me; cast, crew, designers. I've a million things in my head. Steering the ship. As the performer, I take a backseat. I respect that it's not my ship, that I'm just a passenger. I contribute to my role and to the ensemble, but I make sure that I give the director their due respect. When I am the actor, my focus is much more specific. I have to create a human being, who thinks and moves and feels. When I'm the director, my vision is a bit more broad. I have to create a whole world, so that the actors I'm working with can comfortably create their human being, who thinks and moves and feels. I think directing has made me a better actor; it has made me respect process and the value of rehearsal! Directors also like me more because I walk in with super bold choices - always!
BWW: Could you see yourself teaching students a show as you're in it, or would it be a challenge to separate?
DM: It's very hard doing that. I'd prefer to either be in it or work on it. Not both! Though, I have done it before with smaller projects.
BWW: With your education in Philadelphia's theatre scene, and performances like your immersive Raisins in a Glass of Milk (a show performed inside a small apartment during a party), you've gotten a taste of post-modern expression first hand. What are your opinions on the avant-garde?
DM: The avant-garde is where I live, move, and have my being! I love slapping the audience with something new, innovative, and creative. Especially when it's a new work! It also gives me the chance to value my actors a bit more because they get to build something from the ground up alongside me. In Raisins, for example - I got to work with a team of relentless actors in my apartment! This was so much of what Philadelphia Theatre taught me, so it felt like I was in Philly all over again!
BWW: If you could teach a lesson to students, all around south Florida and the country, all the young artists and creators who are struggling to create beauty in a way you do across your mediums, what would you say? What condensed message would you like to give to all those young minds you want to reach?
DM: In the words of Stephen Sondheim, "Anything you do, let it come from you... then it will be new." Work in roles, shows, and projects that set your soul on fire. Do the dangerous. Do the impossible. Do the unheard of. Dare to fail. And last but not least, with your art making, focus on the journey and not the destination. Don't worry about where you are going, focus on how you're getting there. Embrace the NOW. Live in the NOW. Create in the NOW. The LATER will come. Also, Broadway ain't going nowhere! If you have places you want to work, things you want to do, do it! I told my friends when I left college "... you can have Manhattan, I'll settle for the beach," because I knew that there was so much down here in south Florida that I wanted to do and accomplish! I didn't have to go for Broadway right now, if ever! It's not going anywhere. Also, don't let the journey be tainted by pride. Dream big. Dream fierce. Stay relentless, friends.
---
Darius J. Manuel will be directing Annie at the Florida Children's Theatre, from December 15-17th. Tickets can be purchased online or at the door.
Manuel will also be starring in Memphis with Slow Burn Theatre, from March 22nd-April 8th. Tickets can be purchased online or at the door.