Tennessee Shakespeare Announces 2019-20 Season 'Discover to Yourself'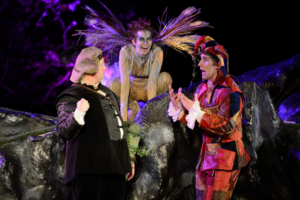 Tennessee Shakespeare Company, founded in Memphis and led by Producing Artistic Director Dan McCleary, announced its 2019-20 performance season.
Titled "Discover to Yourself," the 12th season is the professional Actors' Equity Association theater company's largest yet.
The lineup includes four full-stage productions, two new musical readings, its annual Southern Literary Salon, free and touring Shakespeare productions, a new Elizabethan Feast, a family show for all ages and a VIP Broadway Composer evening. Several productions will be Mid-South stage premieres.
"Our season's theme 'Discover to Yourself' comes from Julius Caesar, which we are excited to stage for the first time in nearly a decade," McCleary said. "We have expanded the season's titles to include something for everyone: a diversity of playwrights, premieres, classics and musicals for all ages with the hope of inspiring audiences' thoughtfulness, joy and humor. When theatre reflects these discoveries within us, we become encouraged to speak, to act, to welcome new ideas, and to offer and receive compassion."
TSC's season begins Sept. 10 with the adventurous fairy tale of Pericles in the third annual Free Shout-Out Shakespeare Series. The 80-minute touring production of Shakespeare's rollicking late romance, directed by Taylor St. John, will perform in surprising indoor and outdoor venues throughout the Greater Memphis area, including Overton Square, downtown by the Mississippi River, Collierville Town Square and the Germantown Community Library. This year's series will perform in 10 different venues over the course of 11 days. Performances are free to everyone, and no tickets are required to attend.
On TSC's new Owen and Margaret Wellford Tabor Stage, located on Trinity Road in Memphis, McCleary will direct the fall of Rome's democratic republic in Shakespeare's Julius Caesar in September and October. Also on the Tabor, Stephanie Shine will direct the regional premiere of one of the most popular plays in America right now, the holiday comedy Miss Bennet: Christmas at Pemberley by Lauren Gunderson and Margot Melcon - an imagined sequel to Jane Austen's Pride and Prejudice.
In January and February, the regional premiere of Dwayne Hartford's adaptation of Kate DiCamillo's multi-generational Newbery Award-winning book The Miraculous Journey of Edward Tulaneintroduces an expensive rabbit to all walks of life, in which he learns how to love, lose that love and have the courage to love again. The journey even includes a stop in Memphis!
TSC again partners with one of Broadway's elite licensing companies, Theatrical Rights Worldwide, to present two readings of Showplace Memphis: Musical Works in Progress. TSC will team with notable Broadway directors and performers to present two different new musicals, following a week of Memphis development, before they move to New York or the regional theatre circuit. Titles will be announced shortly.
Tony Award-nominated musical composer Andrew Lippa (Broadway's Big Fish and The Addams Family) makes a special appearance in Memphis with an intimate VIP performance featuring a wide selection of Broadway favorites. During Broadway Stories and Songs, guests will have the opportunity to meet with Lippa and enjoy his backstage stories over cocktails and dinner.
This year's Southern Literary Salon explores the unlikely sisterhood of Zora Neale Hurston and Margaret Mitchell, two women writers who created very different literary masterpieces within a year of each other: Mitchell's Gone with the Wind and Hurston's Their Eyes Were Watching God.
Closing the performance season on April 25, fittingly the birthday weekend of William Shakespeare, is TSC's new gala benefiting its innovative Education and Outreach Program. The Elizabethan Feast will open every space within TSC's facility with Renaissance-themed food and drink, games and activities, including guests playing roles in some of Shakespeare's famous party scenes.
This is the first season TSC will offer reserved seats with tiered pricing for all shows on the Tabor Stage. Ticket prices range from $10 to $39 with Senior, Student, and Group discounts available. Free Will Kids' Night returns for Julius Caesar and Miss Bennet: every Thursday night, during which groups with up to four children 17 years and younger may attend for free when accompanied by at least one paying, attending guardian. Free Will tickets are available only while seats last and must be purchased at the TSC Box Office.
More information, the Tabor Stage seating diagram and tickets for all 2019-20 productions are now available by visiting www.tnshakespeare.org or calling the TSC Box Office at 901-759-0604. TSC is located between Shelby Farms Park and Germantown Road at 7950 Trinity Road. Free parking. No refunds/exchanges. Casts and schedules are subject to change with notice.
Also throughout the season, TSC continues to grow its vast Education and Outreach Program, now nationally recognized by the National Endowment for the Arts for both its work in underserved school populations and with incarcerated youth in Memphis' juvenile justice system.
TSC estimates its teachers and artists will create more than 35,000 student interactions in more than 50 schools throughout Shelby County, the state and country this season with innovative programming that includes The Romeo and Juliet Project (literacy and anti-violence residency and performances), the U.S. tour of Twelfth Night (featuring anti-bullying themes and playshops developed by Colorado Shakespeare Festival), an expanded Feast of Crispian-South program (for military veterans in partnership with the Memphis Veterans Affairs Hospital), the Juvenile Justice Residency, seven different residencies/playshops for youth, summer camps and adult acting classes.
Contact TSC Education Manager Carmen-maria Mandley for more information at 901-759-0620 or carmenmandley@tnshakespeare.org.
Related Articles View More Memphis

Stories

Shows
More Hot Stories For You