Review: ELF THE MUSICAL at Ogunquit Playhouse/Portsmouth NH Music Hall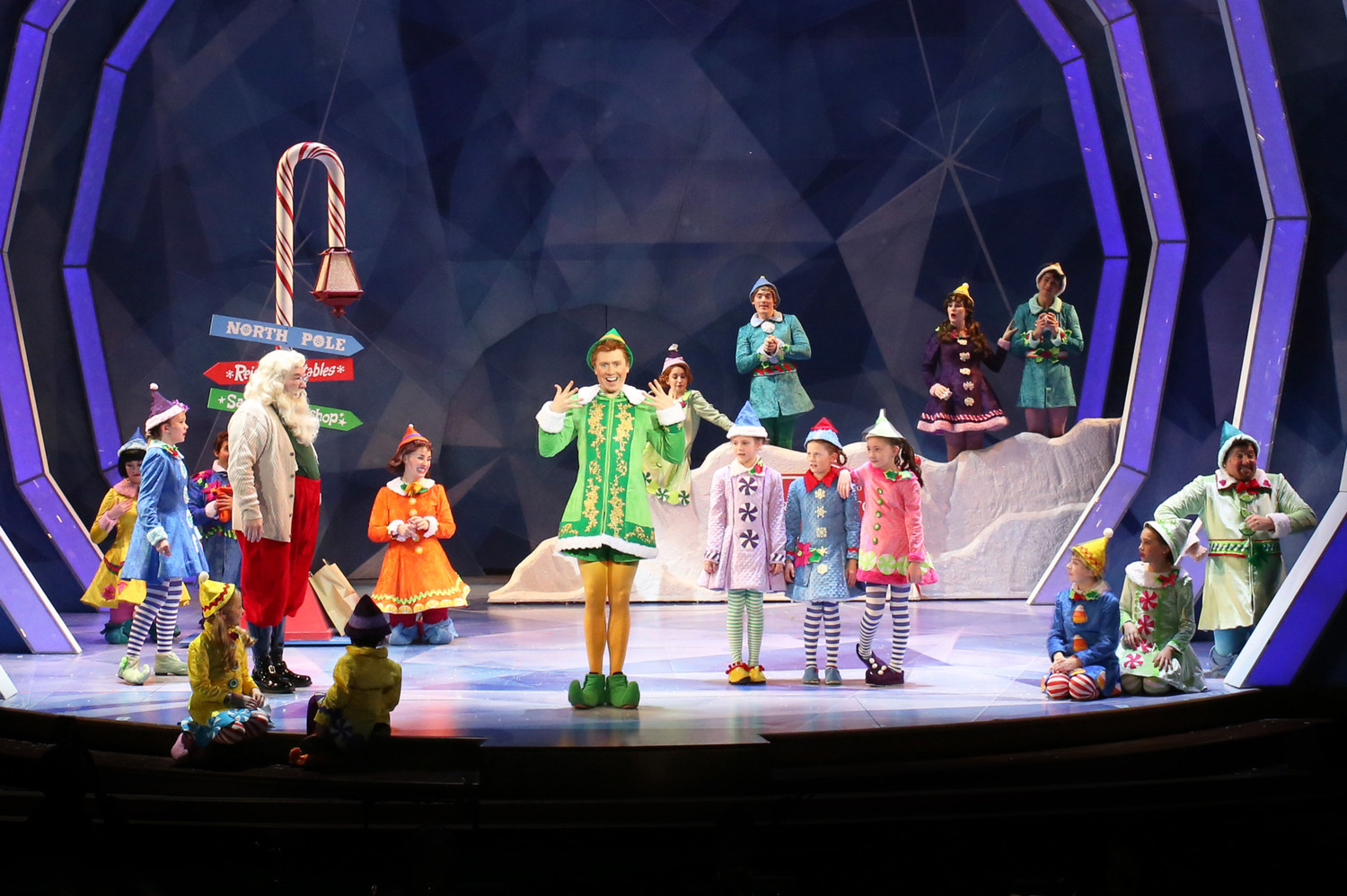 Elf the Musical is the perfect holiday treat. Whether you know the 2003 movie version that featured Will Ferrell or not, it doesn't matter. As a collaborative effort of the Ogunquit Playhouse in Maine performed at the charmingly unique Music Hall in Portsmouth, New Hampshire, this show is one of the best holiday themed productions I've ever seen. The setting, combined with a funny script, rollicking musical numbers, costumes in Christmas palette colors and outrageous dance numbers (you can't beat tap dancing elves and Santas!) this show is worth seeing.
The collaborative writing team of Thomas Meehan and Bob Martin know Broadway musicals. Meehan helped pen Hairspray and The Drowsy Chaperone, after earning success with his first musical, Annie and Martin is known for writing the extremely clever script for The Drowsy Chaperone.
While the film of the same name was an in-your-face overdose of Buddy the elf, the translation to the stage is a masterfully wonderful balance of well-paced scenes that have the right mix of Broadway musical flair and a very entertaining story.
William "Buddy" Hobbs, (Steve Booth) a young orphan child, mistakenly crawls into Santa Claus' sleigh one Christmas Eve where he ends up in a bag of gifts as he's transported to the North Pole. Upon discovering the stowaway, Santa (Blake Hammond) decides to keep the youngster and raise him as one of his toy making elves. In time, Buddy becomes an anomaly in the Arctic community finding himself much taller than the other elves and having very little toy making skills. Overhearing a whispered secret, Buddy learns that he is actually a human and that while his birth mother is dead, his father, Walter Hobbs (Christopher Russo), is a business tycoon at a publishing company in New York City. Buddy ventures off in search of the father he never knew, not giving much thought to the fact that his father is totally unaware of having a son like him, especially one dressed in a fur lined elf suit.
Arriving in the Big Apple, Buddy finds his father, who is on Santa's naughty list, with a son, Michael (Calvin Middleton), who doesn't believe in the famous Christmas icon and a wife, Emily (Annie Edgerton) whose forever lonely with a husband consumed by his job. He's also a bit troubled and surprise when he realizes that this elfin youngster is, in fact, his son. (Hobb's wife is clever enough to have a DNA test done.)
Along the way, Buddy falls in love with Jovie (Diana Huey) an employee at Macy's who is intrigued with the hyperactive elf. Buddy is determined to win over his new-found family and help bring back the true meaning of Christmas to the people of a beleaguered city.
Booth's portrayal of Buddy is frenetic but charming. He's like an imp weaving his way in and out of comic situations. Add to that a mile-wide smile, and the childlike wonder in his every expression, and Booth is the centerpiece of this amazing production. Booth is also vocal powerhouse in the numbers, "Happy All the Time" that brings raw energy to the show's opening and "Sparklejollytwinlkejingley," the song that brings Christmas cheer to otherwise dismal employees at Macy's. His mellow side comes through in the thoughtful, "World's Greatest Dad" and "Just Like Him."
Russo is the not so perfect father and holiday curmudgeon who, like Ebenezer Scrooge in "A Christmas Carol," sees the error of his ways and becomes a cheerleader for the holiday spirit and a true father to Buddy. His transition from heartless corporate to holiday promoter is heartwarming. Edgerton, as his wife, has an epiphany of sorts when she meets the real Santa and sees her son become a believe once again. Middleton, as the son, lights up the stage with a wonderful character and Broadway belting voice to match.
Huey is an intriguing love interest and another actor with a Broadway belting voice. Her trademark number is "Never Fall in Love," a tune filled with advice to never fall in love with an elf. Huey is cute, engaging and elf size to match.
Technically, the show is a great achievement. The scenery (designed by Jason Sherwood) maximizes the confines of the Music Hall with simplistic transitions from the North Pole location to Macy's department story and on to a corporate office and then the vastness of New York City. It is all centered around a snow globe theme that blends nicely into an eye-catching experience. Some projections on a large screen added to the evening. (There's even the Rockefeller Center ice rink appearing at center stage.)
The costumes by Jill E. Tarr shine best when showcasing the elf costumes and the array of retail store Santas.
Santa is lovingly played by Hammond with other stand outs including Lothair Eaton as the store manager who gets wrapped up with Buddy's antics and Jen Cody as the spirited office receptionist with a perfectly obnoxious voice and an engaging New Jersey style attitude.
There is not a weak link in an ensemble cast of professionals and a few local youngsters getting their first chance to tread the boards. The dancers run, jog, do the soft shoe, tap dance, and even dance on their knees as they take joy in director/choreographer Connor Gallagher's stylish routines.
One of the best parts of this production is that the writers know they are appealing to the kids in the audience, but the adults are drawn into the fun as well. There are a few spicy words and eye winking double entendres that go beyond the youngster's understanding, right into some belly laugh chuckles for the adults in the audience.
What really sells this show is the complete sincerity by each cast member that what they are playing is completely real. In an audience full of wide-eyed youngsters, there was hardly a single whine or an uneasy shuffling in the seats as they were thoroughly engaged in the story of one special Christmas elf.
Photo by Julia Russell