Cas Public Tells ROMEO AND JULIET Through Modern Dance at Capitol Theater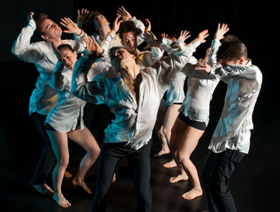 Cas Public from Montreal, Quebec, will perform Symphonie Dramatique at Overture Center Fri., Oct. 20 at 8 p.m. in Capitol Theater. Through modern dance, eight company members will retell William Shakespeare's Romeo and Juliet. William Taylor, Overture's 2016 Rising Stars grand prize winner, will perform as the opening act.
Symphonie Dramatique is a mordant look at the mythical couple of Romeo and Juliet. Their adaptation "draws from Shakespeare's romantic masterpiece to evoke notions of seduction, desire, unchained passion and death." In this highly contemporary version, dancers Nicolas Boivin, Claudia Colonna, Alexander Ellison, Cai Glover, Robert Guy, Mariya Kyrychenko, Daphnée Laurendeau and Danny Morissette present a vibrant homage to the original tale tinged with impetuousness and contagious energy.
Founded in 1989 by choreographer Hélène Blackburn, Cas Public favors a research process in choreographic creation founded on the renewal of contemporary approaches to dance. In 2001, the company carved out a niche in the young audience market with the goal of introducing the public to contemporary dance and contributing to its development. Cas Public defines itself as a contemporary dance company dedicated to producing works for general audiences. Recognized for its high-energy, high-performance dance, Cas Public has staked its reputation on the exceptional quality of its works coupled with its presence on national and international stages.
Show intended for audiences ages 10+. Tickets start at $35 and are on sale now at overture.org, in person at 201 State Street or by phone at 608.258.4141. Groups of 10 or more may be eligible for discounted tickets; contact 608.258.4159.
Area students can also see a tailored version of the show earlier on Fri., Oct. 20 through Overture's OnStage Student Field Trip program, which provides schools and homeschools access to content across the curriculum while offering a diverse range of performing art forms and various cultural perspectives. Tickets (and sometimes bus transportation) are subsidized and schools receive Resource Guides for each show filled with curricular-focused lesson ideas.
Cas Pubic Symphonie Dramatique is part of the Bell Laboratories Dance Series in the Overture Presents 2017/18 season.
OVERTURE CENTER FOR THE ARTS in Madison, Wis., features seven state-of-the-art performance spaces and five galleries where national and international touring artists, ten resident companies and hundreds of local artists engage people in nearly 700,000 educational and artistic experiences each year. Overture.org
More Hot Stories For You