The Wallis and Vesturport presents THE HEART OF ROBIN HOOD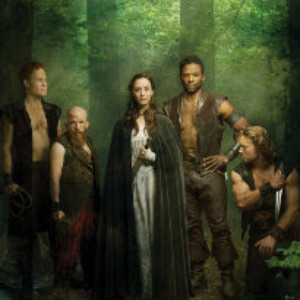 The classic tale of the world's most infamous outlaw goes rogue in The Heart of Robin Hood, a heart-pounding, eye-popping new adventure directed by Gisli Örn Gardarsson and Selma Björnsdóttir from Iceland's innovative theater company Vesturport and the Wallis Annenberg Center for the Performing Arts (The Wallis). Robin Hood and his unmerry gang of cutthroats steal from the rich, but it never occurs to them to give back.
When a wicked Prince John threatens it all, the bold Marion steps in to protect the poor. The brilliant retelling of the Robin Hood tale from British writer David Farr (BBC's "The Night Manager") transforms the Bram Goldsmith Theater stage into Sherwood Forest and features daring acrobatics, outrageous comedy and soul-stirring songs from a live band led by Icelandic pop singer Salka Sól. The ensemble cast is led by Luke Forbes (Broadway's Merchant of Venice with Al Pacino) as Robin Hood, Christina Bennett Lind (Off-Broadway's Please Excuse My Dear Aunt Sally) as Maid Marion and Daniel Franzese (Mean Girls and HBO's "Looking") as Pierre. The Heart of Robin Hood begins previews on Wednesday, November 29 through Sunday, December 17, with Press and Opening Night on Friday, December 1.
"We are thrilled to collaborate with the acclaimed Icelandic company Vesturport to bring together an amazing ensemble of multi-talented L.A.-based performers and
International Artists
," said
Paul Crewes
, The Wallis' Artistic Director. "This is an epic story retold in an epic way, full of action, humor and surprises." "We're excited to stage our work for the first time in the City of Los Angeles at The Wallis," said co-directors Gisli Örn Gardarsson and Selma Björnsdóttir. "It's a world-class theatre, and we can't wait to open the curtains to the magical world we are creating. The amazing cast and creatives are mostly L.A.-based, and it was important to us to create a production that brings together the most talented performers this city has to offer." The ensemble includes:
Moe Alafrangy
,
Jeremy Crawford
, Patrick de Ledebur, Hugo Fowler,
Paige Herschell
,
Sarah Hunt
,
Lize Johnston
, Jake Justice, Leonard Kelly-Young,
Gavin Lewis
,
Kasey Mahaffy
, Sam Meader,
Ian Merrigan
, Tennyson Morin, Lily Rose Silver, Salka Sól, Eirik del Barco Soleglad, Jeff Verghies and Patrick Woodall. Single tickets are now available for $35 - $125. For more information or to purchase tickets, visit
TheWallis.org/RobinHood
, call
310.746.4000
, or stop by in person at the Wallis
Annenberg Center
for the Performing Arts Ticket Services located at
9390 N. Santa Monica Blvd.,
Beverly Hills
, CA 90210. Ticket prices subject to change. The Wallis also offers three different options to subscribe to the 2017/18 season: the Premium Subscription Series; the Design-Your-Own option; and the new 3-show Flex Pass for $99, created for busy young professionals-39 and younger-giving the most flexibility to join The Wallis family of subscribers. Learn more at
TheWallis.org/Subscribe
. Audiences are invited to enjoy craft cocktails, a handpicked bottle of wine or draft beer at The Briskin Bar @ The Wallis located in the beautiful Jim and
Eleanor Randall
Grand Hall before and after each performance. Patrons attending evening performances are encouraged to arrive early for Happy Hour featuring special drink prices from 5:30pm - 6:30pm, and all audience members can now enjoy drinks at their seats during the performance.
About The Heart of Robin Hood:
Romance, comedy and drama, The Heart of Robin Hood is a boisterous reboot of the classic tale complete with swashbuckling, acrobatics, a little cross-dressing, a gang of baddies straight out of "Game of Thrones," and an onstage band performing original songs from Icelandic pop superstar Salka Sól. Written by
David Farr
and directed by Gisli Örn Gardarsson and Selma Björnsdóttir, The Heart of Robin Hood is a funny, fast-paced adventure that suprises at every turn. All is not well in Nottingham. A cruel prince is terrorizing the countryside, the poor are up to their quivers in taxes, and Robin Hood has learned to steal from the rich-but hasn't figured out the 'give to the poor' part just yet. To the rescue comes sword-wielding, sharp-witted Maid Marion, who sets out to show Robin and his scary men that there can be honor among thieves. In this particular time of chaos and fear, Marion must boldly protect the poor and convince Robin to listen to his heart if they are to save the country. Icelandic director Gisli Orn Gardarsson's and designer
Borkur Jonsson
's rollicking production has Marion, Robin Hood and a well-built band of not-so-merry men swinging from ropes, flipping off drawbridges and climbing on a 40-feet tall wall of Sherwood Forest.
About The Heart of Robin Hood Cast:
Luke Forbes
(Robin Hood) The Wallis: Debut. Broadway: Merchant of Venice (Tony Award nominee for Best Revival, with
Al Pacino
). Off-Broadway/NYC:
The Public Theater
, NY Shakespeare Festival/Shakespeare in Central Park,
New York Theater
Workshop (Next Door),
Barrow Group
,
HERE Arts Center
, etc. Regional: Center Stage Theater,
George Street
Playhouse,
Tennessee Williams
Festival Provincetown. Film: Clutter, Accommodations (forthcoming). TV: "The Blacklist: Redemption," "Blue Bloods," "Us & Them," "Black Box," "Forever," "Gotham," "Bull," "Do No Harm," "High Maintenance," "House of Cards," "The Tap (Pilot)," etc. Recently: Luke was a featured guest star on the Golden Globe Awarded Comedy series "ATLANTA" and in the 2017 Sundance Audience Award-winning film Crown Heights. Luke is a graduate of Cornell and Harvard Universities.
Christina Bennett Lind
(Marion) has starred Off-Broadway in Please Excuse My Dear Aunt Sally (59E59); Stockholm (59E59); Dutchman (
Cherry Lane Theatre
); and pool (no water) (One Year Lease Theatre Company). Regional theater includes Fingersmith (A.R.T.), The Heart of Robin Hood (A.R.T.), Ride The Tiger (Long Wharf); and Wait Until Dark (John W. Engeman Theatre). Television credits include "House of Cards;" "Z: The Beginning of Everything;" "Blue Bloods;" "Forever;" "Person of Interest;" and "All My Children." Lind has produced the films Occupy, Texas starring
Austin Pendleton
and Fireworkers for which she also wrote, directed and starred.
Daniel Franzese
's (Pierre) career highlights include Off Broadway: Originated Van in Dog Sees God (Soho Playhouse), Co-creator/star Jersey Shoresical: A Frickin' Rock Opera! (Greenwich), I've Never Had the Kinda Money to Become a Mess (Players Theater) 1st Nat'l Tour: Tony and Tina's Wedding. TV: Jackson on ABC's "Conviction," Eddie on HBO's "Looking," Vern on Freeform's "Recovery Road," HBO's "The Comeback," Starz' "Party Down." FILM: Bully, I Spit On Your Grave, Kill Theory, but perhaps most accosted on the streets as Damian from
Tina Fey
's Mean Girls. Follow him anywhere online @whatsupdanny or at comedy clubs from Flappers to UCB as 2018 begins his stand-up comedy tour "Yass, You're Amazing!"
Jeremy Crawford
(Little John/Fight Captain/Aerial Captain) is once again working with Vesturport reprising the role he portrayed at R.M.T.C., The Royal Alexandra Theatre, and
The American Repertory Theatre
. Recent theatre credits include: Hell Is For Real (Off-Broadway); Peter Pan (Arizona Broadway Theatre); King Lear (Glasgow's Shakespeare In The City); Fever Dream: Southside (One Academy Productions); Doctor Faustus (Blood, Love and Rhetoric); Desire (2Landa); The Fantasticks, Godspell, Disney's Aladdin (W.V.P.T.) Film and TV Credits: "Man Seeking Woman" (FXX). Jeremy is a graduate of The Royal Conservatoire of Scotland where he earned his Master's in Acting.
Kasey Mahaffy
(Much Miller) is making his debut at The Wallis. Other Theatres: A Noise Within(Resident Artist): Tale of Two Cities; Man of La Mancha; King Lear; You Never Can Tell; The Tempest. The Jungle Theater: Le Switch.
South Coast Repertory
: Peter and the Starcatcher; Crimes of the Heart; You,Nero; An Italian Straw Hat; Taking Steps. 2014 Humana Festival: world premiere of Partners. Pioneer Theatre Company: Clybourne Park; Metamorphoses.
Arena Stage
: You, Nero. Berkeley Rep: You,Nero. Ensemble Theatre Company: The Best Brothers; The Violet Hour. Berkshire Theatre Group: The Miracle Worker; Assassins. Portland Center Stage: The Merchant of Venice. Oregon Shakespeare Festival: Life is a Dream. PCPA Theaterfest: The Last Night of Ballyhoo; The Winter's Tale. Sonnet Rep (New YorkCity): Tartuffe, Much Ado About Nothing. TV: "Dom" on Modern Family; Rick Joy on HBO's "Getting On;" "Scream Queens;" "American Horror Story: Asylum;" "Castle;" "Bad Teacher;" "CSI; Bones;" "Franklin & Bash;" "Law & Order: LA;" "Medium;" "ER;" among others. Kasey lives in Los Angeles. Sam Meader (Will Scarlett) is a Brit from the Isle of Man and Guernsey. Sam was recently seen on stage in the world premiere of London Calling: The Clash Musical and Cash on Delivery at the El Portal-for which he received multiple nominations for 'Best Actor in a Comedy.' You can catch him in the upcoming TV series "CVNT5," premiering on Verizon's Go90 streaming platform in 2018. Eirik del Barco Soleglad (Prince John) is an actor at Den Nationale Scene, The National Theatre in Bergen, Norway, where he has played many landmark and leading roles in both drama and comedy. His long resume includes work such as; Ebenezer Scrooge in A Christmas Carol (2015),
Elyot Chase
in Private Lives (2014), Puck in A Midsummer Night's Dream (2012), Nicky Giblin in The Seafarer (2010), The Night Season (2013), An Enemy of the People (2015), Cabaret (2000), The Jungle Book (2010), The Brothers Lionheart (2011), The Complete Works of
William Shakespeare
(Abridged) (2013), Around the World in 80 Days as Passepartout (2006), Jeppe på Bjerget as Jeppe (2017), Rock n`Roll Wolf as the Wolf (2012), Fiddler on the Roof (1998), When the Rain Stops Falling (2011), Six Characters in Search of an Author (2001), and many more. Nominated for 2 Hedda Awards and 3 Comedy Awards for Best Actor, Eirik makes his U.S debut as Prince John. For more casting information and bios, please visit
TheWallis.org/Press
.
About the Directors: Gisli Örn Gardarsson (Co-Director) According to BBC News: "Gisli Gardarsson's shows have been such critical successes, doing what is almost impossible in today's multimedia society; attracting a new young audience to the theatre. He made his directing début with a circus-themed production of Shakespeare's Romeo and Juliet at the Reykjavík City Theatre in 2003, also playing Romeo. The production's success led to a transfer to
The Young Vic
in London, from where it moved in 2004 to the Playhouse Theatre in the West End. He has since directed further stage productions all over the world, including an adaptation of Kafka's Metamorphosis in association with
David Farr
. Büchner's Woyzeck at the BAM Next Wave Festival, directed by Gísli, was his work's first appearance in the US. He has since been to Boston, Toronto, Winnipeg, New York and San Francisco with his work. He has acted in, written and produced many theatre, film and TV productions, winning numerous awards, such as the Broadway World and Boston theater awards for The Heart of Robin Hood and Metamorphosis and the prestigious European theater awards in 2011. In 2007 he received the European Shooting Star for his acting in the film Childeren. His productions of Woyzeck, Metamorphosis and Faust had the music specially composed by Nick Cave and Warren Ellis. Gisli continuously works across the Globe, mounting productions of all sizes to a very broad audience. He is an associate director at the National Theatre in Norway and at
The Young Vic
Theatre in London. Selma Björnsdóttir (Co-Director) started out as a singer, actress and a dancer but has been a full time director since 2007. She has received numerous nominations and awards as a director, singer and actress. Among her works as a director include: National Theater in Iceland: Les Misérables, Oliver, Let The Right One In, Faraway Land, The Town of Cardamom; The Heart of Robin Hood (Co-director/choreographer), RSC, Den Nationale Scene in Bergen, Norway; Grease, Loftkastalinn Theatre; Pinocchio, Reykjavik City Theatre. Credits as an actress include: Lady of the Lake in Spamalot/National Theater in Iceland; Metamorphosis and The Housewife, Vesturport; A?stin er disko? li?fi› er po?nk, National Theatre of Iceland; Footloose, Reykjavik City Theatre; Hair/Sheila. Credits as a choreographer and assistant director include: Little Shop of Horrors, Rocky Horror, Hair. Her solo album in 1999 - "I Am," was a platinum selling album and the most sold CD in Iceland in 1999. She was 'Performer of the Year' at the Icelandic Music Awards in 2000. Selma participated on behalf of Iceland in the Eurovision song contest in Jerusalem 1999 and came second.
About the Composer: Salka Sól Eyfeld (Music and Lyrics) known as Salka Sól, is an Icelandic singer, rapper, actress, voice actress, radio host and TV-personality. Well known in Iceland, she is the lead singer of the bands AmabAdamA and Reykjavíkurdætur. Salka studied Actor Musicianship in London, where she graduated in 2013. The music of The Heart of Robin Hood is her first major theater work. The music of the show was nominated for ´Best Music of the Year´ at the Icelandic Theater Awards in 2015. Also, Salka was nominated as 'Best Vocalist.' Salka has had over nine Icelandic Music Awards nominations, and won as 'Best Vocalist' once. In addition, she has had three People´s Choice Awards nominations and won twice as 'Best Vocalist.' She was also a coach for "The Voice - Iceland."
About the Playwright:
David Farr
(Playwright) is a playwright, screenwriter and stage director, whose plays have been performed all over the world. In recent years he has moved into film and television, working on the long running BBC show "Spooks" and completing his first feature film, Hanna, for Focus Features in 2009. His directorial debut, The Ones Below, with Cuba Pictures premiered at Toronto International Film Festival in 2015 and was released in UK cinemas in March 2016. David's adaptation of John le Carré's novel "The Night Manager," starring
Hugh Laurie
and
Tom Hiddleston
and directed by Susanne Bier, was seen by millions of audiences the world over. David is currently adapting his film Hanna into a television series for Amazon and he is the writer and creator for the upcoming BBC1 and Netflix epic miniseries "Troy: Fall of a City." His episode of the Philip K. Dick series "Electric Dreams", entitled Impossible Planet, will air later this year.
About the Production Team: The creative team includes: Börkur Jónsson (scenic design);
Emma Ryott
(costume design);
Ken Billington
and
Ed McCarthy
(lighting design); Salka Sól (composer/music director);
Brian Hsieh
(sound design); Donna Levy (hair & makeup supervisor); Joe Bostic (fight direction);
Joel Goldes
(dialect coach); Telsey + Company,
Tiffany Little Canfield
, CSA, and Ryan Bernard Tymenksy, CSA (casting);
David Lober
(production stage manager); and Morgan Zupanksi (assistant stage manager).
About Vesturport (Co-Producer):
Since it's foundation in 2001, Vesturport has performed in most major theatre venues around the World and has produced 5 feature films: Children, Parents, Brim, Country Wedding (co-producer) and Kings Road (co-producer).
About the Wallis
Annenberg Center
for the Performing Arts (Co-Producer):
Since opening its doors in October 2013, The Wallis has produced or presented more than 150 dance, theatre, opera, classical music and family programs to an ever-expanding audience. Under the leadership of Artistic Director
Paul Crewes
and Managing Director Rachel Fine, The Wallis brings audiences world-class theater, dance and music, performed by many of the world's most talented and sought-after artists. Featuring eclectic programming that mirrors the diverse landscape of Los Angeles and its notability as the entertainment capital of the world, The Wallis offers original and revered works from across the U.S. and around the globe. The mission of The Wallis is to create, present and celebrate unique performing arts events and educational programs that reflect the rich cultural diversity of our community. Nominated for 47 Ovation Awards, four L.A. Drama Critic's Circle Awards and the recipient of six architectural awards, The Wallis is a breathtaking 70,000-square-foot venue that celebrates the classic and the modern and was designed by Zoltan E. Pali, FAIA of Studio Pali Fekete architects. The building features the restored, original 1933
Beverly Hills
Post Office (on the National Register of Historic Places) that serves as the theater's dramatic yet welcoming lobby, and houses the 150-seat Lovelace Studio Theater, GRoW at The Wallis: A Space for Arts Education (a gift of Gregory Annenberg Weingarten and Family and the Annenberg Foundation) and the contemporary 500-seat, state-of-the-art Bram Goldsmith Theater. Together, these structures embrace the city's history and its future, creating a performing arts destination for L.A.-area visitors and residents alike. The Official Sponsors of The Wallis' 2017/18 Season include: Delta Air Lines (Official Airline Sponsor), Montage
Beverly Hills
(Preferred Hotel) and Mercedes-Benz of
Beverly Hills
(Official Automotive).