The Music Of Harold Arlen, Wonderful Wizard Of Song Comes to The Soraya, 12/1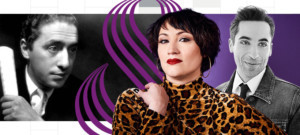 Legendary American song composer Harold Arlen will have a Hollywood Big Band tribute when Broadway powerhouse Eden Espinosa (Wicked) and Joseph Leo Bwarie (Jersey Boys) join Arlen's son Sam Arlen and singers Karon Blackwell and George Bugatti, for The Music of Harold Arlen, Wonderful Wizard of Song at the Younes and Soraya Nazarian Center for the Performing Arts (The Soraya) on Saturday, December 1 at 8:00pm.

America's most popular and renowned singers like Nat King Cole, Frank Sinatra, Judy Garland, Barbra Streisand and Ella Fitzgerald gave Arlen a revered place in the Great American Songbook with their performances of his iconic songs including "It's Only a Paper Moon," "Blues in the Night, "That Old Back Magic, "Come Rain or Come Shine," "Ac-Cent-Tchu-Ate the Positive," "One for My Baby (and One More for the Road)," "My Shining Hour," "The Man that Got Away," and "Stormy Weather."

With lyricist E.Y. Harburg, Arlen is also the composer of the score of The Wizard of Oz including "Over the Rainbow," which won the Academy Award for Best Original Song and is ranked by the Recording Industry Association of America and the National Endowment for the Arts as the "Song of the Century."

"We are delighted to continue this year's Hollywood Tribute series with an evening dedicated to Harold Arlen, a composer who wrote some of the most memorable and emotionally compelling popular songs of the 20th Century," said Thor Steingraber, The Soraya's Executive Director. "And with the addition of Eden Espinosa and Joseph Leo Bwarie, we are keeping with The Soraya's tradition of featuring some of Broadway's most notable talents."

"My father's music was a combination of European classical music, American influences-especially black music-and the Hebraic melodies he heard my grandfather sing," said Sam Arlen. "No matter where he went in life and no matter what he did, my father carried that with him for the rest of his life."

Single tickets start at $39. For more information or to purchase tickets, visit The Soraya or call 818-677-3000. Younes and Soraya Nazarian Center for the Performing Arts is located at 18111 Nordhoff Street, Northridge, CA 91330. Ticket prices subject to change.

About Harold Arlen (from The Soraya program notes by Kirk Silsbee)

Arlen wrote over 400 songs, 25 motion pictures, ten Broadway shows, and three instrumental suites. Like those of Irving Berlin, George and Ira Grshwin, Cole Porter, and Richard Rodgers, Arlen's songs make up the bedrock of the Great American Songbook. Born Hyman Arluck, he was a cantor's son in Buffalo, New York. He sang in a synagogue choir and took up the piano at nine. Arlen's work encompassed vaudeville, dance bands, Tin Pan Alley, musical revues, movies, and the Broadway stage. A beguiling sense of melody, coupled with a rich harmonic content, threads its way throughout the Arlen canon. Those attributes have made his songs a favorite of jazz musicians for generations, and virtually all of his music can be danced to. George Gershwin himself, summing up his field of contemporaries, designated Arlen as "the most original of us all." If Arlen's name is less familiar, Arlen himself however had Jewish soul but he didn't have the self-promotion instincts of a Gershwin or Porter.

Arlen first went to New York City in 1924. During a band rehearsal, he improvised some riffs, which turned into his first song: "Get Happy." With Ted Koehler, he wrote Cotton Club revues with features for Ethel Waters, Duke Ellington, Cab Calloway and-stepping out of the chorus-Lena Horne. Waters pronounced Arlen "the Negro-ist white man" she'd ever seen. Years later, after they first met, novelist-turned lyricist Truman Capote was surprised to find that Arlen wasn't black.

Arlen wrote with many different lyricists. E. Y. (Yip) Harburg's playful lyrics complemented Arlen's first movie scores. They wrote the memorable songs to The Wizard of Oz. Johnny Mercer came into Arlen's life in 1941 with the movie Blues in the Night, which also contained "This Time the Dream's on Me." Mercer was a Southerner and like Arlen, had a great feel for black culture. They wrote good songs for forgettable movies, yielding "That Old Black Magic," "One For My Baby (And One More For The Road)," "Ac-Cent-Tchu-Ate the Positive," and "Any Place I Hang My Hat is Home."

Though Arlen moved to Hollywood in 1942, he commuted by train to New York to work on musicals. He never got Broadway out of his system.

Arlen wrote signature songs for Ethel Waters, Lena Horne, Pearl Bailey, Judy Garland, and Barbra Streisand. "I think he had a great understanding of people in general," Sam Arlen points out. "When he knew he was writing for a specific person, he tailored the song to the person's voice and their character." Arlen's versatility tempts one to think of him as a chameleon who changed his colors with each new lyricist. Sam Arlen points out: "His musical vocabulary was large enough to encompass the jazz, the show tunes, the torch songs and other music in the various projects. The lyricists who worked with him said that he wrote what he felt at all times."

About Younes and Soraya Nazarian Center for the Performing Arts (The Soraya)
The 2018-19 Season marks the eighth year the award-winning Younes and Soraya Nazarian Center for the Performing Arts which has quickly become one of the cultural jewels of the greater Los Angeles region. Under the leadership of Executive Director Thor Steingraber, The Soraya continues to expand its programming and outstanding multidisciplinary performances. The mission of The Soraya is to present a wide variety of performances that not only includes new and original work from the Los Angeles region but also work from around the world that appeal to all of LA's rich and diverse communities.
Located on the campus of California State University, Northridge, The Soraya's season offers a vibrant performance program of nearly 50 classical and popular music, dance, theater, family, and international events that will serve to establish The Soraya as the intellectual and cultural heart of the San Fernando Valley, and further establish itself as one of the top arts companies in Southern California. The award-winning, 1,700-seat theatre was designed by HGA Architects and Engineers and was recently cited by the Los Angeles Times as "a growing hub for live music, dance, drama and other cultural events."

Related Articles View More Los Angeles

Stories

Shows
More Hot Stories For You