THE HEART OF ROBIN HOOD Shoots First Arrows Tonight at The Wallis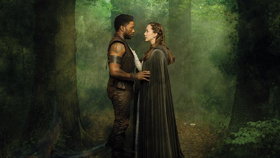 The Heart of Robin Hood, a heart-pounding, eye-popping new adventure directed by Gisli Örn Gardarsson and Selma Björnsdóttir from Iceland's innovative theater company Vesturport and the Wallis Annenberg Center for the Performing Arts (The Wallis) starts first performance previews tonight, November 29, with an opening night set for Friday, December 1, and continues through Sunday, December 17.
The brilliant retelling of the Robin Hood tale from British writer David Farr (BBC's "The Night Manager") transforms the Bram Goldsmith Theater stage into Sherwood Forest and features daring acrobatics, outrageous comedy and soul-stirring songs from a live band led by Icelandic pop singer Salka Sól.
The ensemble cast is led by Luke Forbes (Broadway's Merchant of Venice with Al Pacino) as Robin Hood, Christina Bennett Lind (Off-Broadway's Please Excuse My Dear Aunt Sally) as Maid Marion and Daniel Franzese (Mean Girls and HBO's "Looking") as Pierre.
"We are thrilled to collaborate with the acclaimed Icelandic company Vesturport to bring together an amazing ensemble of multi-talented L.A.-based performers and International Artists," said Paul Crewes, The Wallis' Artistic Director. "This is an epic story retold in an epic way, full of action, humor and surprises."
"We're excited to stage our work for the first time in the City of Los Angeles at The Wallis," said co-directors Gisli Örn Gardarsson and Selma Björnsdóttir. "It's a world-class theatre, and we can't wait to open the curtains to the magical world we are creating. The amazing cast and creatives are mostly L.A.-based, and it was important to us to create a production that brings together the most talented performers this city has to offer."
The ensemble includes: Moe Alafrangy, Jeremy Crawford, Patrick de Ledebur, Hugo Fowler, Paige Herschell, Sarah Hunt, Lize Johnston, Jake Justice, Leonard Kelly-Young, Gavin Lewis, Kasey Mahaffy, Sam Meader, Ian Merrigan, Tennyson Morin, Lily Rose Silver, Salka Sól, Eirik del Barco Soleglad, Jeff Verghies and Patrick Woodall.
Single tickets are now available for $35 - $125. For more information or to purchase tickets, visit TheWallis.org/RobinHood, call 310.746.4000, or stop by in person at the Wallis Annenberg Center for the Performing Arts Ticket Services located at 9390 N. Santa Monica Blvd., Beverly Hills, CA 90210. Ticket prices subject to change.
The Wallis also offers three different options to subscribe to the 2017/18 season: the Premium Subscription Series; the Design-Your-Own option; and the new 3-show Flex Pass for $99, created for busy young professionals-39 and younger-giving the most flexibility to join The Wallis family of subscribers. Learn more at TheWallis.org/Subscribe.
Audiences are invited to enjoy craft cocktails, a handpicked bottle of wine or draft beer at The Briskin Bar @ The Wallis located in the beautiful Jim and Eleanor Randall Grand Hall before and after each performance. Patrons attending evening performances are encouraged to arrive early for Happy Hour featuring special drink prices from 5:30pm - 6:30pm, and all audience members can now enjoy drinks at their seats during the performance.
Romance, comedy and drama, The Heart of Robin Hood is a boisterous reboot of the classic tale complete with swashbuckling, acrobatics, a little cross-dressing, a gang of baddies straight out of "Game of Thrones," and an onstage band performing original songs from Icelandic pop superstar Salka Sól. Written by David Farr and directed by Gisli Örn Gardarsson and Selma Björnsdóttir, The Heart of Robin Hood is a funny, fast-paced adventure that surprises at every turn.
All is not well in Nottingham. A cruel prince is terrorizing the countryside, the poor are up to their quivers in taxes, and Robin Hood has learned to steal from the rich-but hasn't figured out the 'give to the poor' part just yet. To the rescue comes sword-wielding, sharp-witted Maid Marion, who sets out to show Robin and his scary men that there can be honor among thieves. In this particular time of chaos and fear, Marion must boldly protect the poor and convince Robin to listen to his heart if they are to save the country.
Icelandic director Gisli Orn Gardarsson's and designer Borkur Jonsson's rollicking production has Marion, Robin Hood and a well-built band of not-so-merry men swinging from ropes, flipping off drawbridges and climbing on a 40-feet tall wall of Sherwood Forest.
Since its foundation in 2001, Vesturport has performed in most major theatre venues around the World and has produced 5 feature films: Children, Parents, Brim, Country Wedding (co-producer) and Kings Road (co-producer).
Since opening its doors in October 2013, The Wallis has produced or presented more than 150 dance, theatre, opera, classical music and family programs to an ever-expanding audience. Under the leadership of Artistic Director Paul Crewes and Managing Director Rachel Fine, The Wallis brings audiences world-class theater, dance and music, performed by many of the world's most talented and sought-after artists. Featuring eclectic programming that mirrors the diverse landscape of Los Angeles and its notability as the entertainment capital of the world, The Wallis offers original and revered works from across the U.S. and around the globe.
The mission of The Wallis is to create, present and celebrate unique performing arts events and educational programs that reflect the rich cultural diversity of our community. Nominated for 47 Ovation Awards, four L.A. Drama Critic's Circle Awards and the recipient of six architectural awards, The Wallis is a breathtaking 70,000-square-foot venue that celebrates the classic and the modern and was designed by Zoltan E. Pali, FAIA of Studio Pali Fekete architects. The building features the restored, original 1933 Beverly Hills Post Office (on the National Register of Historic Places) that serves as the theater's dramatic yet welcoming lobby, and houses the 150-seat Lovelace Studio Theater, GRoW at The Wallis: A Space for Arts Education (a gift of Gregory Annenberg Weingarten and Family and the Annenberg Foundation) and the contemporary 500-seat, state-of-the-art Bram Goldsmith Theater. Together, these structures embrace the city's history and its future, creating a performing arts destination for L.A.-area visitors and residents alike.