Rubicon Theatre Company Presents Brian McDonald Starring in BUYER & CELLAR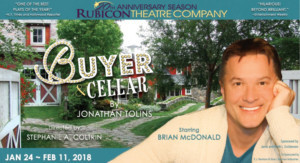 Rubicon Theatre Company presents the outrageously funny, critically-acclaimed comedy Buyer & Cellar by Jonathan Tolins. The production is directed by Ovation Award-winner Stephanie A. Coltrin and stars award-winning actor and Rubicon's Associate Artistic Director Brian McDonald. Inspired by Barbra Streisand's book "My Passion for Design," Tolins' one-man, tour-de-force is described by the N.Y. Times as "a seriously funny slice of absurdist whimsy" about the price of fame, the cost of things, and the oddest of odd jobs. Winner of the 2013 Drama Desk Award for Best Play, this Off-Broadway sensation follows a struggling actor named Alex who winds up working for an unnamed show-business legend in her Malibu basement mall. An unlikely friendship develops between the two from which Alex learns profound lessons about himself.
Critics have hailed Buyer and Cellar as "Spectacular...beyond brilliant." "This show will go down like butta'!" says Entertainment Weekly. "Buyer and Cellar is inventive, witty, and pretty wonderful," Backstage effused. New York Daily News declared "This play deserves a hearty 'Hello, gorgeous!'" And the New York Post called it "Fantastically funny... a Funny-Girl Babs inspired comedy."
BUYER AND CELLAR opens on Saturday, January 27, at 7:00 p.m. at Rubicon Theatre, 1006 E. Main Street in Ventura's Downtown Cultural District, with low-priced previews Wednesday, January 24 and Thursday, January 25 at 7 p.m. and Friday, January 26 at 8 p.m. The production continues Wednesdays through Sundays throughFebruary 11, 2018. For tickets, go to www.rubicontheatre.org or call (805) 667-2900.
About the Artists
Brian McDonald appeared in the National Tours of Miss Saigon and Forever Plaid, the latter of which he also directed for various regional theatres including Rubicon. Brian has appeared on the Rubicon stage in the concert version of Merrily We Roll Along, Forever Plaid, The Importance of Being Earnest, Man of LaMancha, A Tuna Christmasand the one-man show The SantaLand Diaries. Regionally he has appeared on stage at Denver Center, Theatre Virginia, The Lyric Stage, La Mirada Performing Arts Center, Ensemble Theatre Company, The Pasadena Playhouse, Thousand Oaks Performing Arts Center and the Ahmanson. LA Weekly honored him with the Best Supporting Actor Award for his performance as Gaveston in the Circle X production of Edward II directed by Michael Michetti. He is a B.F.A. graduate of Boston Conservatory.
Stephanie A. Coltrin has directed Taking Sides, Sylvia (VC Reporter's 2017 winner for Best Play), Moonlight and Magnolias, and the Ovation-recommended production ofThe Last Five Years for Rubicon. She's been a producer and director for the past 25 years, with nearly 200 productions to her credit, ranging from Shakespeare and other classics; to contemporary comedies, dramas and musicals; to World Premieres. Prior to coming to Rubicon, Stephanie was the Artistic Director of CLO of South Bay Cities and the Hermosa Beach Playhouse, helming a ten-show season at both venues. While there, she won the Ovation Award for Best Musical for producing Miss Saigon (which she also directed). Other favorite directing credits include Who's Afraid of Virginia Woolf? (Garland Award nomination), Seussical Broadway World Award for Best Director), Art, Jesus Christ Superstar (Stage Scene LA Award for Best Director), Oklahoma!, A Midsummer Night's Dream, Godspell, She Loves Me (Stage Scene LA Award, Director of the Year), Private Lives, Blithe Spirit, Steel Magnolias, Bach at Leipzig, The Weir, Stones in His Pockets, Barefoot in the Park, Wait Until Dark, Manson's Girls, Oswald: the Actual Interrogation, The Green Room (World Premiere), Sylvia, Come Back to the Five and Dime and Moonlight and Magnolias. Stephanie served as Associate Festival Director for Shakespeare by the Sea for the last seven years, directing Hamlet, Othello, The Tempest, Julius Caesar, King Lear, Romeo and Juliet and King John, each of which toured to more than 24 locations in Southern California. en's Shakespeare, the Odyssey, the Tiffany, and the Redondo Beach Performing Arts Center.
Playwright Jonathan Tolins won the 2013 Drama Desk Award for Best Play, the Lucille Lortel Award for Outstanding Solo Show and Best Unique Theatrical Experience by the Off Broadway Alliance for Buyer & Cellar. His other plays include The Twilight of the Golds, If Memory Serves, The Last Sunday in June, Secrets of the Trade and The Forgotten Woman. He also contributed additional material to the 2014 Broadway revival of On the Town. His film work includes "The Twilight of the Golds" and "Martian Child." For television, he was a writer for "Queer as Folk" (U.S.), "The Academy Awards," "The Tony Awards," "Partners," "Grease Live!" (with Robert Cary) and "BrainDead." He was the author of Pushkin 200: A Celebration at Carnegie Hall, acted as script consultant on "Walking with Dinosaurs - The Arena Spectacular," and co-wrote "The Divine Miss Millennium Tour" and "The Showgirl Must Go On" for Bette Midler. He has written articles for Opera News, Opera Monthly, TheaterWeek, Time, and The Huffington Post, and is a panelist on the Metropolitan Opera Radio Quiz.
The design team includes multiple Ovation nominee MIKE BILLINGS (Set Designer and Technical Director) and GINEVRA LOMBARDO (Lighting Designer). ELENA CRUZ is Production Stage Manager.
Sponsors
Rubicon Theatre Company Show Sponsors for Buyer & Cellar are Janet and Mark L. Goldenson with co-sponsors E.J. Harrison & Sons/Harrison Industries. Season Sponsors are Diane and Peter Goldenring, Janet and Mark L. Goldenson, and Barbara Meister, to whom Rubicon's 20thth Season is dedicated.
Full Schedule, Special Performances and Ticket Info
Low-priced previews for BUYER & CELLAR are Wednesday, January 24 and Thursday, January 25 at 7 p.m., and Friday, January 26 at 8 p.m. Opening night is Saturday, January 27, at 7 p.m. The production continues Wednesdays at 2 and 7 p.m., Thursdays at 7 p.m. (note new time!) and Fridays at 8 p.m., Saturdays at 2 and 8 p.m. and Sundays at 2 p.m. through February 11. Talkbacks with actors are scheduled after the Wednesday 7 p.m. performances on January 31 and February 7.
Regular tickets for BUYER & CELLAR range from $30 to $55 (plus a $4 processing fee). Opening night is $120 (including a post-show reception). Tickets for students with ID are $25; Equity members and military are $30. There is a $5 discount for seniors 65 and older. Discounts of 10% to 20% are available for groups of 10 or more, depending on the size of the group.
All performances are at Rubicon Theatre, 1006 E. Main Street in Ventura's Downtown Cultural District (the corner or Main and Laurel).
Tickets for BUYER & CELLAR may be purchased in person through the Rubicon Theatre Company Box Office at 1006 E. Main Street, the corner of Main and Laurel in Ventura (Laurel entrance and downstairs), or online at www.rubicontheatre.org. To charge by phone, call 805.667.2900. Box office hours are Noon to 6 p.m., Tuesdaythrough Saturday, and on Sunday show day from noon to 3 p.m.
About Rubicon
Rubicon Theatre is a non-profit regional theatre based in Ventura, California. True to the company name and the vision of founders Karyl Lynn Burns and James O'Neil, Rubicon is committed to providing a nurturing environment for artists where exploration and experimentation are encouraged and supported. Now in its 20th Season, Rubicon has earned a reputation for innovative, reinvigorated productions of classics; and for the development of new works. The company has presented more than 135 diverse mainstage productions to more than 420,000 audience members. Described by critics as "the rising star of the Southern California cultural scene" and the "best theatre between Los Angeles and San Francisco," the company has won a New York Drama Desk Award (four nominations), the L.A. Drama Critics Circle Award for "Sustained Excellence," 16 Ovation Awards, an NAACP Award, and multiple Indy, Garland and Robby Awards. Luminaries such as Alison Brie, Susan Clark, Dana Delany, Bonnie Franklin, Joel Grey, Gregory Harrison, Bill Irwin, Harold Gould, Larry Hagman, Stacy Keach, Michael Learned, Ted Neeley, Paul Provenza, Linda Purl, Joe Spano, Bruce Weitz, Efrem Zimbalist, Jr. and Stephanie Zimbalist have graced the Rubicon stage. Jack Lemmon and John Ritter made their final stage appearances with Rubicon.
More Hot Stories For You