Ross Gosla's Critically Acclaimed DESERT WARRIOR: A BENGHAZI STORY Returns to the Stage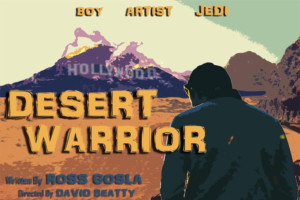 Based on true events, Desert Warrior is an autobiographical tale of an actor's involvement in the most controversial film of the decade. After a critically acclaimed run at the 2017 Hollywood Fringe Festival, this award-winning solo performance returns to the stage January 19th - February 3rd, 2018; Friday and Saturday performances, at 8pm; tickets on-sale at http://desertwarrior.brownpapertickets.com/. A special PRESS PREVIEW night on January 13th 8 pm for the media. Please email: miranda@mirandaspigener.com for press credentials.
Writer/Performer Ross John Gosla and director David Beatty (The Wasteland), weave together 3 seemingly unrelated "shadows" - a hunter's missed shot, an actor's involvement in the 2012 Benghazi Embassy attack, and a boy's desire to be a Jedi - all within the framework of a trial as he searches for redemption from past failures.
"Ross's portrayal of easily 15 different characters over the course of the performance never felt muddled or confusing, they were specific and delivered with exceptional talent and ability. A MUST SEE." - Chelsea Alden (13 Reasons Why)
"Gripping, dynamic, and original." - April Nelson (Miss Louisiana 2015)
"I came to Desert Warrior to see a 'show' and left holding moments of a 'life'...a real tour-du-force!" - Peter Reyna (Mungo!)
"Director David Beatty, an able writer and actor in his own right, helped actor-victim-participant Ross Gosla corral this story into an hour-long, one-man (s)hit-show...steeped in personal epic, he is an almost star in an almost movie that almost started a war...Dune meets Wag the Dog.
David Beatty was born in Huntington Beach California. He attended college in Colorado and growing interest in acting led him to the theater department of Adams State University where he made his stage debut in Thornton Wilder's 'The Skin of our Teeth.' Following graduation, he began his professional acting career at the Creede Repertory Theater and his work in theater, film and television has taken him all over the country and around the world. David has appeared in several television shows including The Wasteland, GET SPY, Criminal Minds, Lien On Me, Lois and Clark: The New Adventures of Superman and Beverly Hills 90210. In addition, the recent feature film adaptation of Dr. Jekyll and Mr. Hyde starring alongside Oscar winning actors Mickey Rooney and Margaret O'Brien. Stage productions include the US Premiere of Mark Ravenhill's 'The Cut', US Premiere of 'Love and Money, 'Streetcar Named Desire', 'Big Love', 'Small Domestic Acts', 'The Lower Depths' and Sam Shepard's 'Simpatico' which earned him a nomination for Backstage Garland Award. In 2005 David launched Double Yellow Line Films, a film Production Company. The team has produced short films, television shows and feature films. Titles include GET SPY, Lien On Me, The Seed Perfection, The Chair and Surviving New Year's. David received his BA from Adams State University and MFA from the University of California Davis where he also taught courses in acting, directing and screen writing. Today, David is a working actor and filmmaker living in Los Angeles.
Ross John Gosla hails from Arizona where he received his B.A. in Theatre from Arizona State. Focused on acting he performed in over a dozen plays and student films. Beyond performing he served a year as Producing Director at the student run Prism Theatre. After college, he was a founding member of the performance groups Orange Theatre Group and Sindicated Productions. He received the Producers' Encore! Award at the 2017 Hollywood Fringe Festival for Desert Warrior. Recently, Gosla starred as the romantic lead in award-winning play The Flame. Ross will soon star as the lead in the feature film Intrigue and The Flame (adapted from the play), both slated to shoot 2018 as well as the narrator in the documentary Masculinity That Inspires Change for Amazon Prime, May 2018. Ross will direct the play Dealer's Choice by Patrick Marber (Closer) Fall 2018 at the Complex Theatres.