Review: U.S. Premiere of Norm Foster's SCREWBALL COMEDY Generates Laughs at Theatre 40
Norm Foster has written over sixty plays which have been produced all over the world. Selections from this most-produced Canadian playwright have been included at Theatre 40 for many years, but this time the group is excited to present the U.S. Premiere of his appropriately titled new play SCREWBALL COMEDY which pays homage to this classic genre of entertainment.
Emerging in the 1930s, screwball comedies were a wild new strain of fast-talking farces involving battles of the sexes and a world forever on the brink of chaos. The elements included a male and female who may be adversarial at first but are ultimately ideal for each other. Think of the classic films It Happened One Night, His Girl Friday, Bringing Up Baby and My Man Godfrey during which some farcical or slapstick action occurs, including snappy patter and crackling dialogue with bits of off-color humor thrown in,
with the plot ultimately leading to the female gaining the upper hand in the relationship.
Taking place in 1938, SCREWBALL COMEDY centers on newly laid-off perfumier, Mary Hayes (Kate Whitney, always impeccably dressed, as is the entire cast, by resident Theatre 40 costumer Michèle Young) who is trying to break into the male-dominated world of newspaper journalism. But without any experience, how will she ever get offered a job writing? After being encouraged by his long-time, forward-thinking secretary Jonesy (Gail Johnston), Editor-In-Chief Bosco Godfrey (Daniel Leslie, probably best known as corrupt Senator Alfred Winston in Theatre 40's annual production of The Manor at Greystone Mansion)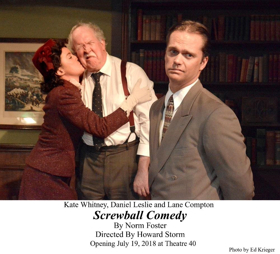 sets a competition between his egotistically vain star reporter Jeff Kincaid (Lane Compton) and plucky Mary assigning them to cover a society wedding. If Jeff writes the better story, he gets to keep his job. If Mary wins, she will replace the ace newshound. The comedic battle of the sexes begins.
The two set out to interview super-rich, society lady Delores Diddle (Sharron Shayne, who does her best not to laugh with the audience and other cast members every time her last name gets mentioned) who suspects that her son Chauncey's fiancée Gloria is a fortune hunter and wants the reporters to expose her.
Chauncey (Nico Boles) is not the brightest bulb in the chandelier, and Delores suspects Gloria (Jean Mackie) is playing him for a patsy. But is Chauncey really as clueless as he seems to be to his overly-devoted Mother? Can Jeff or Mary dig up the dirt on Gloria? Will they succeed in time to get the wedding called off? And just what will they discover about Delores' businessman fiancé Peter Terwilliger (George Villas) who cannot seem to keep his hands off her every chance he gets? And of course, will Mary and Jeff fall for each other's charms by the time the play ends? Most certainly, but the real fun is in their back-and-forth journey to get there.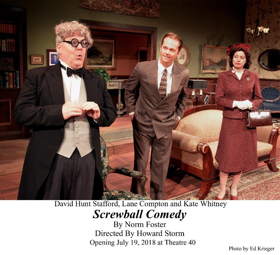 Thanks to director Howard Storm whose staging harkens back to the charm of 1930s black-and-white screwball comedy films, perhaps the most comical of characters in the play is the Diddle butler Reginald, expertly played for the most possible laughs by David Hunt Stafford. Reginald always appears dressed in formal wear with an ill-fitting toupee that generated giggles upon his every entrance, as did his frequent double entendre line delivery. I found myself looking forward to his every appearance just to see how his interactions with the other characters would go!
As always, technical credits are excellent with set design by Jeff G. Rack, lighting design by Brandon Baruch, the previously-mentioned costume design by Michèle Young, and sound design by Joseph "Sloe" Slawinski.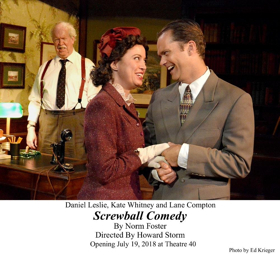 Perhaps audience members who fondly remember spending their early years in darkened movie theaters watching this genre's leading actors, including Claudette Colbert, Carole Lombard, Katharine Hepburn, Barbara Stanwyck, Irene Dunne, Cary Grant, Fred McMurray, Gary Cooper or Clark Gable, will find the slower pace and loud volume utilized by most actors throughout the production much more to their liking than younger audiences who may find the subject matter and style much too out-of-date. Either way, this comedy will keep you laughing at the silliness of it all from start to finish.
The U.S. Premiere engagement of SCREWBALL COMEDY, a new play by Norm Foster, continues through August 19, 2018 on Thurs.- Fri.-Sat. at 8:00, Sun. at 2:00. Reserved seat tickets are $35, available by calling (310) 364-0535, online at www.theatre40.org or at the box office before each performance, based on available. Theatre 40 is a professional company that performs in the Reuben Cordova Theatre on the campus of Beverly Hills High School, 241 S. Moreno Drive, Beverly Hills, CA 90212. There is ample free parking in the lot adjacent to the theatre entrance.
Photo credit: Ed Krieger