Review: SCHOOL GIRLS Offers a Heartwarming, Heartbreaking and Ultimately Hysterical Modern Morality Tale
Any teenage girl enrolled in any secondary school around the world can tell you how they were tormented or teased by other girls for some reason,
be it their weight, height, hair, or lack of the latest hip clothing to wear. Based only on physical appearance, little regard was paid by the most popular Queen Bee to the real circumstances of others' lives which prevented others from living up to her unrealistic expectations of those she was willing to call "friends" in her inner circle. I can certainly remember being excluded from the more popular groups of friends in high school, not only for my weight but for my lack of interest in boys and obsession with The Beatles. Think back and I bet you can remember similar experiences you lived through or how you made fun of others you perceived as not being worthy of your inner circle friendship.
This universal and totally unfair behavior is at the center of the hit MCC Theater production of Jocelyn Bioh's "SCHOOL GIRLS, OR THE AFRICAN MEAN GIRLS PLAY" directed by Rebecca Taichman at Center Theatre Group's Kirk Douglas Theatre through September 30 prior to its encore run at the Lucille Lortel Theatre in New York from October 16 through November 25, 2018.
The play centers on privileged, young African women attending Ghana's most exclusive Aburi Girls Boarding School in 1986 where Paulina,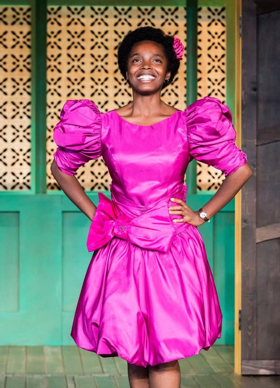 the school's reigning queen bee, has her sights set on entering the Miss Universe pageant. MaameYaa Boafo takes on the role with true star-quality brilliance, her lovely appearance easily letting us see how she got that role in the first place, using her nasty ways of getting what she wants from everyone, including her close circle of friends as well as the school's by-the-book Headmistress Francis (Myra Lucretia Taylor).
In the days before cell phones and the internet ruled all young girls lives, Paulina is a perfect example of how one person could set the social tone of an entire school, allowing her opinions on who is good enough, rich enough, pretty enough, or can offer her something she needs to advance her own desires, no matter the cost to others. And you had better adore the same music stars she does!
Set in the school's cafeteria, a wonderfully simple and totally realistic set
designed by Arnulfo Maldonado and lit by Jen Schriever, Paulina reigns over her inside group of friends who all long to be as popular, beautiful, smart and talented as she is. Among them are Latoya Edwards (Ama), Paige Gilbert (Gifty), Abena Mensah-Bonsu (Nana), and Mirirai Sithole (Mercy). By creating these perfect examples of typical teenagers looking for friendship, love, and acceptance from the most popular girl on campus, Playwright Jocelyn Bioh's buoyant and biting comedy explores the universal similarities (and glaring differences) facing teenage girls across the globe, with many in the cast reprising their roles from the play's October 2017 MCC Theater World Premiere in New York.
This is especially true when
Paulina's true nature is exposed due to her jealousy being ignited with the arrival of Ericka (Joanna A. Jones), a new student with undeniable talent and beauty (and a much-lighter and more acceptable skin tone to compete in the Miss Universe contest) captures the attention of Eloise Amponsah (sophisticated Zenzi Williams), a former Miss Ghana now the local pageant recruiter, as well as Paulina's hive-minded friends. Soon the two "Queens" come to blows, both emotionally and physically, as they both attempt to prove deserving of competing in the pageant (since only one can be selected from the school), earning the respect of everyone else and hopefully, a way out of Ghana and onto the world stage
as a popular model and media sensation all other young girls will want to emulate.
As directed with great skill by Rebecca Taichman, this entertaining and biting social commentary, performed at a quick 75 minutes without an intermission, offers a heartwarming, heartbreaking and ultimately hysterical modern morality tale about how our society's expectations on what makes the perfect female body and personality to succeed will leave you shaking your head in wonder at the nonsense of it all. But then, girls will be girls. Right? Or will the #MeToo movement assist in changing the way young women recognize their power as individuals in their own right, no matter their society-perceived limitations from others. We can only hope.
Tickets ranging from $25-$72 for "SCHOOL GIRLS, OR THE AFRICAN MEAN GIRLS PLAY" are available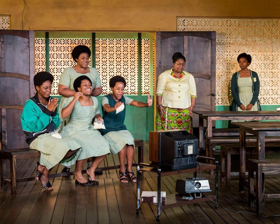 by calling (213) 628-2772, online at www.CenterTheatreGroup.org, at the Center Theatre Group Box Office at the Ahmanson Theatre or at the Kirk Douglas Theatre Box Office two hours prior to performance. The Kirk Douglas Theatre is located at 9820 Washington Blvd. in Culver City, CA 90232. Free three hour covered parking at City Hall with validation available in the Kirk Douglas Theatre lobby.
Photo credit: Craig Schwartz