Click Here for More Articles on LA LA LAND
Review: In SO LONG BOULDER CITY, Jimmy Fowlie Hysterically Presents the Background Story of LA LA LAND'S Mia Dolan
From the award-winning Celebration Theatre, producers Nathan Frizzell and Tom Detrinis, whose hilariously twisted minds brought you Go-Goy Boy Interrupted, comes the hilarious solo show SO LONG BOULDER CITY, a satire of the almost-Best Picture winner LA LA LAND. Its genesis began when co-writer/star Jimmy Fowlie and co-writer/director Jordan Black watched the movie and couldn't help but ask themselves what exactly about Mia's poorly-produced, designed and attended one-woman show in the movie was supposed to have launched her highly successful career? And since there was no definite answer to be found, the two created their own hysterical spin on the glorious mystery.
In SO LONG BOULDER CITY, their wildly successful solo show, comedian Jimmy Fowlie takes on playing Emma Stone's film character Mia Dolan as she recounts her life leading up to her one woman show-within-a-movie that played to a barely-sold house. Once you see it, you will understand why within 72 hours of releasing the original dates online, the show completely sold out, leading to an extended run on Fridays and Saturdays, August 11-12; August 18-19 at 8:00pm at Celebration Theatre @ The Lex, 6760 Lexington Ave. in Hollywood.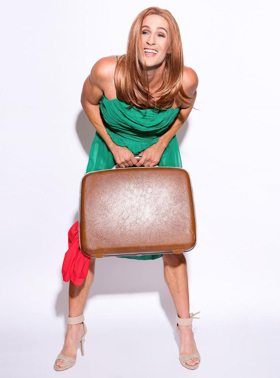 The production is directed by Jordan Black and performed by Jimmy Fowlie in drag as Mia Dolan, sharing her life prior to LA LA LAND, and through it with her new boyfriend, the musician Sebastian, turning out to be a no-show at her cabaret performance, with a folding chair at stage left with the sign "Reserved for Sebastian" letting you know from the start his absence will be an integral part of the show. Be forewarned audience members are invited to participate verbally, though when I attended none was invited up onstage. But I bet that has happened!
All of Mia's life experiences, especially Sebastian's rejection, has led her to write and perform her solo show you are now experiencing. It's a tale of determination, ambition, crushed dreams and Hollywood triumphs, all presented with tons of laughter from start to finish!
Fowlie's tour-de-force "struggling actress" performance is highlighted by his ability to convey the self-centered Mia Dolan with a wink in her eye, flip of her hair, a hand posed constantly at her waist while throwing out a hip, as well as portraying many other people from her life including her parents, teachers, agents, therapists, and other struggling actors. Constantly changing costume pieces and props onstage allows Fowlie to create the most outrageous characters, especially Mia's mother who is presented always wearing long, blue gloves, heels and a lampshade for a hat. As the costume change takes longer and longer to accomplish, the audience's laughter increases knowing the length it will take for Fowlie to finally appear center stage as that character may only be to deliver one line or often just one word. To say this solo show is a workout for Fowlie is an understatement!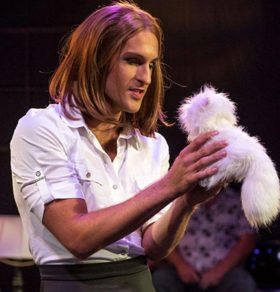 There is no yellow dress, but rather a very conservative black skirt and white blouse, perhaps a throwback to Mia's upbringing in the small, conservative town of Boulder City, NV, very close to Hoover Dam. This basic outfit allows Fowlie to add in colorful costume pieces and lighting of various colors designed by Matthew Brian Denman to accentuate the many characters who populate the show.
While the show takes only about an hour to perform, I guarantee you will walk out still laughing at the ingenious way in which Fowlie has presented the many characters, and most of all, his hysterical drag performance as Mia Dolan! Arrive early as street parking in the area can be difficult to find and may require a bit of walking to get to the theater.
SO LONG BOULDER CITY on Fridays and Saturdays, August 11-12; August 18-19 at 8:00pm at Celebration Theatre @ The Lex, 6760 Lexington Ave. in Hollywood. Due to sold out houses, I would advise buying $25 tickets in advance at the Celebration Theatre website, www.celebrationtheatre.com. Hopefully another extension will be added.
ABOUT THE CREATIVE TEAM AND CAST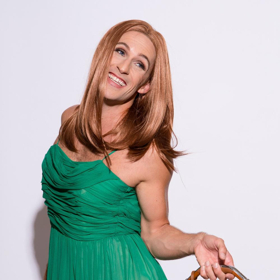 JIMMY FOWLIE (Playwright/ "MIA DOLAN") Jimmy has appeared in CBS's 2 Broke Girl$, HBO's The Comeback, Teachers, The Joe Schmo Show, CollegeHumor Originals, and Jimmy Kimmel Live!. Most recently he played Angelo on the Disney show BizAardvark. His theater credits include the world premiere of Bloody Bloody Andrew Jackson at The Kirk Douglas Theatre, Directed by Alex Timbers. Jimmy was also selected for the 2014 CBS Diverstiy Showcase and he can be seen performing live sketch and improv at The Groundlings. Jimmy is best known for writing and starring in his own show, Go-Go Boy Interrupted - an award-winning comedy that follows Danny Carter, a 30-year-old go-go boy who ages out of his "career."
JORDAN BLACK (Director) is an alum of The Groundlings Theatre Company and is the creator of the hit improv show The Black Version. He's also a former writer for Saturday Night Live. As an actor, he can be seen in the upcoming seasons of HBO's Ballers and Curb Your Enthusiasm. He's also appeared in such shows as The Mindy Project, 2 Broke Girls, and Key and Peele among many others including several appearances as "Dean Spreck" on NBC's Community. As a voice actor he's worked on many shows including South Park, American Dad and The Cleveland Show. Jordan is excited to be directing the world premier of So Long Boulder City.