Review: DELUSION: THE BLUE BLADE Takes You Inside a Realistic Maze in Pursuit of an Iconic Weapon with Evil Tracking Your Every Move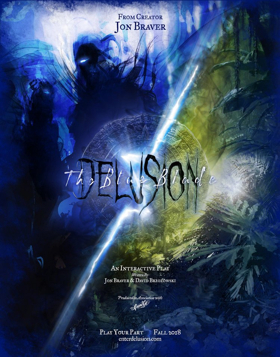 Each year the Halloween Season offers not only with parties and candy, but amazing interactive spooky events in which audience members are taken through mazes where ghosts and goblins of all sizes and shapes make their presence known. And given the popularity and sold out crowds, it's no wonder those returning year after year start book their tickets months in advance.
In this new era of storytelling, the annual DELUSION series remains one of the most popular interactive events given its absolute commitment to quality and originality. Beginning in 2011 as the passion project for creator Jon Braver, a film and theatre director, action coordinator, and Disney Imagineering consultant,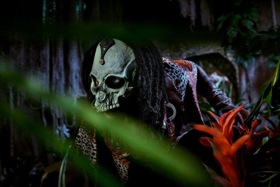 the past five seasons have captivated sold out audiences by taking them into an other-worldly adventure where all agree to play their part in order to move the story forward from room to room where live actors, creature effects, stunts, elaborate set design, and an original score weave together a tale unlike any other.
This year's DELUSION: THE BLUE BLADE takes place in the West Adams area, made even more spooky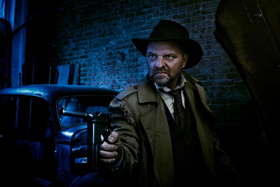 this October when I attended on the night a surprise thunder and lightning rainstorm moved into the area. After meeting in the front bar where guests were invited to participate with the band while enjoying drinks and snacks, upon check-in I was asked to leave my cell phone, jacket, purse and anything else which might interfere with movement - and I am glad I complied as there were several times the 6 audience members in each group were asked to climb steep stairs or crawl through tight tunnels to escape the evil ones in pursuit of us.
But let me back up a bit.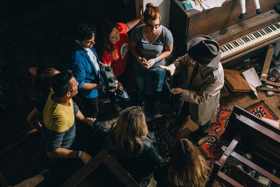 To introduce the evening's adventure, the first stop takes you inside a parked van where the rules of the night and mission are explained. Basically, we are to follow Stanfeld, a man dressed like Humphrey Bogart in "Casablanca" to explore a ghost-ridden dilapidated house where a female spirit named Eve has hidden The Blue Blade, a weapon of great power which must not fall into the wrong hands, namely the Nazis.
Escorted into the adventure by Stanfeld, the group unites to escape as the Keepers make their presence known and unseen gangsters fire bullets overhead while trying to stop us stealing their getaway car to get out of the garage.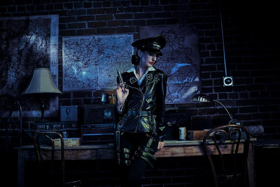 Along the way you meet technical expert Carrick, get locked in a room by a group of Nazis led by Uta in pursuit of the powerful Blue Blade, and must journey through a Mayan Garden to obtain your freedom. It's a fun journey, a bit scary at times but always entertaining. Wear comfortable clothing in which you can move and bend, and always be prepared to #playyourpart and interact with actors, perform actions, retrieve objects, solve mysteries, choose paths and perhaps sacrifice yourself to move the story forward.
Kudos go out to everyone involved,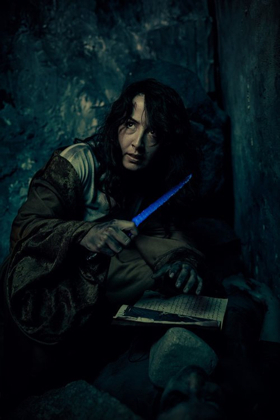 but since there was no program handed out, there is no way I can tell you which of the many company actors played the characters on the night I attended nor give credit to the dedicated production team who obviously took their mission seriously enough to create such an exotic maze for audiences to travel through in the pursuit of The Blue Blade - and freedom.
Since the entire run through December is SOLD OUT, book your tickets soon for the just announced Spring Season of DELUSION: The Blue Blade running from Thursday, February 14, 2019 through Sunday, June 30, 2019 on every Thurs-Sunday, with shows from 6:40pm - 11:40pm with a running time of approximately 75 minutes. General admission tickets run $95-$115, with special $185 VIP Packages available at 8pm and 10pm nightly. Tickets and more information at www.enterdelusion.com. And after your first visit, I guarantee you will be as anxious as I am to go back again!
Photos by Ray Lin and Robert Kozek