Photo Flash: World Premiere Play, BLUEPRINT FOR PARADISE
The ruins of an abandoned WWII Nazi compound in Pacific Palisades, known today as the 'Murphy Ranch,' are the inspiration for a new play. The Athena Cats presents the world premiere of Blueprint for Paradise by Laurel M. Wetzork, opening July 30 at the Hudson Theatres in Hollywood. Laura Steinroeder directs a cast that includes Alex Best, Regi Davis, Ann Hu, David Jahn, Steve Marvel, Peter McGlynn and Meredith Thomas.
Set in 1941 during the weeks leading up to the attack on Pearl Harbor, and inspired by true events, Wetzork imagines the relationship between African-American architect
Paul Revere Williams
(designer of landmark L.A. buildings including Saks Fifth Ave and the Los Angeles County Courthouse, as well as private residences for
Bert Lahr
,
Lucille Ball
and
Desi Arnaz
, and
Frank Sinatra
) and a wealthy American couple who employed him to design a compound and training ground for Nazi sympathizers. "I wanted to explore how something like this could have happened in L.A., and why Nazi sympathizers would have hired a black architect," explains Wetzork. According to local L.A. histor
Ian Rand
y Young, 50 acres of land in Rustic Canyon were developed by Winona and
Norman Stephens
, sympathizers of American fascist group the Silver Legion of America. Records show that the land was purchased in 1933 by Jessie
M. Murphy
, Winona's mother, and a one-page affidavit by
Dr. John
Vincent, a professor at UCLA and the director of the
Huntington Hartford
Foundation, states that the Stephens intended the property to be a Utopian base for Nazi activities in the U.S., complete with its own water storage and fuel tanks, bomb shelter and various outbuildings and bunkers. Later plans that were never carried out called for a four-story, 22-bedroom mansion. Rumor has it that neighbors in the canyon spied men patrolling the hills on weekends, in uniforms similar to those of the Silver Shirts. On Monday, December 8, 1941, the day after the Japanese attack on Pearl Harbor, local police occupied the compound and detained members of the 50-strong caretaker force. The abandoned site, currently in a state of disrepair and covered in graffiti, is owned by the City of Los Angeles and has become a popular hiking destination. In February, 2016, many of the structures were demolished due to safety concerns. Although her play is rooted in history, Wetzork has fictionalized the characters and condensed the timeline for dramatic effect. "A recurring theme in my work is that appearances are deceiving," she says. "I wanted to examine the wife's journey - to discover how Williams' achievements and personality might have shaken her preconceived notions of the way the world should work." Wetzork's research into the period turned up surprising facts. "It's believed that some of Hitler's ideas originated right here in L.A. with Pasadena's Human Betterment Foundation," she says. "That's where the American eugenics movement took root, and the board of trustees included powerful and influential men like Harry Chandler of the
Los Angeles Times
and Nobel Prize-winning Caltech physicist
Robert Mill
ikan.
In the play, Clara is greatly influenced by them, as well as by the ultra-conservative Mothers of America who opposed U.S. involvement in the war."
Blueprint for Paradise
was a semi-finalist in both the national Eugene O'Neill playwriting competition and the HUMANITAS/
Center Theatre Group
playwriting competition (2015). Set design for
Blueprint for Paradise
is by
Gary Lee Reed
; lighting design is by
Matthew Gorka
; sound design is by
Cricket S. Myers
; costume design is by
Michael Mullen
; technical direction is by
Jean-Paul 'JP' Rosenveldt
; graphic design is by
Kiff Scholl
; and casting is by
Michael Donovan, CSA
. The stage manager is
Letitia Chang
, producer is
Racquel Lehrman
,
Theatre Planners
; and executive producer is
Debbie Bolsky
,
The Athena Cats.
Laurel M. Wetzork is a filmmaker, playwright, writer and artist who currently divides her time between stage, screen and consulting projects. She has studied with such writers as Prince Gomolvilas,
Jon Robin Baitz
, Tim Kirkman,
Dinah Lenney
,
Michael Price
(
The Simpsons
),
Mark Richard
, Natalie Chaidez, Brighde Mullins and
Sandra Tsing Loh
. In the film world, she's worked with Tim Story (
Barbershop
), Guy Livneh, Elena Song, Lyse Beck, Debbie Bolsky, Erika Gieschen, Robert Kral, Autumn McAlpin, Glenn Garland, Caron Tate, Eric Z. Yang and others. Her SAG experimental feature film
Rogues
was featured at four of the top 20 U.S. film festivals. She is actively involved with the Los Angeles Female Playwrights Initiative (LAFPI) and is a member of the
Dramatists Guild
and the International Centre for Women Playwrights. Laura Steinroeder is a Los Angeles-based theater director with a passion for working on new plays. She is the co-founding artistic director of Red Cup Theatre Company and an associate member of the Stage Directors and Choreographers Society (SDC). Recent credits include the West Coast premiere of
Turtles
and
DNA
(both for Red Cup Theatre Company),
All About Harold
(Green Light Productions, GLO 2015), and the world premieres of
5 Sirens: Beware of Rocks
and
Obviously Michael
(Hollywood Fringe Festival). She is an alumna of the National Theater Institute at the Eugene O'Neill Theater Center. The Athena Cats are a collective of Southern California area female playwrights and directors formed to bring unrepresented works written by women to the stage. Athena, the ancient Greek goddess of wisdom, courage, inspiration, civilization, law and justice, mathematics, the arts, crafts and skill, is known for her calm temperament. She is noted to have only fought for just reasons and never without a purpose. Like Athena, The Athena Cats fight to see more plays by women produced and more women employed in the arts. Domestic cats, no matter their breed, are all members of one species. Felis catus has had a very long relationship with humans; ancient Egyptians may have first domesticated cats as early as 4,000 years ago. And they worshipped them. As writers, The Athena Cats simply like cats and their semi-ferocious nature.
Blueprint for Paradise
runs
July 30
through
Sept. 4
, with performances on
Fridays
and
Saturdays
at
8 p.m.
and
Sundays
at
3 p.m.
There will be two preview performances, on Thursday, July 28 and Friday, July 29, both at 8 p.m. All tickets are
$25
, except previews which are $
15
.
The Hudson Theatres
are located at
6539 Santa Monica Blvd
.,
Los Angeles
,
CA 90038
. For information and to purchase tickets, call
(323) 960-4412
or go to
www.BlueprintForParadise.com
.
Check out photos of the production below:
Photo credit: Ed Krieger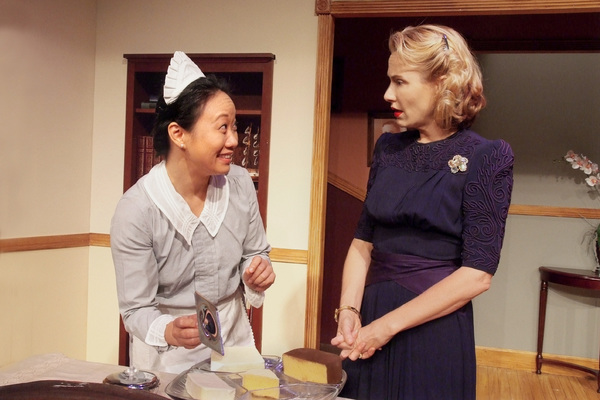 Ann Hu and Meredith Thomas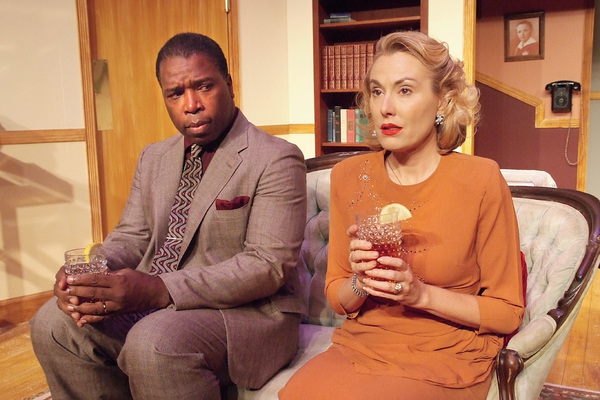 Regi Davis and Meredith Thomas

Regi Davis and Meredith Thomas

Meredith Thomas and David Jahn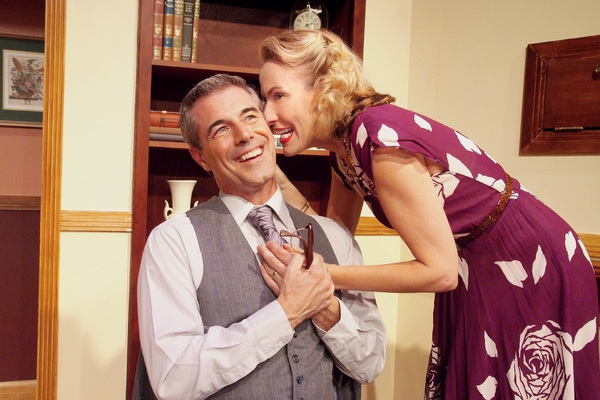 Meredith Thomas and David Jahn

Meredith Thomas and David Jahn

Steve Marvel, Peter McGlynn, Regi Davis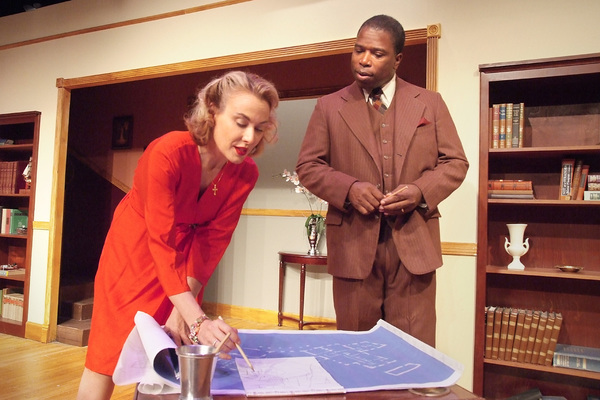 Meredith Thomas and Regi Davis

Meredith Thomas and Regi Davis

Steve Marvel, Meredith Thomas, David Jahn and Peter McGlynn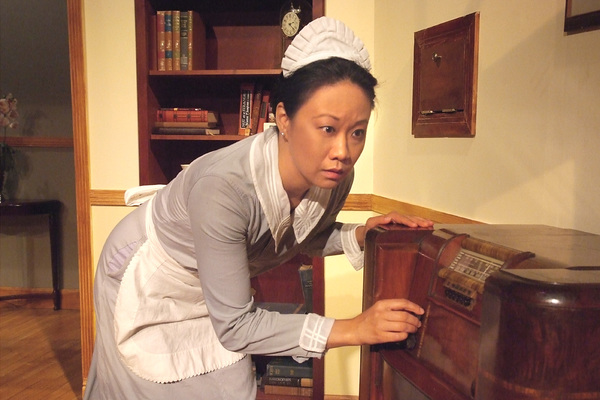 Ann Hu