Photos: Pierce Brosnan and More at Laguna Playhouse's 'YEAR OF MAGICAL THINKING' Gala
Subscribers, donors and supporters were completely engrossed and enraptured by the star turn performance Linda Purl delivered at the Opening Night Gala of the Laguna Playhouse's latest presentation, the second show of its 2014-2015 Season, THE YEAR OF MAGICAL THINKING, directed by Jenny Sullivan based on the masterful book by Joan Didion. Scroll down for photos from the opening festivities!
"What a night of 'magical thinking' with such a personal, deep and heartfelt play and a performance from
Linda Purl
for the ages," said Executive Director
Karen Wood
. "Our audience was completely spellbound by the glorious work of
Linda Purl
and our wonderful director
Jenny Sullivan
. The play offers so much to consider about the journey and meaning of our lives. The immediate standing ovation was richly deserved," added Artistic Director Ann Wareham. It was a full house with 425 in attendance, including Playhouse Trustees Jim and Suzanne Mellor, Joe and Jane Hanauer, Melinda Masson, Paul and Heather Singarella, Heidi Miller, Ilona Martin, and Lisa and Jim Hale. Very special guests Pierce and Keely Brosnan came down from Los Angeles to support their friend
Linda Purl
's opening night.
Everyone was enjoying the food provided by Tommy Bahama Laguna Beach, which included such delicious treats as a delectable pasta and mushroom entrée and mouth-watering chicken skewers. Dessert was a vanilla mousse that delighted all the guests. Playhouse volunteers assisted the caterer and provided tray passed service during the reception.
Wolfgang Puck
Estate Grown Coffee, our season coffee sponsor, provided the delicious coffee. Nolet's Spirits is the Season Spirits Sponsor and provided Nolet's Premium Gin and Ketel One Vodkas for opening night (they are also the exclusive Spirits at the lobby bar) as well as Nekter Juice Bar who provided the drink mixes. Newport Beach Vineyards and Winery, the season wine sponsor, provided exclusive boutique wines for the evening enjoyed by all. National Charity League provided volunteers for the evening. The show continues through Sunday, November 2; tickets are available at
www.lagunaplayhouse.com
.
Photo Credit: Chuck Weinberg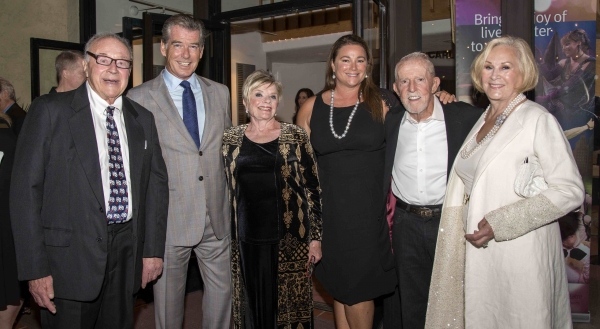 Retired Hollywood producer Stan Kallis, Lucetta Kallis, actor Pierce Brosnan, Keely Brosnan, Playhouse Trustee Jim Mellor, Suzanne Mellor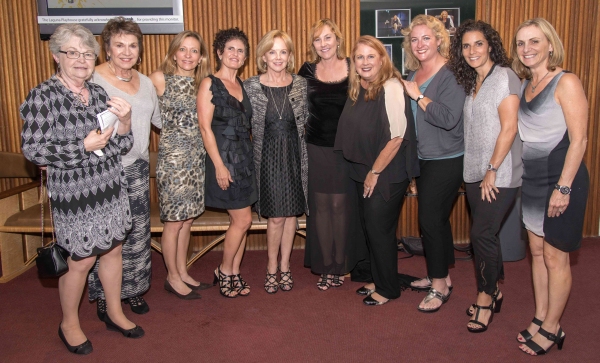 'MAGICAL THINKING' star Linda Purl with Heather Singarella (center), and friends Darlys Gabrielson, Patti Chalmers, Karen Thorp, Shideh Soleimany, Wendy Bollman, Andria Strelow, Dianna Boulos and Nancy Fries.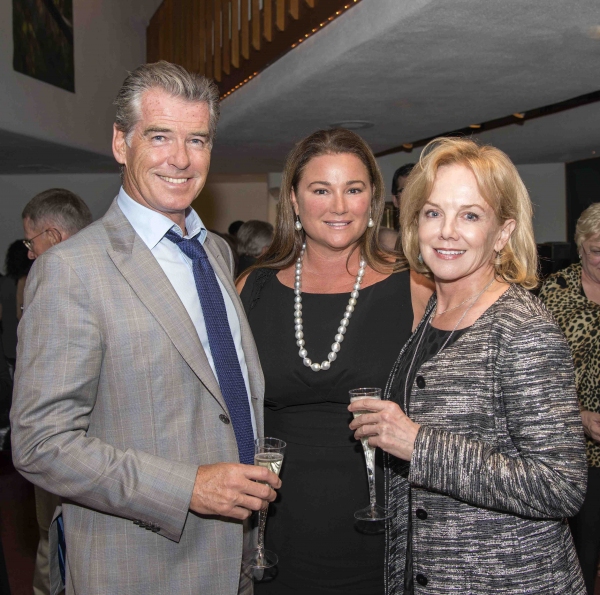 Pierce and Keely Brosnan with Linda Purl