Photo Flash: Musical Theatre Writers Feted in A LITTLE NEW MUSIC 7 at Rockwell
A LITTLE NEW MUSIC 7 was held on Tuesday, March 10th at Rockwell: Table and Stage in Los Angeles, with Jordan Kai Burnett as host/emcee and Bryan Blaskie as music director.
The fast-paced evening of music featured new works by musical theatre writers including: Brett Macias, Richard Castle & Rosino Serrano, Daniel Maté, Tim Rosser & Charlie Sohne, Andrew Gerle, Sam Salmond, Erik Przytulski, Amanda Yesnowitz & Doug Katsaros, and Zoe Sarnak. For our guest writer, we welcomed the multi-hyphenate artist Brett Ryback (actor in MURDER FOR TWO off B'way) to premiere brand-new material.
Adding to the evening were a special performance from current hit production SERRANO: the Musical (through March 29 at the Matrix Theatre) and a sneak preview of the upcoming RECORDED IN HOLLYWOOD (opening April 11 at the Lillian Theatre).
Check out photos from this exciting event below, and be sure to mark your calendars for A LITTLE NEW MUSIC 8 on June 9, 2015!
All photos by amy francis schott, except where noted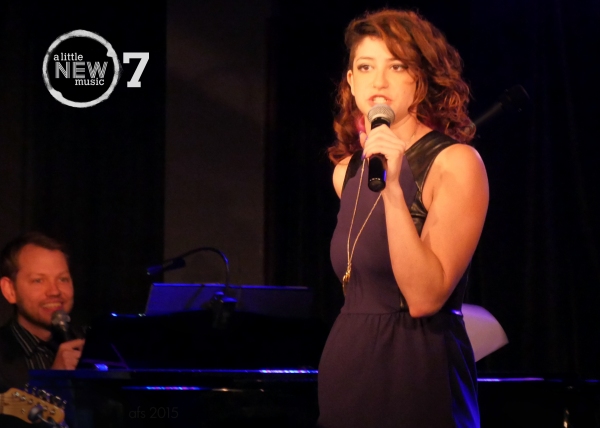 Emcee Jordan Kai Burnett, accompanied by Music Director Bryan Blaskie, kicks off ALNM 7 in style with the 'A Little New Music' theme song, by Bryan Blaskie and Mitchell Glaser.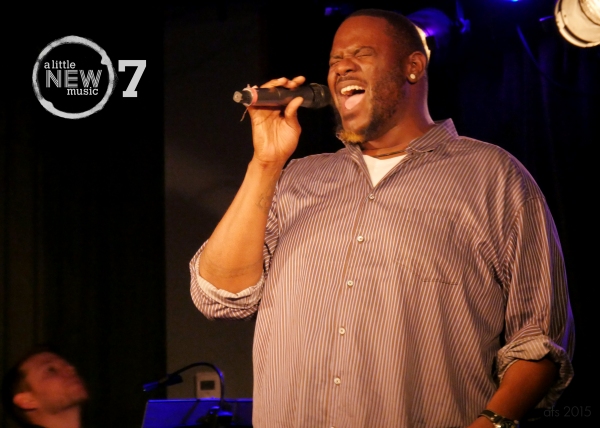 Def Jam recording artist (and winner of Oprah's First Karaoke Challenge) Abraham McDonald leads off the show with 'I'm Bored', a stand-alone song by Brett Macias.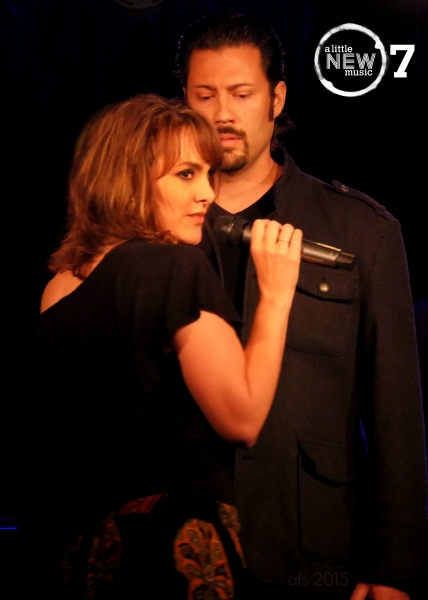 Robin DeLano and Jason Marquez duet dramatically on 'Baila Conmigo' from Richard Castle and Rosino Serrano's future-set LA CARMEN.

Recent LA arrival Colette Hawley (with guitarist Will Yanez and Music Director Bryan Blaskie) sings Daniel Mat's frantically funny 'I Don't Think of You' from THE LONGING AND THE SHORT OF IT.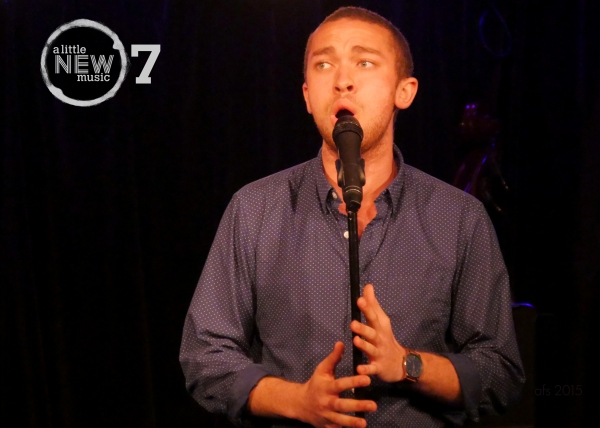 Jordon Bolden, in town on spring break from studying Musical Theatre at Carnegie Mellon, sings 'Little Dance' from THE BOY WHO DANCED ON AIR by (just announced) 2015 Jonathan Larson Award winners Tim Rosser and Charlie Sohne.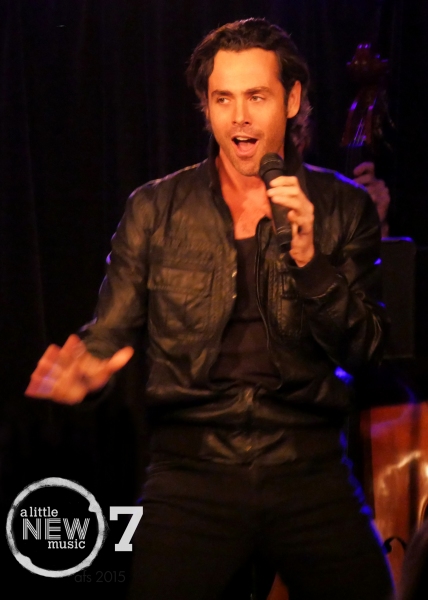 From special guest production SERRANO: THE MUSICAL, Chad Doreck delivers an exciting performance (onstage and off) of his character Vinnie's song 'Do You Want Me?'

Christina Morrell laments that there are 'No More Heroes' in Andrew Gerle's brilliant stand-alone song.

From the cast of the upcoming RECORDED IN HOLLYWOOD, Jade Johnson and Stu James (as John Dolphin) sing 'Baby You Got the Job' by Andy Cooper.

Continuing the sneak preview of RECORDED IN HOLLYWOOD, Rahsaan Patterson and Stu James sing Andy Cooper's Let's Go Shoppin'.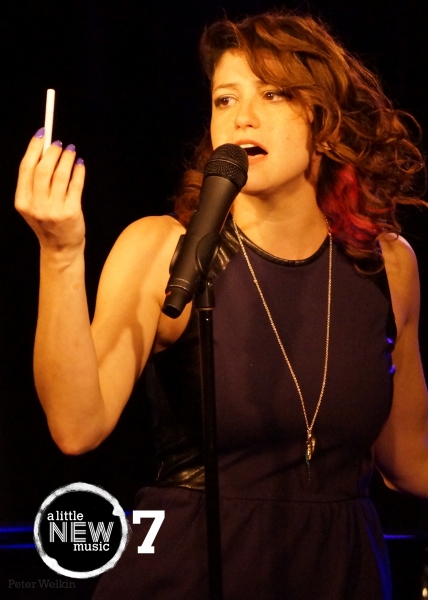 Emcee Jordan Kai Burnett steps into the spotlight to sing Sam Salmond's 'Cigarette' from UNCOOL: THE PARTY. Photo by Peter Welkin.

Sandra Benton tempts a certain video game superstar in 'Taste' from Erik Przytulski's CHERRIES, PELLETS, AND LIES. Her backup ghosts are new ALNM co-producers Katie Porter and Katherine Washington.

Brett Ryback and Emily Clark share a moment in 'Together', from Brett's show THE MANY SELVES OF MIA SCOTT. Photo by Peter Welkin.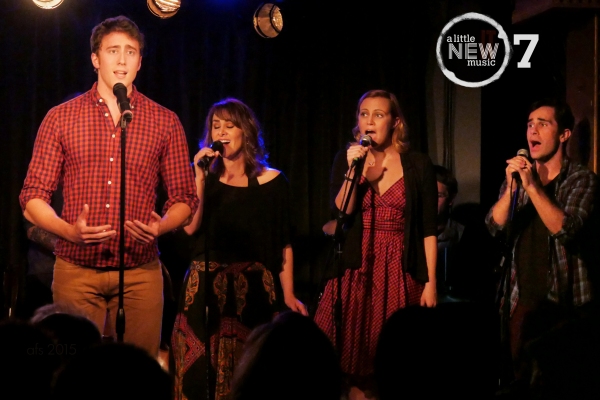 Darren Bluestone takes the lead in the premiere public performance of 'End of the Road' from Brett Ryback's PASSING THROUGH. Helping him out are Robin De Lano, Emily Clark, and Brett Ryback.

Gina Torrecilla tells us about a very special young man in Amanda Yesnowitz and Doug Katsaros' 'The Thing About Dylan'.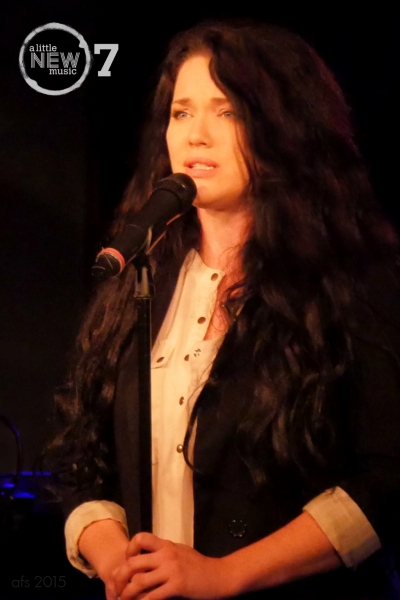 Cassandra Nuss brings the evening to a powerful close with Zoe Sarnak's 'Stand Out' from her new musical THE YEARS BETWEEN.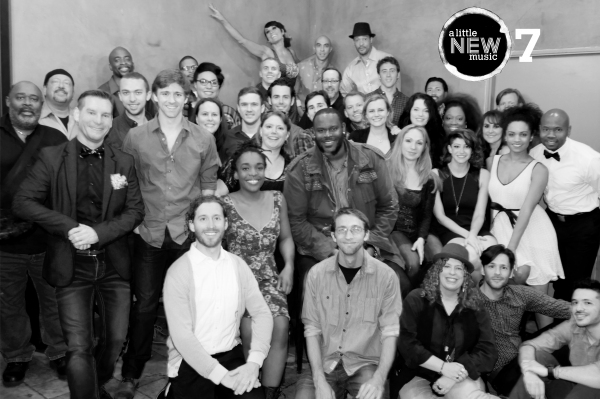 The A LITTLE NEW MUSIC 7 family picture at Rockwell: Table & Stage, March 10, 2015. Photo by Eric Cornwell.