Photo Flash: MOVIE MUSICAL Set for Cavern Club This Weekend
Do you love movie? You love Musicals? When the Movie Musical show starring Aunt Cassie Rolle come see the movies which never should have a musical score! Movie Musical runs this Weekend - two nights ONLY: Friday May 24 and Saturday, May 25 at 9pm. BroadwayWorld has photos of the cast below!
The Movie Musical show has Aunt Cassie Rolle and her pals Stella Review, Dale Bread and her niece Eunice as they take to The Cavern Club Theater to reminisce about the old place in it's hay day 30 years ago. When word gets out that developers want to knock down the Theater and pave paradise, these gals show up to save their former stomping ground. How you may ask? With a good old fashion telethon. It's "Follies meets "The Jerry Lewis Telethon". These ladies create musicals from movies that shouldn't be attempted. They even point out some that have and shouldn't have.
The show is written and directed by Kurt Koehler. Koehler is best known for directing/producing/co-creator of Chico's Angels and most recently the hugely successful stage musical, Invincible, The Legend of Billy Jean.
Movie Musical: The Musical stars: Aunt Cassie Rolle, Chris Farah, Doreen Calderon and Jaci Pund and runs May 24 & 25 (Memorial Day Weekend) at 9pm at the Cavern Club Theater inside Casita Del Campo Restaurant, 1920 Hyperion Ave, Los Angeles, Calif. Tickets: $15 PRE-SALE ONLINE; $20 CASH AT THE DOOR. Buy Tickets: www.cavernclubtheater.com or HERE.


Dale Bread, Aunt Cassie Rolle, Stella Review

Aunt Cassie Rolle, Sella Review, Dale Bread, Bob Merrick, Joe Greene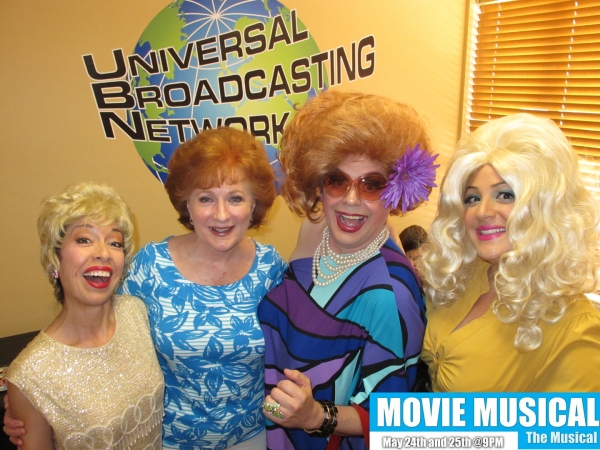 Dale Bread, Ann Walker (Sordid Lives); Aunt Cassie Rolle, Stella Review

Dale Bead, Stella Review, Aunt Cassie Rolle

Eunice, Aunt Cassie Rolle, Stella Review @ The Abbey West

Eunice, Aunt Cassie Rolle , Stella Review at The Abbey West

Aunt Cassie Rolle