Photos: Inside Opening Night of Center Theatre Group's ELLIOT, A SOLDIER'S FUGUE
Center Theatre Group's production of "Elliot, A Soldier's Fugue" by Pulitzer Prize-winning playwright Quiara Alegría Hudes opened last night, February 3. Directed by Shishir Kurup, the production will continue through February 25, 2018, at the Kirk Douglas Theatre.
Check out photos from opening night below!
The cast for "Elliot, A Soldier's Fugue" includes, in alphabetical order, Rubén Garfias, Peter Mendoza, Jason Manuel Olazábal and Caro Zeller. The creative team includes set design by Sibyl Wickersheimer, costume design by Raquel Barreto, lighting design by Geoff Korf and sound design by John Nobori. The production stage manager is Maggie Swing.
A soldier, like his father and his father's father, 19-year-old Elliot is back from Iraq with a Purple Heart. As he recovers from his injuries and decides whether to return to Iraq, he yearns for a truer connection with his father and considers his own limited options outside the military.
Phoebe Hoban of The New York Times said "'Elliot, A Soldier's Fugue' is that rare and rewarding thing: a theater work that succeeds on every level, while creating something new. The playwright, Quiara Alegría Hudes, who has degrees in music (a bachelor's from Yale) and playwriting (a master's from Brown), combines a lyrical ear with a sophisticated sense of structure to trace the legacy of war through three generations of a Puerto Rican family."
"Elliot, A Soldier's Fugue," the first in a trilogy of plays, is being produced at the Douglas at the same time as Center Theatre Group is presenting the second play in that trilogy, Hudes' Pulitzer-winning "Water by the Spoonful" at the Mark Taper Forum. The Latino Theater Company will present the final installment of the trilogy with their production of "The Happiest Song Plays Last" at the Los Angeles Theatre Center (LATC). Presented all together, the full trilogy gives Los Angeles theatre audiences a rare opportunity to immerse themselves in this exciting playwright's work.
Photo Credit: Ryan Miller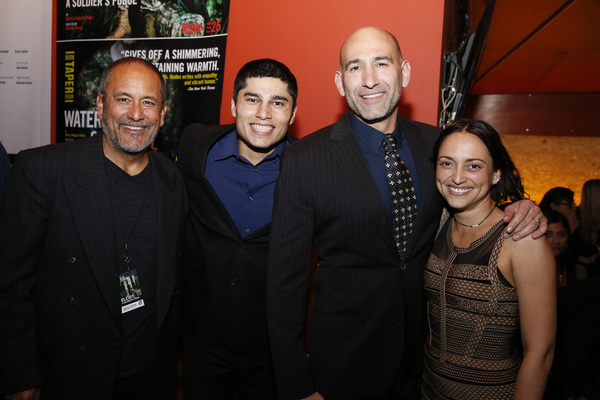 From left, cast members Rubén Garfias, Peter Mendoza, Jason Manuel Olazábal and Caro Zeller at the opening night performance of "Elliot, A Soldier's Fugue� at Center Theatre Group's Kirk Douglas Theatre on February 3, 2018, in Culver City, California. (Photo by Ryan Miller/Capture Imaging)

From left, cast member Jason Manuel Olazábal and actor Jimmy Smits at the opening night performance of "Elliot, A Soldier's Fugue� at Center Theatre Group's Kirk Douglas Theatre on February 3, 2018, in Culver City, California. (Photo by Ryan Miller/Capture Imaging)

From left, cast members Rubén Garfias, Peter Mendoza, Jason Manuel Olazábal, Caro Zeller and actor Jimmy Smits at the opening night performance of "Elliot, A Soldier's Fugue� at Center Theatre Group's Kirk Douglas Theatre on February 3, 2018, in Culver City, California. (Photo by Ryan Miller/Capture Imaging)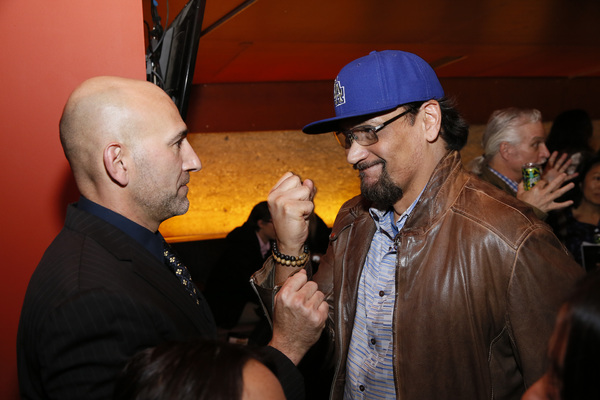 From left, cast member Jason Manuel Olazábal and actor Jimmy Smits at the opening night performance of "Elliot, A Soldier's Fugue� at Center Theatre Group's Kirk Douglas Theatre on February 3, 2018, in Culver City, California. (Photo by Ryan Miller/Capture Imaging)

From left, Elliot Ruiz, playwright Quiara Alegría Hudes and cast member Caro Zeller at the opening night performance of "Elliot, A Soldier's Fugue� at Center Theatre Group's Kirk Douglas Theatre on February 3, 2018, in Culver City, California. (Photo by Ryan Miller/Capture Imaging)

From left, playwright Quiara Alegría Hudes and cast member Caro Zeller at the opening night performance of "Elliot, A Soldier's Fugue� at Center Theatre Group's Kirk Douglas Theatre on February 3, 2018, in Culver City, California. (Photo by Ryan Miller/Capture Imaging)

From left, cast member Jason Manuel Olazábal, actor Sabina Zuniga Varela and cast member Caro Zeller at the opening night performance of "Elliot, A Soldier's Fugue� at Center Theatre Group's Kirk Douglas Theatre on February 3, 2018, in Culver City, California. (Photo by Ryan Miller/Capture Imaging)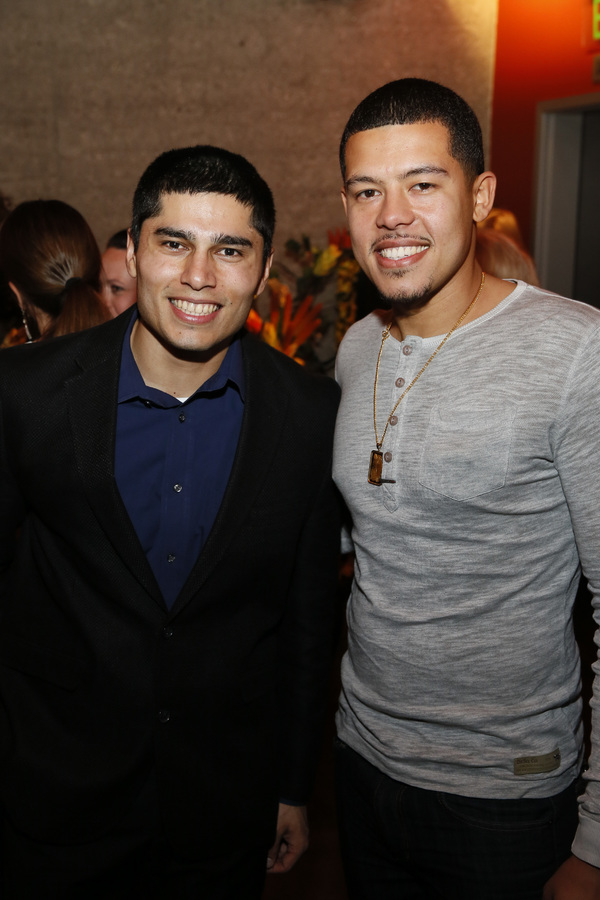 From left, cast member Peter Mendoza and Elliot Ruiz at the opening night performance of "Elliot, A Soldier's Fugue� at Center Theatre Group's Kirk Douglas Theatre on February 3, 2018, in Culver City, California. (Photo by Ryan Miller/Capture Imaging)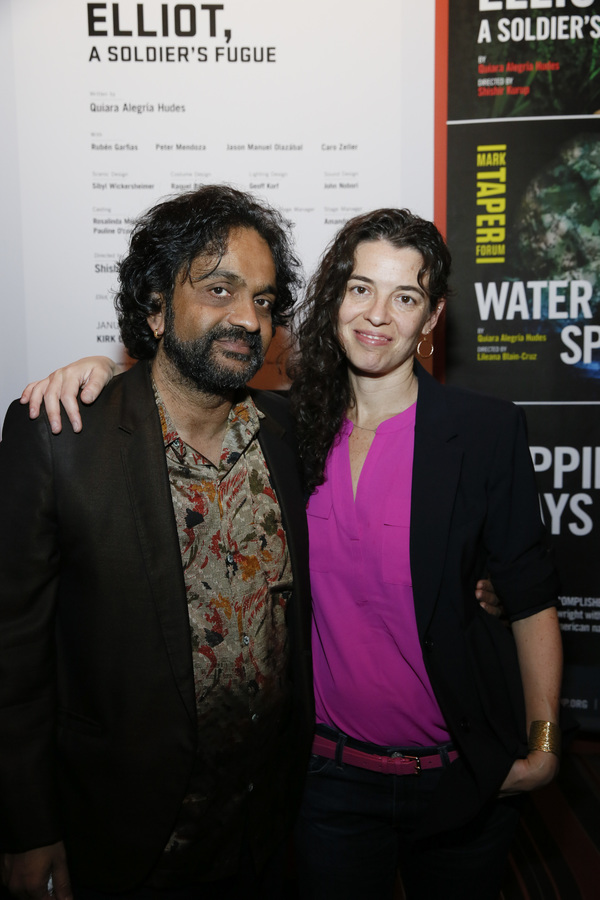 Director Shishir Kurup and playwright Quiara Alegría Hudes attend the opening night performance of "Elliot, A Soldier's Fugue� at Center Theatre Group's Kirk Douglas Theatre on February 3, 2018, in Culver City, California. (Photo by Ryan Miller/Capture Imaging)

From left, cast members Jason Manuel Olazábal and Rubén Garfias at the opening night performance of "Elliot, A Soldier's Fugue� at Center Theatre Group's Kirk Douglas Theatre on February 3, 2018, in Culver City, California. (Photo by Ryan Miller/Capture Imaging)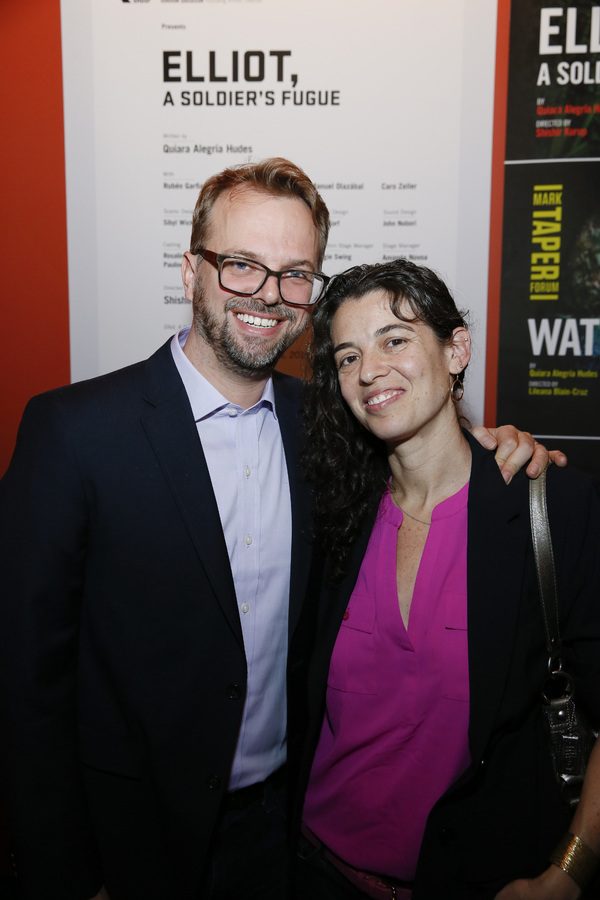 Ray Beauchamp and playwright Quiara Alegría Hudes attend the opening night performance of "Elliot, A Soldier's Fugue� at Center Theatre Group's Kirk Douglas Theatre on February 3, 2018, in Culver City, California. (Photo by Ryan Miller/Capture Imaging)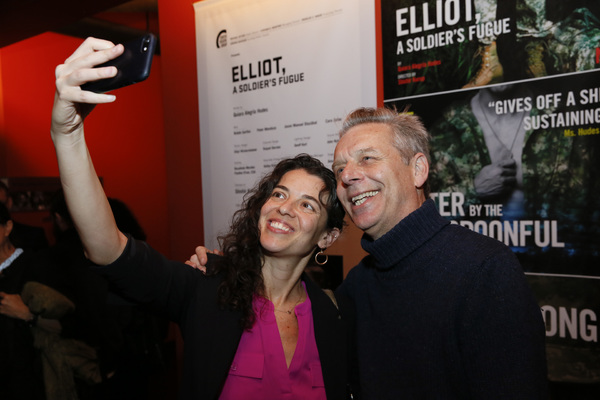 Playwright Quiara Alegría Hudes and Center Theatre Group Artistic Director Michael Ritchie attend the opening night performance of "Elliot, A Soldier's Fugue� at Center Theatre Group's Kirk Douglas Theatre on February 3, 2018, in Culver City, California. (Photo by Ryan Miller/Capture Imaging)

(Top) cast member Peter Mendoza and (bottom row from left) cast members Caro Zeller, Rubén Garfias and Jason Manuel Olazábal during the curtain call for the opening night performance of "Elliot, A Soldier's Fugue� at Center Theatre Group's Kirk Douglas Theatre on February 3, 2018, in Culver City, California. (Photo by Ryan Miller/Capture Imaging)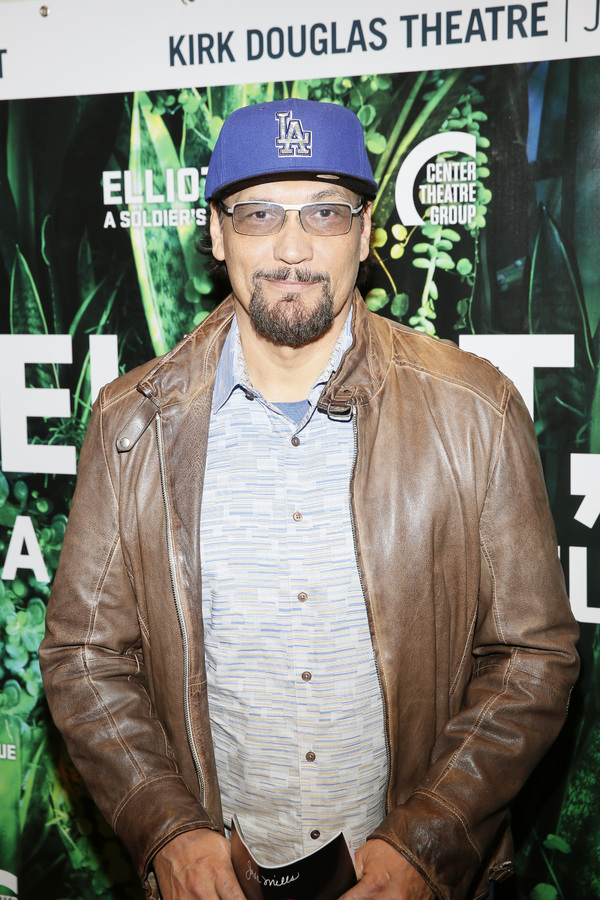 Actor Jimmy Smits attends the opening night performance of "Elliot, A Soldier's Fugue� at Center Theatre Group's Kirk Douglas Theatre on February 3, 2018, in Culver City, California. (Photo by Ryan Miller/Capture Imaging)

From left, cast members Caro Zeller, Peter Mendoza, Rubén Garfias and Jason Manuel Olazábal during the curtain call for the opening night performance of "Elliot, A Soldier's Fugue� at Center Theatre Group's Kirk Douglas Theatre on February 3, 2018, in Culver City, California. (Photo by Ryan Miller/Capture Imaging)

Actor Jimmy Smits attends the opening night performance of "Elliot, A Soldier's Fugue� at Center Theatre Group's Kirk Douglas Theatre on February 3, 2018, in Culver City, California. (Photo by Ryan Miller/Capture Imaging)

Actor Jimmy Smits attends the opening night performance of "Elliot, A Soldier's Fugue� at Center Theatre Group's Kirk Douglas Theatre on February 3, 2018, in Culver City, California. (Photo by Ryan Miller/Capture Imaging)

Actor Mara Marini attends the opening night performance of "Elliot, A Soldier's Fugue� at Center Theatre Group's Kirk Douglas Theatre on February 3, 2018, in Culver City, California. (Photo by Ryan Miller/Capture Imaging)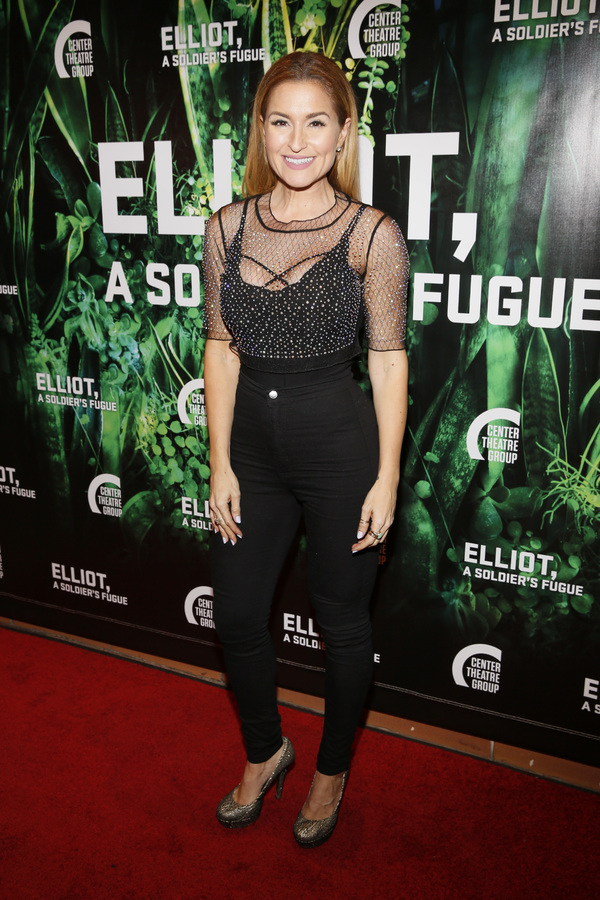 Actor Mara Marini attends the opening night performance of "Elliot, A Soldier's Fugue� at Center Theatre Group's Kirk Douglas Theatre on February 3, 2018, in Culver City, California. (Photo by Ryan Miller/Capture Imaging)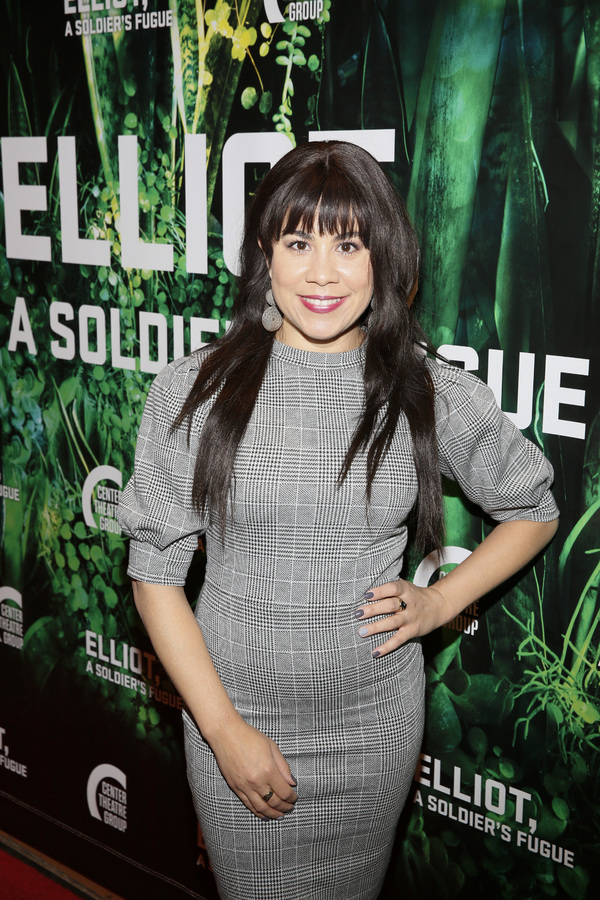 Actor Santana Dempsey attends the opening night performance of "Elliot, A Soldier's Fugue� at Center Theatre Group's Kirk Douglas Theatre on February 3, 2018, in Culver City, California. (Photo by Ryan Miller/Capture Imaging)

Actor Santana Dempsey attends the opening night performance of "Elliot, A Soldier's Fugue� at Center Theatre Group's Kirk Douglas Theatre on February 3, 2018, in Culver City, California. (Photo by Ryan Miller/Capture Imaging)

Elliot Ruiz and playwright Quiara Alegría Hudes attend the opening night performance of "Elliot, A Soldier's Fugue� at Center Theatre Group's Kirk Douglas Theatre on February 3, 2018, in Culver City, California. (Photo by Ryan Miller/Capture Imaging)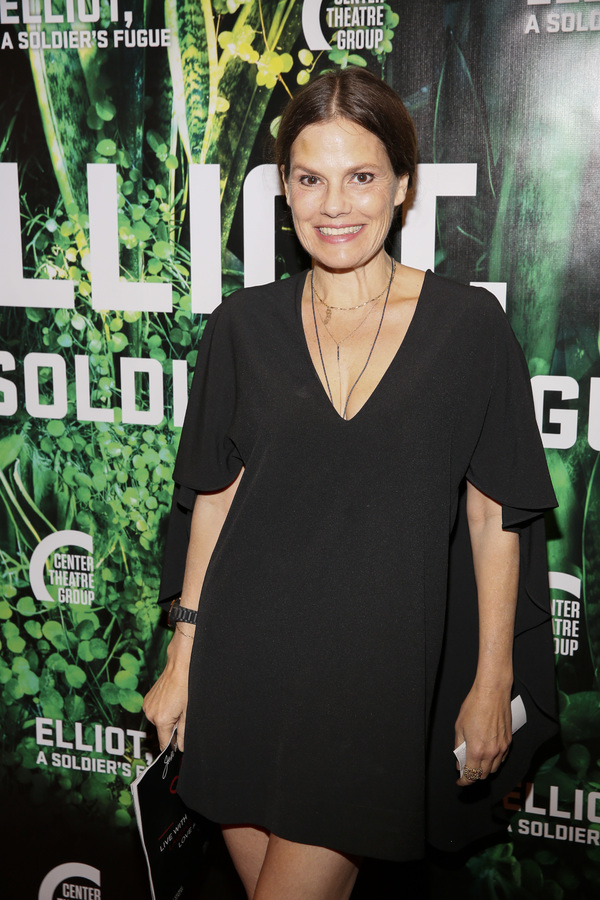 Actor Suzanne Cryer attends the opening night performance of "Elliot, A Soldier's Fugue� at Center Theatre Group's Kirk Douglas Theatre on February 3, 2018, in Culver City, California. (Photo by Ryan Miller/Capture Imaging)

Elliot Ruiz and playwright Quiara Alegría Hudes attend the opening night performance of "Elliot, A Soldier's Fugue� at Center Theatre Group's Kirk Douglas Theatre on February 3, 2018, in Culver City, California. (Photo by Ryan Miller/Capture Imaging)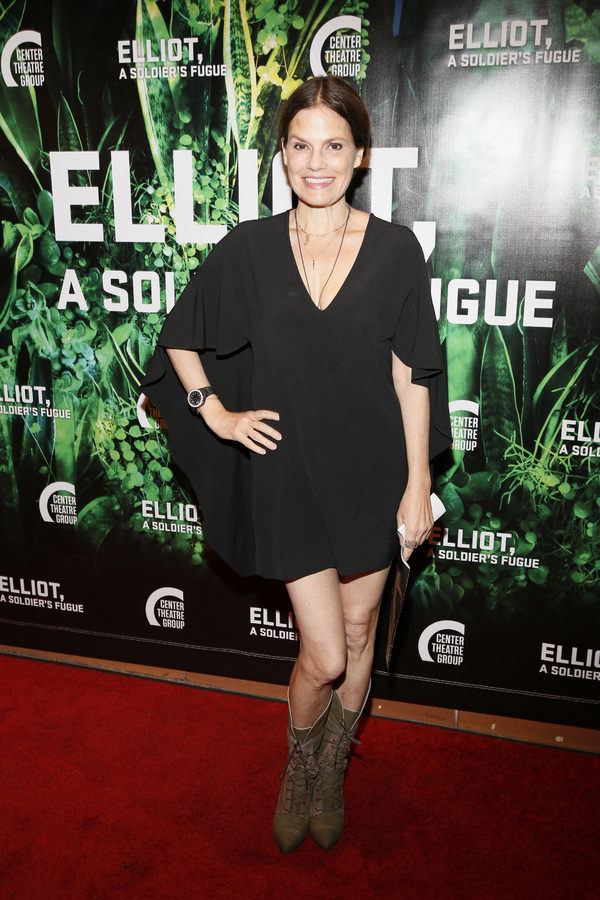 Actor Suzanne Cryer attends the opening night performance of "Elliot, A Soldier's Fugue� at Center Theatre Group's Kirk Douglas Theatre on February 3, 2018, in Culver City, California. (Photo by Ryan Miller/Capture Imaging)

Actor Sabina Zuniga Varela attends the opening night performance of "Elliot, A Soldier's Fugue� at Center Theatre Group's Kirk Douglas Theatre on February 3, 2018, in Culver City, California. (Photo by Ryan Miller/Capture Imaging)

Elliot Ruiz attends the opening night performance of "Elliot, A Soldier's Fugue� at Center Theatre Group's Kirk Douglas Theatre on February 3, 2018, in Culver City, California. (Photo by Ryan Miller/Capture Imaging)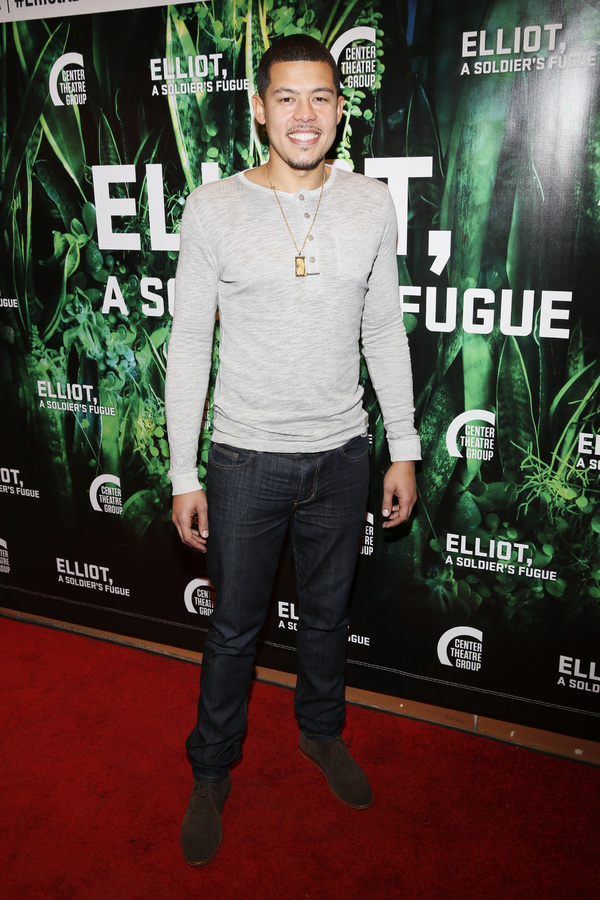 Elliot Ruiz attends the opening night performance of "Elliot, A Soldier's Fugue� at Center Theatre Group's Kirk Douglas Theatre on February 3, 2018, in Culver City, California. (Photo by Ryan Miller/Capture Imaging)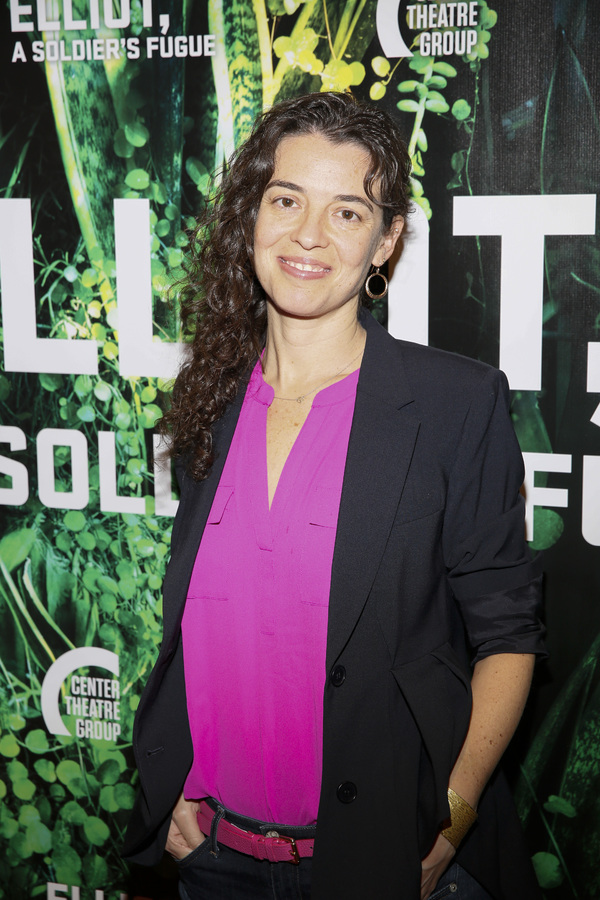 Playwright Quiara Alegría Hudes attends the opening night performance of "Elliot, A Soldier's Fugue� at Center Theatre Group's Kirk Douglas Theatre on February 3, 2018, in Culver City, California. (Photo by Ryan Miller/Capture Imaging)

Actor Victoria Tennant attends the opening night performance of "Elliot, A Soldier's Fugue� at Center Theatre Group's Kirk Douglas Theatre on February 3, 2018, in Culver City, California. (Photo by Ryan Miller/Capture Imaging)

Playwright Quiara Alegría Hudes attends the opening night performance of "Elliot, A Soldier's Fugue� at Center Theatre Group's Kirk Douglas Theatre on February 3, 2018, in Culver City, California. (Photo by Ryan Miller/Capture Imaging)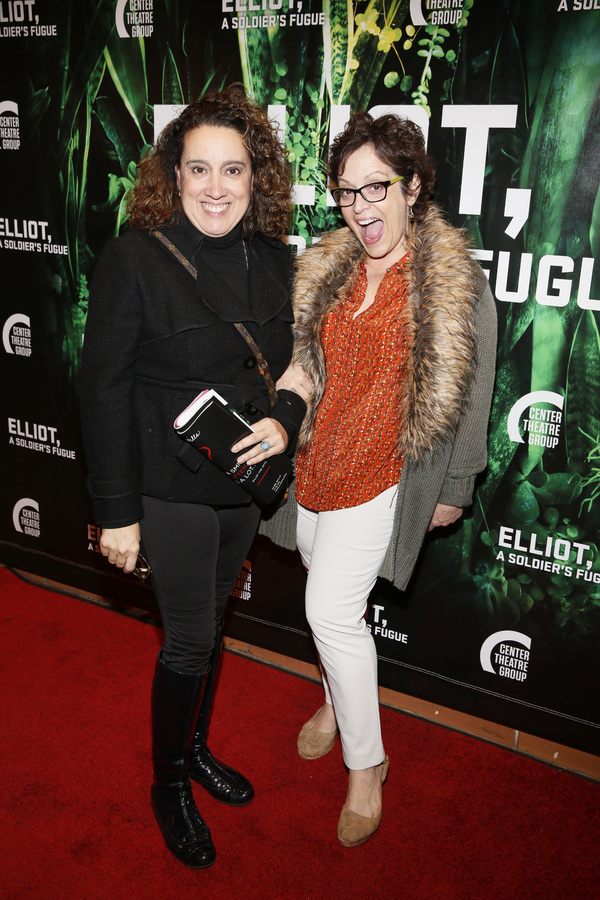 From left, actors Eileen Galindo and Marlene Forte attend the opening night performance of "Elliot, A Soldier's Fugue� at Center Theatre Group's Kirk Douglas Theatre on February 3, 2018, in Culver City, California. (Photo by Ryan Miller/Capture Imaging)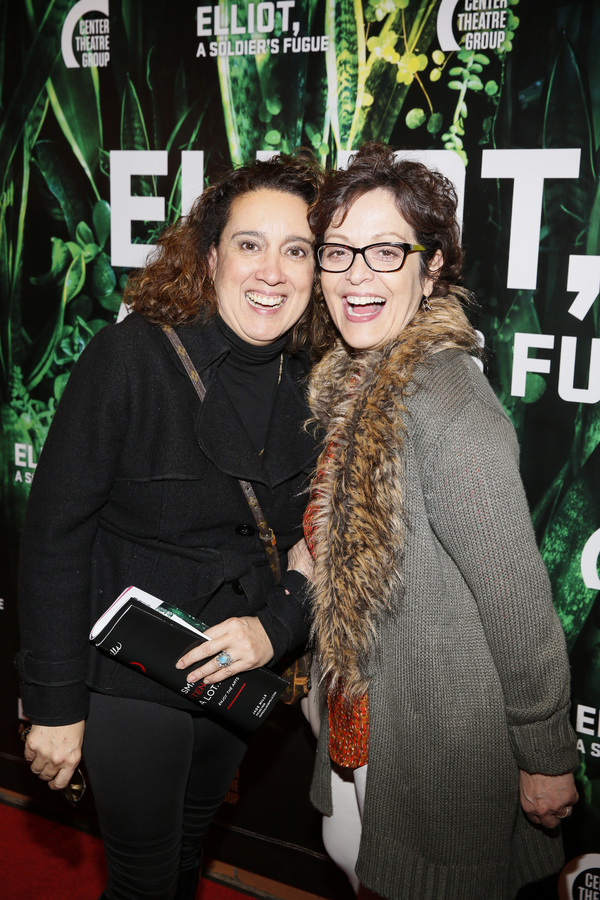 From left, actors Eileen Galindo and Marlene Forte attend the opening night performance of "Elliot, A Soldier's Fugue� at Center Theatre Group's Kirk Douglas Theatre on February 3, 2018, in Culver City, California. (Photo by Ryan Miller/Capture Imaging)

Actor Richard Azurdia and Rachel Azurdia attend the opening night performance of "Elliot, A Soldier's Fugue� at Center Theatre Group's Kirk Douglas Theatre on February 3, 2018, in Culver City, California. (Photo by Ryan Miller/Capture Imaging)

Edward Torres attends the opening night performance of "Elliot, A Soldier's Fugue� at Center Theatre Group's Kirk Douglas Theatre on February 3, 2018, in Culver City, California. (Photo by Ryan Miller/Capture Imaging)

Actor Dominic Hoffman attends the opening night performance of "Elliot, A Soldier's Fugue� at Center Theatre Group's Kirk Douglas Theatre on February 3, 2018, in Culver City, California. (Photo by Ryan Miller/Capture Imaging)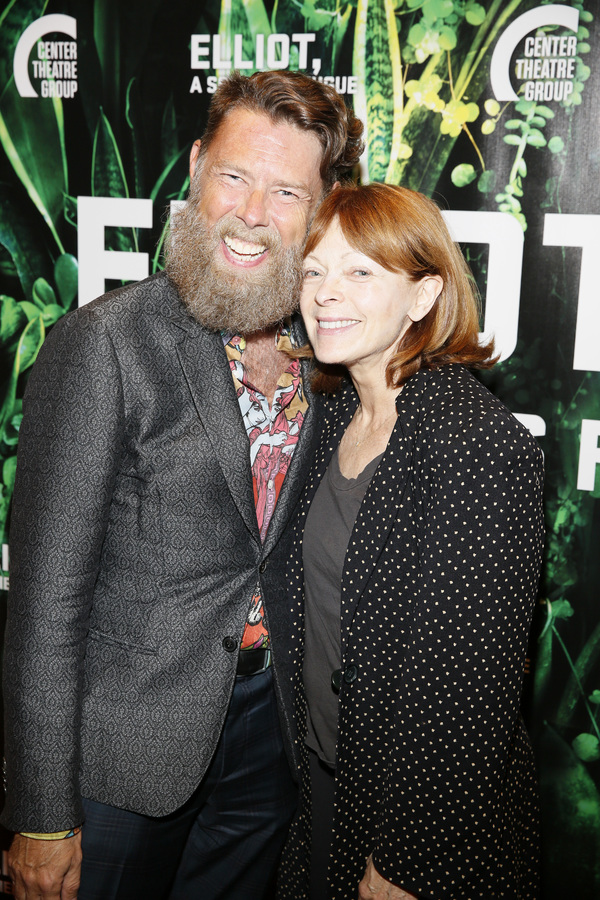 Daniel Henning and actor Frances Fisher attend the opening night performance of "Elliot, A Soldier's Fugue� at Center Theatre Group's Kirk Douglas Theatre on February 3, 2018, in Culver City, California. (Photo by Ryan Miller/Capture Imaging)