Latest News on Sabina Zuniga Varela
Sabina Zuniga Varela News
BWW Interview: Prolific Director Michael Michetti Returns to Pasadena Playhouse to Tackle UNCLE VANYA
by Gil Kaan - May 25, 2022
Pasadena Playhouse'Äôs next live production Uncle Vanya opens June 1, 2022. A most productive Los Angeles theatre staple, Michael Michetti directs this Los Angeles premiere of the Richard Nelson, Richard Pevear and Larissa Volokhonsky translation of the Anton Chekhov classic Uncle Vanya. Cast includes Hugo Armstrong as 'ÄúVanya,'ÄĚ with Anne Gee Byrd, Brian George, Brandon Mendez Homeras, Jane Taini, Sabina Zuniga-Varela and Chelsea Yakura-Kurtz. Michael found some time from his multi-tasking to answer a few of my queries.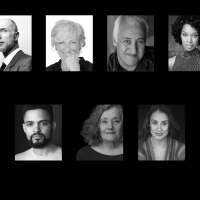 Hugo Armstrong, Anne Gee Byrd & More to Star in UNCLE VANYA at Pasadena Playhouse
by Chloe Rabinowitz - Apr 26, 2022
Pasadena Playhouse has announced casting and creative team for the Los Angeles premiere of the Richard Nelson, Richard Pevear, and Larissa Volokhonsky translation of Uncle Vanya by Anton Chekhov coming to the Playhouse June 1 through June 26; the press opening is Sunday, June 5 at 5 p.m. 
Photo Flash: First Look at Luis Alfaro's MOJADA at The Public
by Marianka Swain - Jul 4, 2019
MacArthur Genius Award-winning playwright Luis Alfaro returns to The Public with MOJADA, the New York premiere of his stirring drama about love, immigration, and sacrifice, inspired by the Ancient Greek story of Medea. See production photographs!
Photo Flash: In Rehearsal with MOJADA at The Public
by Julie Musbach - Jun 17, 2019
Check out all new rehearsal photos from the New York premiere of MOJADA, written by Luis Alfaro and directed by Chay Yew. Performances begin on Tuesday, July 2 and run through Sunday, August 11 at The Public with an official press opening on Wednesday, July 17.
Photo Coverage: On the Opening Night Red Carpet of MUCH ADO ABOUT NOTHING in the Park!
by Jennifer Broski - Jun 12, 2019
The Public Theater's Free Shakespeare in the Park production of MUCH ADO ABOUT NOTHING, directed by Kenny Leon, opened just last night at the Delacorte Theater in Central Park, running through Sunday, June 23.

Photo Flash: Opening Night Of HAPPY DAYS At Mark Taper Forum
by A.A. Cristi - May 23, 2019
The Yale Repertory Theatre production of Samuel Beckett's classic 'Happy Days' celebrated its opening night at Center Theatre Group/Mark Taper Forum. See photos from the evening!

Overtone Presents New Ritualistic Opera CYNOSEMMA
by Stephi Wild - Aug 3, 2018
Overtone Industries, in collaboration with By The Souls of Our Feet (BTSOOF), is proud to present Part I of their epic tale, Cynosemma: A Dirge from the Dog's Tomb, running for four performances over the weekend of Friday, August 17th through Sunday, August 19, 2018. Co-Directed by Nathan Singh and Sabina Zuniga Varela with music by O-Lan Jones and libretto by Megan Breen, Cynosemma is a ritualistic opera ripped from the myth of Hecuba. Part I is a ceremonial exploration of the ancient but immediate clash between possession and liberation. The infamous Queen of Troy (played by Jones), along with her daughters and a tribe of women face off with the men responsible for the fall of their city. The limited engagement will take place at Son of Semele (3301 Beverly Blvd., Los Angeles, CA 90004). Audience members are invited to stay afterwards for refreshments and a post-show symposium. For additional information, please visit http://www.overtoneindustries.org/current_productions.
Photo Flash: Inside Opening Night of Center Theatre Group's ELLIOT, A SOLDIER'S FUGUE
by Stephi Wild - Feb 4, 2018
Center Theatre Group's production of 'Elliot, A Soldier's Fugue' by Pulitzer Prize-winning playwright Quiara Alegria Hudes opened last night, February 3. Directed by Shishir Kurup, the production will continue through February 25, 2018, at the Kirk Douglas Theatre.

BWW Review: MOJADA: A MEDEA IN LOS ANGELES Brings Greek Tragedy to the Modern Immigrant Experience, at Portland Center Stage
by Krista Garver - Nov 15, 2017
MOJADA: A MEDEA IN LOS ANGELES is a painful, very timely play that provides a human context for a lot of things going on in the news right now. Also, Christopher Acebo's set is fabulous.

Photo Flash: MOJADA: A MEDEA IN LOS ANGELES Brings New Light to Immigrant Experience
by Julie Musbach - Oct 13, 2017
The Oregon Shakespeare Festival production of Luis Alfaro's Mojada: A Medea in Los Angeles comes to The Armory after a triumphant six-month run in Ashland.