Photo Flash: First Look at Musical Theatre Guild's MINNIE'S BOYS
Musical Theatre Guild, the winner of the Los Angeles Drama Critics Circle Margaret Harford Award for sustained excellence in the theatre, will continue their 23rd Anniversary season with MINNIE'S BOYS, the rarely produced musical about the start of the famous Marx Brothers. The one-night-only concert will take place at Glendale's historic Alex Theatre on Sunday, February 10, 2019 at 7:00 PM.
Before Mama Rose there was Minnie, a super-Mom who was the driving force behind the famous Marx Brothers. A vaudeville performer herself, Minnie coaxed, pushed, pulled and prodded the boys into their now-famous entity. Seldom seen but dearly loved, this Larry Grossman/Hal Hackady tuneful and infectious score takes us through the zany early years of the brothers as they get their start in burlesque. MINNIE'S BOYS opened in 1970 at Broadway's Imperial Theatre starring Shelley Winters and played 80 performances. The score includes the standout "Mama, A Rainbow".
The concert-staged-reading will star Susan Edwards Martin as Minnie with Matt Braver, Matthew Patrick Davis, Chad Doreck, Scott McLean Harrison and Travis Leland as the Marx Brothers. Also featured in the cast are Musical Theatre Guild company members Eydie Alyson, Thomas Ashworth, Bryan Chesters, Pamela Hamill, John Massey and Glenn Rosenblum with guest artists Eric B. Anthony, Bailey Blaise, Jennifer Knox, Kevin Matsumoto, Monica Ricketts and Faye Turner.
MINNIE'S BOYS will be directed by J. Scott Lapp, with musical direction by Thomas Griep, choreography by Kevin Jenkins and is under the production supervision of Melissa Lyons Caldretti. Leesa Freed serves as production stage manager. Musical Theatre Guild has been honored to have composer Larry Grossman in the room during the entire process of mounting this concert.
The Alex Theatre is located at 216 N. Brand Blvd in Glendale, CA. Tickets are available by visiting www.alextheatre.org or by calling 818-243-ALEX.
Musical Theatre Guild has partnered with Glendale restaurant, Eden On Brand. All MTG MINNIE'S BOYS ticket holders who dine at Eden On Brand before MINNIE'S BOYS will receive 20% off their entire bill. Reservations are recommended. Eden on Brand is located next to The Alex Theatre at 214 N. Brand Blvd., Glendale.
The 2018 - 2019 Musical Theatre Guild season concludes on May 5, 2019 with Stephen Sondheim's masterpiece, SUNDAY IN THE PARK WITH GEORGE.
Photo Credit: Stan Chandler

Susan Edwards Martin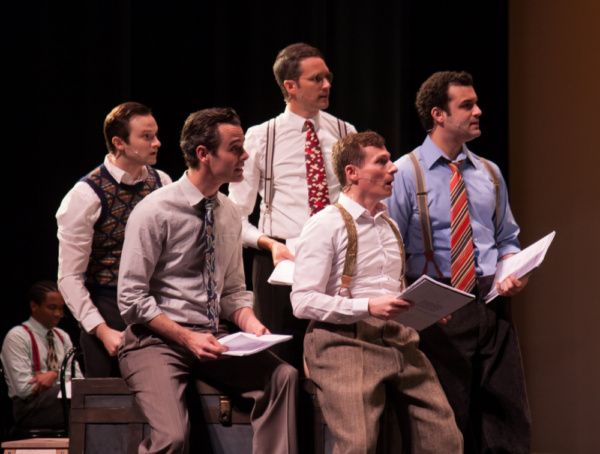 Matt Braver, Chad Doreck, Matthew Patrick Davis, Scott McLean Harrison, Travis Leland

Scott McLean Harrison, Matthew Patrick Davis, Chad Doreck, Travis Leland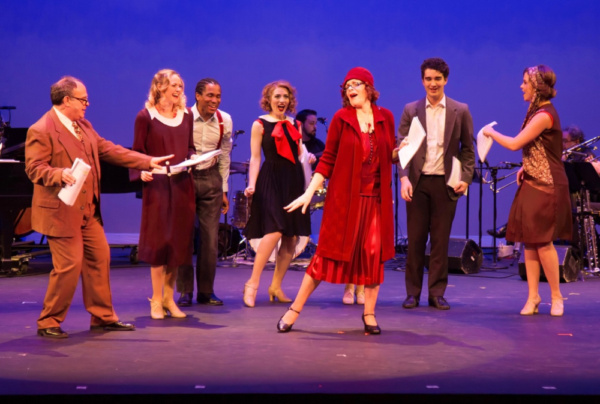 Susan Edwards Martin (center) and the company of MINNIE'S BOYS

Travis Leland, Scott McLean Harrison, Susan Edwards Martin, Matthew Patrick Davis, Chad Doreck

Pamela Hamill, Matthew Patrick Davis, Chad Doreck, Travis Leland, Scott McLean Harrison