Photo Flash: First Look at CAFE SOCIETY, Opening Tomorrow at Odyssey Theatre
Five self-absorbed customers find themselves trapped together in Starbucks in the latest off-beat comedy from Emmy Award-winning writer Peter Lefcourt. Set around the corner in a West L.A. franchise, theworld premiere of Café Society, presented by Theatre Planners and directed byTerri Hanauer, opens as a guest production at the Odyssey Theatre on August 22.
Packed with sly humor about life in L.A., Café Society takes an irreverent look at our obsession with social media and the way we connect in today's world. "Like any good comedy, this play pokes fun on the surface, but the reality that underlies it is actually heartbreaking," says Hanauer. "A coffee house used to be a place where you could go to meet people, to have a discussion. Now, when you walk into a Starbucks, there is absolutely no contact. Everyone is on their devices. Yet we all still have that hope, that desire, for human connection." Café Society stars Julliard graduate Eric Wentz (
Tommy Smith
's The Break-Up andThirty Story Masterpieces at the Hayworth) as Jeff McHenry, a wannabe screenwriter who writes at Starbucks so he can study the "human condition" firsthand;
Chandra Lee
Schwartz (Glinda in Wicked on Broadway) as Kari Shaw, a hungry young actress desperate for her big break; Road Theatre Company member
Susan Diol
(You Never Can Tell on Broadway opposite
Uta Hagen
) as high octane realtor Marilyn Dresden; History Channel's Cities of the Underworld host Eric Myles Geller as a libertarian personal wealth consultant; and Emmy Award-winning actorIan
Patrick Williams
(Bleacher Bums in Chicago, L.A. and on PBS) as a delusional homeless man. Nick Cobey (off-Broadway production of Finger Paint) plays the mysterious loner who triggers the connection between these five raging narcissists, while recent Chapman University graduate Donathan Walters plays Darnell, the barrista, and recent UCLA graduate Kailyn Leilani and Mexican-born actor Gabriel Romero (Telemundo's Los Beltrán) make cameo appearances on video. Set design for Café Society is by Amanda Knehans; lighting design is by
Donny Jackson
; sound design is by Dino Herrmann; projection design is byYee Eun Nam; costume design is by Jackie Gudgel; graphic design is by Nancy Nimoy; and casting is by
Michael Donovan
, CSA. The production stage manager is Rita Cofield, associate producer is Victoria Watson, Theatre Planners; and Racquel Lehrman, Theatre Planners produces. Café Society opens for press on Aug. 22 and continues through Oct. 11. Performances take place Fridays and Saturdays at 8 p.m., and Sundays at2 p.m. There will be two preview performances, on Thursday, Aug. 20 and Friday, Aug. 21 at 8 p.m. Tickets are $25 on Fridays and Sundays and $30on Saturdays; previews are $15. The Odyssey Theatre is located at 2055 S. Sepulveda Blvd., West Los Angeles, 90025. For reservations and information, call (323) 960-1055 or go to www.plays411.net/cafe.
Photos by Ed Krieger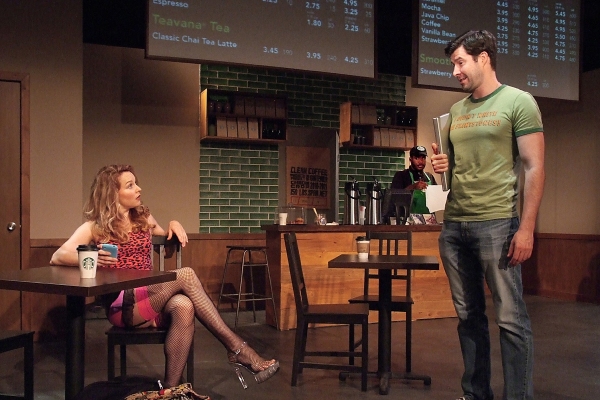 Chandra Lee Schwartz and Eric Wentz

Donathan Walters and Ian Patrick Williams

Chandra Lee Schwartz and Eric Myles Geller

Susan Diol and Eric Wentz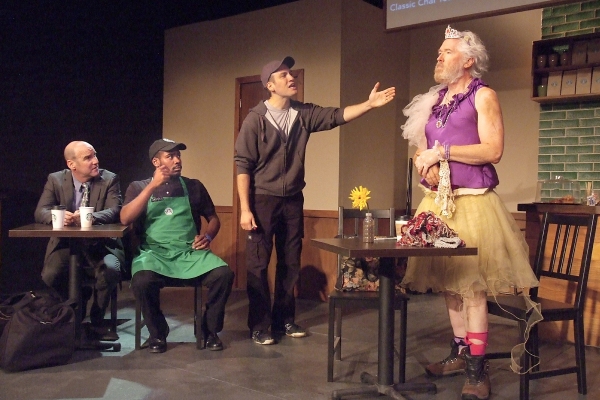 Eric Myles Geller. Donathan Walters, Nick Cobey, Ian Patrick Williams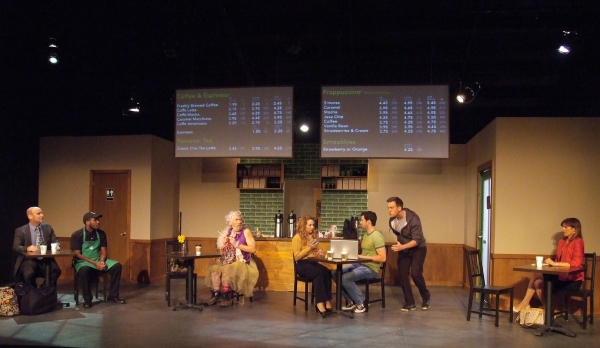 Cast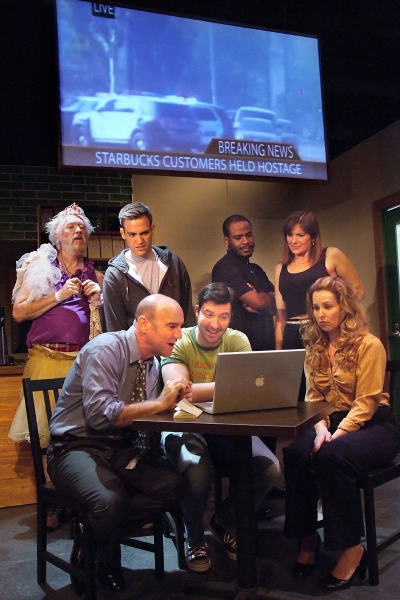 Rear: Ian Patrick Williams, Nick Cobey, Donathan Walters, Susan Diol; Front: Eric Myles Geller, Eric Wentz, Chandra lee Schwartz