Photos: Bryce Dallas Howard Speaks at 2013 Hollywood Networking Breakfast
On Saturday, Sept 14th, Raleigh Studios celebrated the 20th anniversary of the Hollywood Networking Breakfast (HNB) in the Charlie Chaplin Theatre at Raleigh Studios with special guest, Ms. Bryce Dallas Howard. Scroll down for photos!
An audience that included individuals with expertise in the areas of acting, directing, casting, writing, editing, film finance and more, were on hand to avail themselves to not only the wisdom of the noted director and actress of such films as Spider-Man 3, Terminator Salvation and the critically acclaimed The Twilight Saga and The Help - The later she confessed, "Casting directors told my agent that I was too innocent and sweet looking to play the role of Hilly Holbrook." HNB Founder, Sandra Lord, said, "We were lucky and honored to have Bryce as our special guest speaker for the 20th anniversary. The audience was ecstatic and so very grateful for her frank honesty and advice. She will be a hard act to follow at next months meeting." The success of the Howard family is only in part to the industry that they are so well known, but perhaps more importantly for the family they have raised.
Bryce Dallas Howard
is the third generation of family who pioneered the field of entertainment. An industry that she says "Is currently going through a bleak period, but that will soon be experiencing a rebirth, just as it did after talkies were introduced or television and even VCR's," adding "Today studios are run by corporations that don't fully understand creative story telling. Legacy is so important to teach and share with new generations." Bryce had her first taste of professional work as an extra at age 7, "They let me squeeze orange juice at the craft table, and I took the job very seriously," laughs Bryce. This was soon followed by a job as a PA ... "Or rather as a PA to the PA, Collin Hanks, ... Tom's son." She recalled her excitement about attending an arts camp, where she met and worked with
Natalie Portman
. "She had already begun her professional career, and I was so impressed with her desire to learn, improve and stretch her skills." As high school came to an end, she had to decide between an acting career or pursuing the idea of becoming a basketball player. Theatre would win out in the end, and she would eventually be cast in productions of Moliere's "Tartuffe" and Shakespeare's "As You Like It," in the challenging role of Roslyn. Despite a rather less than enthusiastic support by faculty at NYU - "One teacher actually suggested I rethink my career choice," said Bryce - and a discouraging review in the New York Times, that she accepted as a challenge to improve her work. She remembers the night that "Something just clicked" and she nailed it. As fate had it, director/writer M. Night Shyamalan attend that same evening's production and would later offer her the role of Ivy Walker in "The Village" opposite an impressive cast that included
Adrian Brody
,
Sigourney Weaver
,
William Hurt
and Joaquin Phoenix. The lesson learned, was that it takes time and dedication to master any field that interests you. With that thought firmly embedded in her mind, she turned her attention to an additional goal - directing. With an eye on eventually directing a feature project, Bryce feels her experience directly short films is invaluable as it has the same responsibility as a feature film with even tighter restrictions. Her most recent achievement was a film short she directed for
Vanity Fair
's 100th celebration. Assigned the decade of the 60's as her focus, she directed interviews with icons including
Tippi Hedren
,
June Lockhart
,
Henry Winkler
,
Rose Marie
,
Rip Taylor
,
Marion Ross
,
Julie Newmar
,
Smokey Robinson
,
Florence Henderson
,
George Takei
and advocates such as
Donzaleigh Abernathy
and even her own grandfather, Vance Howard, now available to view
here
. It has been said that actors are paid so much, so that they can afford their therapists. Bryce suggests that you can find a good therapist, but stick with the friends that you find creative and inspire you. "Together, the possibilities of what you can accomplish together are so very great." She advised the patrons of the Hollywood Networking Breakfast to develop their own creative communities of friends and colleagues. Their resources are invaluable. She encouraged the audience to check out the Canon "Project Imaginat10n" Film Contest that she and her father are involved in at https://www.longliveimagination.com. "My father once said that what we need is an old fashion alien invasion to bring the world together," adding "Projects such as the Canon project has the potential of doing just that. The arts inspire people in other areas of their lives and can unite the world community. The patrons of HNB were extremely grateful for Ms. Howard's time as she answered numerous questions, both professional and personal, from an audience eager to glean knowledge or establish new connections. The Hollywood Networking Breakfast is truly a remarkable experience and I would suggest anyone, from novice to established, who is serious about this industry take advantage of the opportunity," says Ms. Howard. Adding, "In fact, I'm not beyond returning as a patron in the future. You can never learn or network too much." HBN was founded on the Paramount Studios Lot in 1993 by Sandra Lord, as a means to providing opportunities for industry professionals and emerging talent. Some of the most respected individuals, both in front of the camera and behind the scenes, have offered patrons insight and advise. For the last 19 years the event has hosted Academy, Golden Globe, Peabody and Emmy Award winners and nominees, as well as top Hollywood Studio Heads and
Production Company
Presidents. HNB benefits Changing Images in America (www.ChangingImagesInAmerica.org). A partial list of esteemed speakers includes,
Ron Meyer
,
Craig Zadan
&
Neil Meron
,
Stan Lee
,
Wes Craven
,
Garry Marshall
,
Penny Marshall
,
Henry Winkler
,
John Singleton
,
Lynda Obst
, Eric McLeod, Debra Martin Chase, Mike Medavoy,
Reuben Cannon
, Anthony Zuiker,
David E. Kelley
, John Sacret Young, Simon Kinberg,
James Burrows
, Ron Schwary,
John Lee
Hancock,
Mario Van Peebles
, Michel Shane, Cassian Elwes, among many others. The breakfast benefits Changing Images in America -- a non-profit 501 (c)(3) organization dedicated to promoting diversity in American culture, with a focus on the entertainment industry. The event attracts a diverse group of writers, producers, actors, directors, financiers, attorneys, talent reps, crew and others at various levels of experience and achievement. HNB has proven to be a valuable resource for professional and aspiring industry members. The event has facilitated many collaborations and networking opportunities. A very popular feature for attendees and speakers alike has been the facilitation of a one-time mentorship, wherein speakers take a general meeting, "do lunch" or agree to be shadowed for part of their day by a promising "lucky attendee." This opportunity is all in keeping with Ms. Lord's goal to continue facilitating opportunities of access for attendees - especially those who are prepared and need a "leg up." Photo Credit: Thaine H. Allison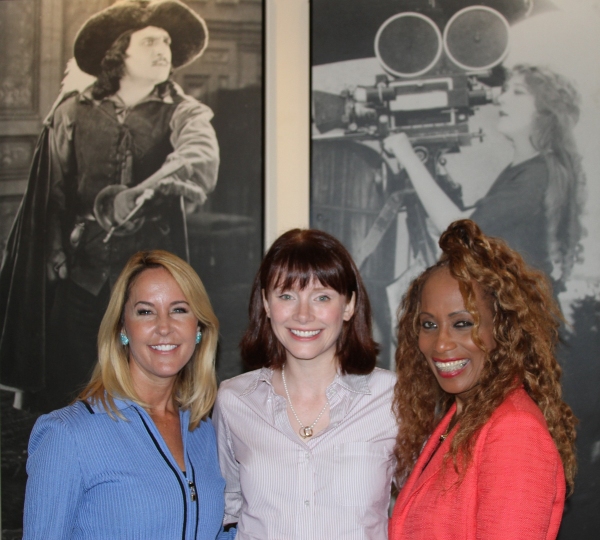 Erin Murphy, Bryce Dallas Howard and Sandra Lord pose in front of portraits of Douglas Fairbanks and Mary Pickford on display in the Charlie Chaplin theatre at Raleigh Studios.

Bryce Dallas Howard address's HNB patrons in the Charlie Chaplin Theatre at Raleigh Studios.