Photo Flash: BROADS! the Musical At El Portal Forum Theatre
Meet the 'broads' of Millennium Manor. Broadway veterans Ivonne Coll (Tony-nominated Chronicle of Death Foretold), June Gable (Tony nominee for Candide), Leslie Easterbrook (original Broadway production of California Suite), and Barbara Niles (Jesus Christ Superstar) are four ladies of "a certain age" in a sparkling new musical with book by Jennie Fahn and toe-tapping music and lyrics by Joe Symon. Directed by Jules Aaron and choreographed by Kay Cole, BROADS! The Musical opened on February 19 at the El Portal Forum Theatre in North Hollywood.
Elaine and Myra are sisters residing at Millennium Manor Retirement Village in South Florida, where they team up with fellow seniors Louise and Nilda to put on an annual variety show in the clubhouse. When Louise delivers some unexpected news right in the middle of their act, the performance begins to unravel and the ladies have to scramble to pull themselves together - with hilarious, poignant, and tuneful results.
"Bringing these funny and touching women to life has been a labor of love," says director Jules Aaron, who has worked with Symon and Fahn for nearly two years on the development process. "The story of two Jewish sisters from New York and their middle-American and Puerto Rican friends (Coll is a former Miss Puerto Rico) really took off as we developed their club act and backstage relationships. The songs are delightful and fun."
"BROADS! began as an ode to my grandmother," explains Fahn. "She lived in a retirement community, but she was the life of the party. I wanted to show the vitality that these ladies share, and the importance of their relationships to one another."
Fahn has been friends with composer/lyricist Joe Symon since childhood. They met at summer camp in the Catskills over 27 years ago, and their mutual love of musical theater has kept their friendship intact. "Now that both my grandmothers are gone, I wanted to create a love letter to them," Symon affirms. "Jennie was a big piece of my childhood, so I knew she was the perfect person to join me in this journey."
Jennie Fahn (Book) is the writer/performer of You Mutha! A One-Mother Show, which ran for two years in Los Angeles and as part of the New York City Fringe Festival. She won Best Writer awards for her short film, Tea With Grandma, in which she co-starred opposite Tippi Hedren. Other written works by Jennie include Cracker Jack Day (a children's musical), 12 Items or Less (co-written with her husband Jonathan), and various sketches for her all-woman comedy group, The Jersey Girls. Onstage, Jennie has been seen in Troubadour shows at the Falcon Theater including Jackson Frost and Alice In One-Hit Wonderland 1 and 2. Other L.A. stage appearances include Amadeus (Hollywood Bowl); The Wild Party and Roar of the Greasepaint (Musical Theater Guild); Up The Week Without A Paddle (Neurotic Young Urbanites); A New Brain and Merrily We Roll Along (West Coast Ensemble); and Wonderful Town (Reprise).
Joe Symon (Composer, Lyricist, Creator) began his career as an actor/singer, graduating from New York's American Musical and Dramatic Academy. He has performed Off-Broadway at the Actor's Playhouse and with the York Theatre Company, as well as starring in regional productions along the East and West Coast, the West Indies and in Europe. Upon moving to Los Angeles, Joe was hired by Buena Vista Pictures as a host, interviewing celebrities on the Red Carpet. He also produced and hosted the first on-line talk show for The Walt Disney Company. Later, transitioning into writing and composing, Joe produced and starred at the Coronet Theatre in Los Angeles in the one-man musical, Home is Where the House Falls, for which he created two of the characters who would later become the ladies of BROADS!
Ivonne Coll (Nilda) appeared on Broadway in the Tony-nominated Chronicle of Death Foretold by Gabriel Garcia Marquez, directed by Graciela Danielle; Shakespeare on Broadway, produced by Joseph Papp, directed by Estelle Parsons; and Goodbye Fidel with Jane Alexander, directed by Ed Sherin. Off Broadway and regional theater: Adoration of the Old Woman by Jose Rivera (Mark Taper Forum, La Jolla Playhouse); Mother Courage (San Diego Rep, Arizona Theater Co, Berkeley Rep); Electricidad by Luis Alfaro (Goodman Theater); Two Sisters and a Piano (McCarter Theater); Orinoco (Puerto Rican Travelling Theatre-winner, A.C.E. Award for Best Actress); Cold Air, directed by Maria Irene Fornes (INTAR Theater); and six productions at the New York Shakespeare Festival. Films: Godfather 2 as Yolanda, the Cuban singer; Instinct with Sir Anthony Hopkins; The Pest with John Leguizamo; In Too Deep with Omar Epps; Waking the Dead with Billy Crudup and Jennifer Connelly; Blood of A Poet with Andy Garcia; Lean on Me with Morgan Freeman; and La Gran Fiesta with Raul Julia. In Puerto Rico, she was awarded 'Best Actress in a Short' by the International Short Film Festival for De Pura Cepa; had her own TV sitcom, Cuqui Una Mujer Xomo Tu; and her own variety show, Una Chica Llamada Ivonne Coll.
Leslie Easterbrook (Louise) starred as Sgt. Callahan in Police Academy, later punching her way from Sergeant to Captain in five of the six sequels. (Another one is in the works.) Leslie created characters 'Devlin Kowalsky' on Ryan's Hope and 'Rhonda Lee' on Laverne and Shirley. She has guest starred on over 60 TV shows, including classics like Matlock, Murder She Wrote and Baywatch. She is 'Mother Firefly' in Rob Zombie's The Devil's Rejects; 'Patty Frost' in Zombie's Halloween; and 'Bunny' in USA Network's Murder at the Presido. On Broadway, she created the role of 'Bunny' in Neil Simon's California Suite. (The characters' names are no coincidence; Leslie's nickname is Bunny, and both characters were named for her.) Other credits: the horror feature House; The Heartbreak Kid starring Ben Stiller; Black Water Transit with Laurence Fishburne. Soon to be released: DaZe with Jackson Rathbone and Gary Busey; Hollywood and Wine with David Spade, Chris Kattan and Norm McDonald.
June Gable (Elaine) starred on Broadway as Googie Gomez in The Ritz by Terrence McNally; was nominated for a Tony award for Candide; and won an OBIE for The New York Shakespeare Festival's A Comedy of Errors. She was nominated for the London Drama Critics Award for Jacques Brel... . After starring opposite Eve Arden in the infamous Moose Murders on Broadway, she starred in the Broadway National Tours of Pump Girls and Dinettes and They're Playing Our Song. West Coast audiences have seen Ms. Gable at the Mark Taper Forum, San Diego's Old Globe, American Conservatory Theatre, and the Odyssey Theatre. She recently starred as Molly Picon in Picon Pie in NYC, and toured as Eleanor in The Lion in Winter with the late, great Jason Miller. Film audiences have seen her many character portrayals and recurring roles on TV, including Laugh In, Sha-Na-Na, HBO's Dream On, and The Beggar's Opera, and, most recently, as Estelle, Joey's agent, on NBC's Friends.
Barbara Niles (Myra) was Mary Magdalene in the first Broadway revival of Jesus Christ Superstar and Annie in Broadway's Oy Mama, Am I In Love, a play with music performed in Yiddish. Off Broadway, regional theater and national tours include Jules Feiffer's Grown-Ups; Dime Store Diamonds; Berlin to Broadway; Private Lives; Oklahoma; Godspell; Tintypes; Feiffer's People; Starting Here, Starting Now; Manhattan Madness; Grusha in Caucasian Chalk Circle; Molly in The Unsinkable Molly Brown; Oh, Coward; and Sheila in A Day in the Death of Joe Egg. Los Angeles credits include Paula in Labor Pains, directed by Jules Aaron; The Actor's Nightmare; Secrets with Grover Dale; Sweet Deliverance with Richard Hochberg; Six Women with Brain Death; and Reaching Up.
Jules Aaron (Director) has directed has directed over 250 productions at venues such as The Public Theater, Actors Theatre of Louisville, International City Theatre, South Coast Rep, Pasadena Playhouse, La Mirada Performing Arts Center, TheatreWorks, and the Philadelphia Theatre Company. He is the former Artistic Director of the Grove Shakespeare Festival. Jules has directed many world premieres including works by John Guare, Leonard Melfi, William Hauptmann, Craig Lucas, Keith Reddin and Susan Miller, and has directed actors Julianne Moore, Don Cheadle, Billy Zane, John Vickery, Jane Carr, David Birney, Ralph Waite, Joan van Ark and Bruce Davison, among others. He is the recipient of multiple accolades including Los Angeles Drama Critics Circle, LA Weekly, Back Stage and Drama Logue Awards.
Kay Cole (Choreographer) has choreographed Six Dance Lessons in Six Weeks on Broadway and The Fantasticks, Snoopy, and Blockheads on London's West End. A few of her L.A. credits: Under One Umbrella, 110 in the Shade, Do I Hear A Waltz (Pasadena Playhouse); The Sound of Music, Bernstein's Mass, Mame, My Fair Lady, Music Man, Camelot (Hollywood Bowl); The Threepenny Opera, Fiorello, City of Angels, Company, On The 20th Century, Follies, Sweeney Todd, Most Happy Fella (Reprise); Paint Your Wagon, Six Dances in Six Weeks (Geffen Playhouse); The Next Step, Songs For A New World (Playwrights Arena). She is the recipient of the 2006 Playwrights Arena Award for her outstanding contribution to Los Angeles Theater.
Vocal Arrangement for BROADS! are by Steven Ladd; Brian Murphy is on piano; Set Design is by Stephen Gifford; Lighting Design is by J. Kent Inasy; Costume Design is by Shon LeBlanc; Sound Design is by Robert Ramirez; and Production Stage Manager is Corey Womack.
Performances of BROADS! take place Thursdays, Fridays and Saturdays at 8 pm and Sundays at 3 pm, through April 4. General admission is $35.00; previews are $25.00. The El Portal Forum Theatre is located at 5269 Lankershim Blvd. in NoHo (North Hollywood, 91601). For reservations and information, call (818) 508-4200 or go to www.broadsthemusical.com.
Photo credit: Danielle Wang Photography


Lee Meriweather and Marshall Broden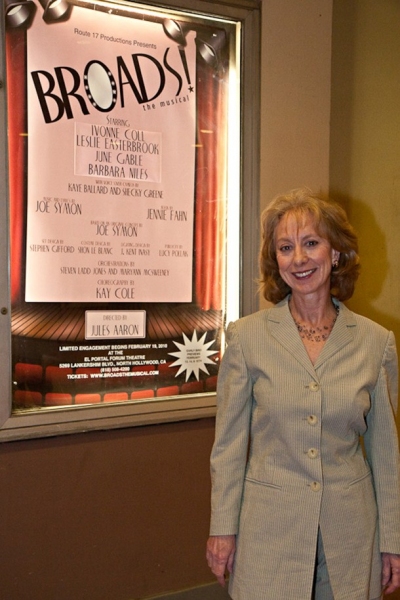 Ellen Crawford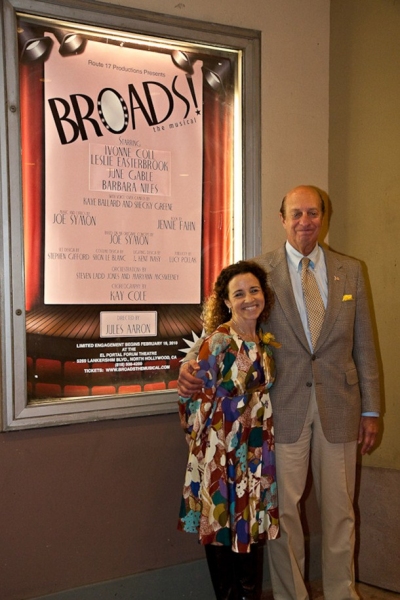 Jennie Fahn with Basil Hoffman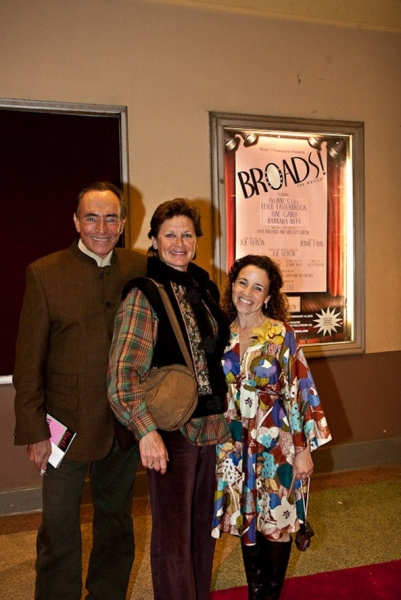 Jules Aaron, Jennie Fahn, Stephanie Zimbalist

Joe Symon, Javi Mulero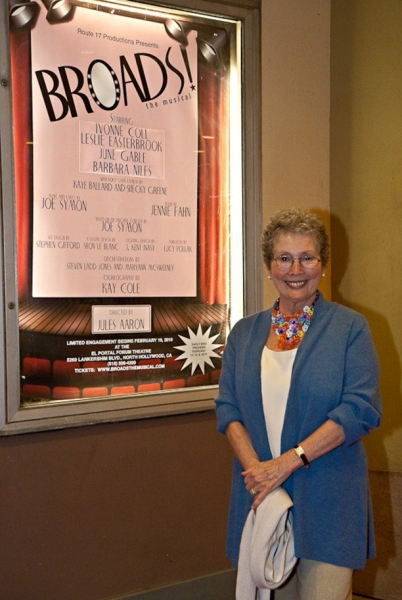 Jackie Joseph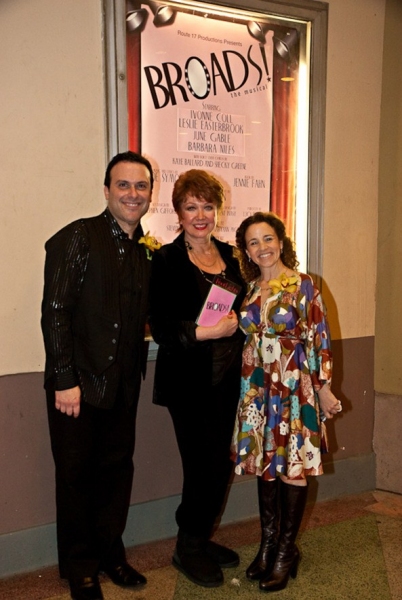 Joe Symon, Jennie Fahn and Donna McKechnie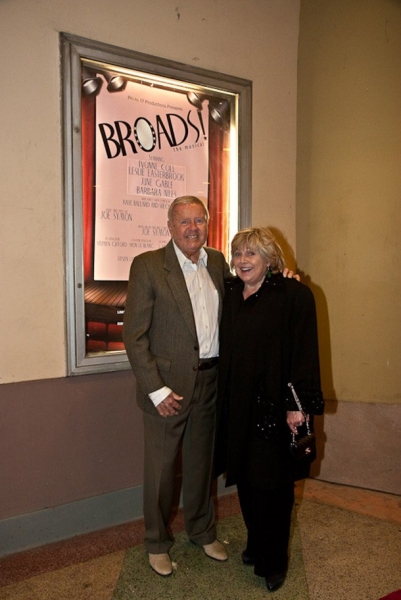 Dick Van Patten and Pat Van Patten

Jommy Van Patten and Deborah Gibson

Jennie Fahn, Joel Zwick, Candice Zwick, Joe Symon